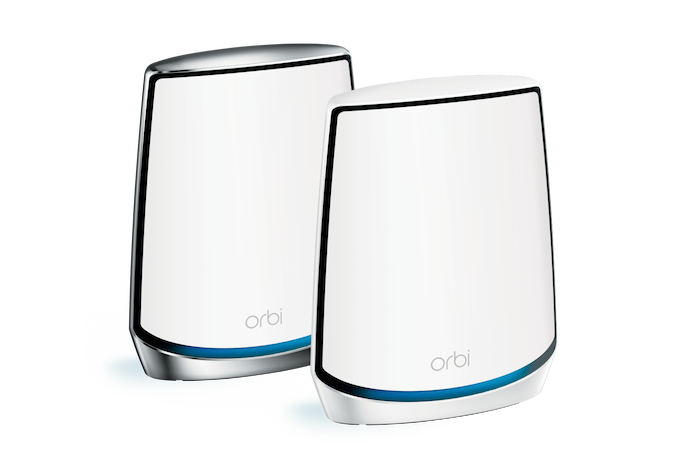 Netgear's Orbi Wi-Fi system / mesh networking product line has been well-received in the market since its introduction in Q3 2016. Since then, Netgear has been regularly rolling out new hardware and firmware upgrades to keep up with the market requirements. All the Orbi products in the market currently are based on Qualcomm's Wi-Fi 5 (802.11ac) platforms.
Wi-Fi 6 (802.11ax) has had a relatively slow start in the market, with the absence of client devices holding back widespread acceptance of the new routers from various vendors. Even though many products were announced at CES 2018, they started rolling out in retail only towards the end of last year. Netgear's flagship Wi-Fi 6 routers (RAX80 and RAX120) were launched in November 2018, and the Broadcom-based RAX80 is already available for purchase. The Qualcomm-based RAX120 will be available in retail shortly.
Given these two parallel developments, it comes as no surprise that Netgear will incorporate a Wi-Fi 6 (802.11ax) platform into the next-generation Orbi. The product will continue to use Netgear's patented Fastlane3 technology (with a dedicated 4x4 802.11ax backhaul, in addition to 5 GHz and 2.4 GHz channels for use by clients). The Wi-Fi 6 backhaul enables true gigabit wireless links between the Orbi nodes. Netgear also announced that the Orbi products will continue to use a Qualcomm platform (in fact, the early specifications seem to indicate that the RAX120 platform is being used with the addition of another 802.11ax radio).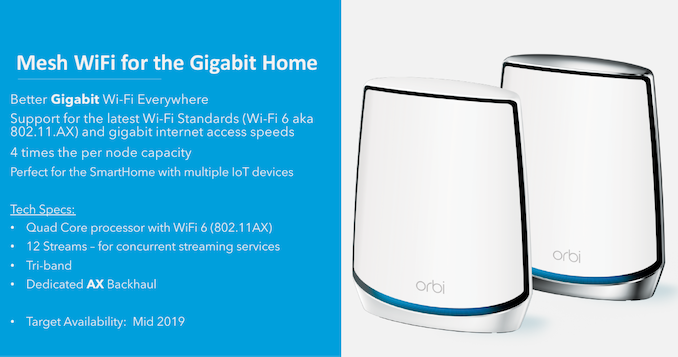 Pricing for the Orbi kits with Wi-Fi 6 was not announced, as the products are slated to become available only in H2 2019. The announcement is particularly interesting because vendors such as TP-Link are moving to Broadcom-based 802.11ax platforms for their whole-home Wi-Fi / mesh networking products.