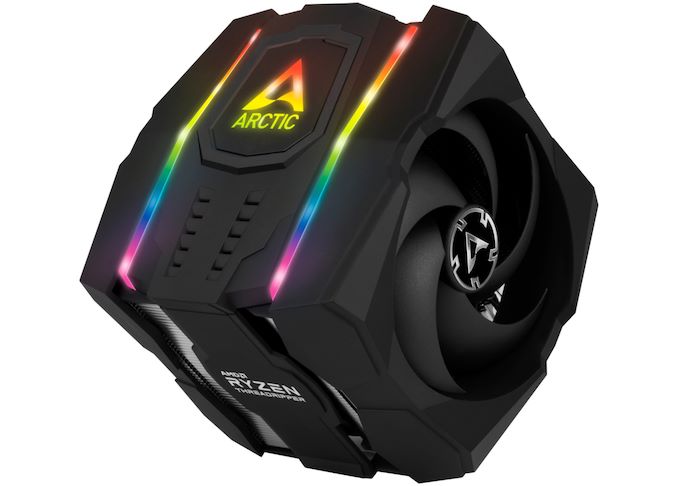 Arctic has formally introduced its Freezer 50 TR cooler for AMD's Ryzen Threadripper processors, which promises to remain quiet even when the CPU gets hot. The socket TR4-only cooler comes with two fans, has multiple heat pipes, and weighs more than 1.2 kilograms. And, for the multi-colored lighting enthusiasts among us, it's equipped with 13 addressable RGB LEDs.
The Arctic Freezer 50 TR borrows its design from other so-called 'mega coolers': it has a massive dual-tower heatsink featuring 104 aluminum fins, while eight U-shaped 6-mm heat pipes that form the base cover the part of the IHS of the Ryzen Threadripper CPU 'right where the processor's die is'. Moving air from the massive heatsink is a 120-mm plus 140-mm fan set, with Arctic's fans using fluid dynamic bearings. While the mismatched fans are unusual, Arctic says that using two fans of different sizes increases airflow and therefore improves performance. Depending on the load, the fans will rotate at 200 ~ 1800/1700 RPMs, so it should be very quiet under light loads.
It is noteworthy that when the Freezer 50 TR cooler was originally showcased early this year, it actually advertised as being able to go passive under low loads. However this feature is absent from the final version, and while Arcitc hasn't specifically said why, it's not hard to imagine thermal stability proving to be a greater concern than expected from such a large (and power hungry) chip like Threadripper.

When it comes to dimensions, the whole construction of Arctic's Freezer 50 TR measures 147.8×149.5×165 mm and leaves a RAM clearance of 37.5 mm. While the cooler certainly cannot be called compact, it should fit into most enthusiast-grade PC chassis.
The manufacturer does not disclose the cooler's rated TDP, but says that it can cool down Ryzen Threadripper 2990WX as well as CPUs 'of 32 cores and beyond'. So as we've seen with some other air coolers of this size (which can handle upwards of 340W) it's a reasonable bet that the 50 TR can dissipate at least 250 W of heat, leaving some additional headroom for overclocking and/or future processors with a higher TDP.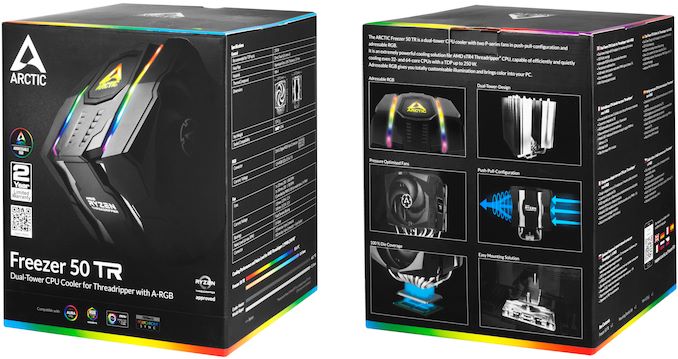 Finally, as is increasingly customary for enthusiast-grade cooling systems these days, the Arctic Freezer 50 TR comes with 13 addressable RGB LEDs. These can be controlled using software from leading motherboard makers as well as a standalone controller (to get it, one will have to buy an appropriate version of the cooler).
The Arctic Freezer TR50
General Specifications
CPU Socket
AMD: sTR4
Heat Sink Material
Dual tower heatsink, 2×52 aluminum fins, 8 heatpipes
Dimensions w/ Fan
Length: 147.8 mm
Width: 149.5 mm
Height: 165 mm
Fan Speed
120-mm fan: 200 ~ 1,800 RPM
140-mm fan: 200 ~ 1,700 RPM
Fan Air Flow
? CFM
Fan Air Pressure
?
Fan MTTF
?
Fan Connector
3×4-pin
Fan Power Consumption
?
Weight
1,242 grams
MSRP
$69.99
The Arctic Freezer 50 TR is available now from Amazon and will shortly hit other channels, where it's currently selling for $69.99.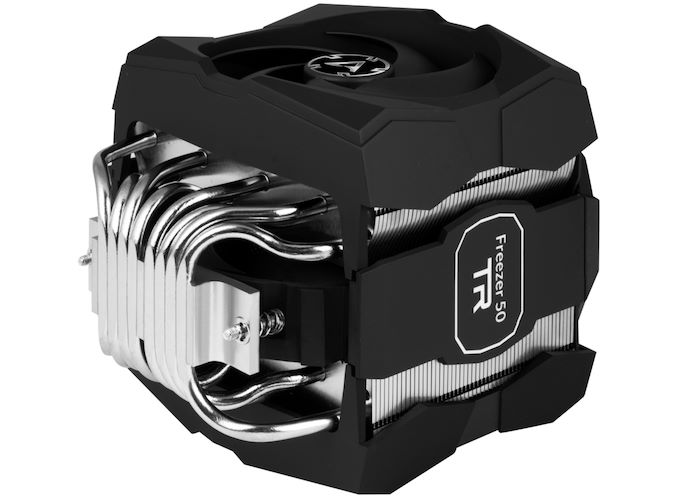 Related Reading:
Source: Arctic (via TechPowerUp)