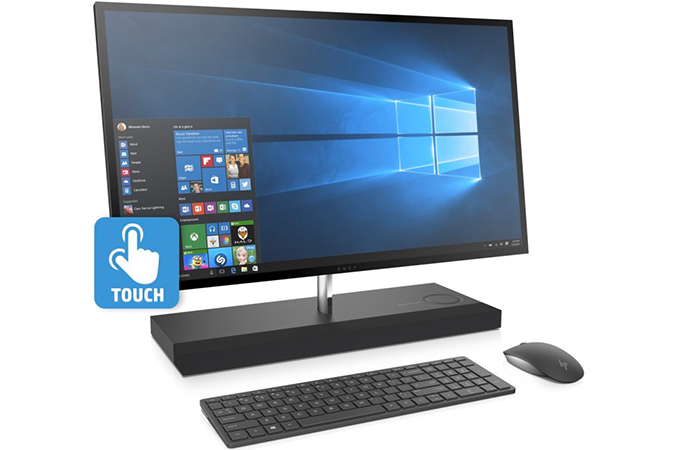 HP on Monday announced new versions of its Envy AIO systems with 27-inch displays. The latest all-in-ones are upgraded across-the-board with the newest six-core Coffee Lake CPUs as well as NVIDIA's Pascal GPUs.
On the outside, the 2018 Envy AIO 27 retained design of the previous-generation systems along with 4K and QHD IPS display options from its predecessor, but internally it is a brand-new system and platform. The hardware is centered around Intel's six-core Core i7-8700T CPU, accompanied by NVIDIA's GeForce GTX 1050 GPU with 4 GB GDDR5 memory. This is a significant upgrade from the quad-core Kaby Lake+Maxwell GPUs used in the previous generation. The new systems will come with up to 16 GB of DDR4 memory (now at DDR4-2400), an up to 256 GB PCIe/NVMe SSD (built-to-order configs may feature more capacious drives, but HP's documents point to 256 GB SSDs), and an up to 2 TB hard drive.
The HP ENVY 27 2018 Base Models
HP ENVY All-in-One 27-b210
HP ENVY All-in-One 27-b214
Display
27" with 2560×1440 resolution and multi-touch
27" with 3840×2160 resolution and multi-touch
CPU
Intel Core i7-8700T
6C/12T
2.4 - 4 GHz
12 MB LLC
35 W
Graphics
NVIDIA GeForce GTX 1050 with 4 GB of GDDR5 memory
Memory
16 GB DDR4-2400 (dual channel, two modules)
Storage
256 GB PCIe/NVMe SSD
1 TB HDD
256 GB PCIe/NVMe SSD
2 TB HDD
Wi-Fi
IEEE 802.11ac Wi-Fi + BT 4.2
Ethernet
GbE
Display Outputs
Thunderbolt 3
HDMI input
HDMI output
Audio
Stereo speakers
Integrated microphones
USB
5 × USB 3.0 Type-A (5 Gbps)
1 × USB 3.1 Gen 2 Type-C (via TB3)
Other I/O
TrueVision FHD IR webcam
Dimensions
Width
61.5 cm | 24.2"
Height
45.7 cm | 18"
Depth
19 cm | 7.5"
PSU
~ 230 W
OS
Windows 10
Moving on to I/O. On the wireless side of things, the new units have dual-band 2x2 802.11ac Wi-Fi as well as Bluetooth 4.2. When it comes to physical connectors, the system is outfitted with a GbE, four USB 3.0 ports, one Thunderbolt 3 port, HDMI input & output, a TRRS audio connector, an SD card reader and so on. The addition of Thunderbolt 3 port is important as it enables owners to use external graphics and storage subsystems with their AIOs, essentially upgrading them and hence prolonging their lifetime.
Next up is audio. Just like the existing versions, the new models come with a dual-speaker soundbar co-developed with Bang & Olufsen that is controlled by a capacitive touch-sensitive dial located on the base of the computer. As for audio input, the all-in-one PC has a dual microphone array to ensure proper conference calls. Speaking of the base, it is noteworthy that the 2018 ENVY 27 has an upgraded wireless charging unit that can charge modern phones faster.
HP plans to start selling the new ENVY 27 AIOs this month at prices starting at $1,400 for a QHD model with 8 GB of RAM and a 1 TB HDD.
Related Reading