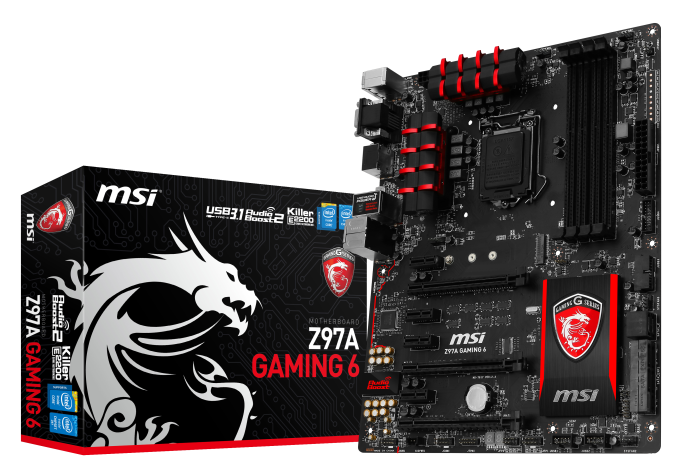 Choosing a motherboard is not as easy as it sounds. Most people rely on price, brand experience, perhaps specific features and online reviews to help decide what fits best. While the Intel 9-series (Z97) platform has had a rough ride, motherboard companies always see the need to refresh to new designs periodically. As a result we get devices such as this, the MSI Z97A Gaming 6, to review.
MSI Z97A Gaming 6 Overview
USB 3.1, while appreciated, came at an odd time in motherboard cycles. Onboard controllers that supported USB 3.1 became available in Q2 of 2015, significantly after Intel's Z97 launch and several months (assumed) before that of the 100-series motherboards. It ended up aligning at about the time of the launch on Intel's Broadwell CPUs to which Z97 was designed for, and although motherboard manufacturers prepared revision 2 products with USB 3.1 on for it, the CPU launch was muted with a lack of availability, a reduced product stack and only a few reasons to upgrade. We reviewed some aspects of the Broadwell CPU launch here for quick reference.
Despite this, USB 3.1 alone gave reasons for motherboard manufacturers to refresh their product lines. If Broadwell is a success, then sales will fly. Otherwise the new products still act as a base for new builds and for early USB 3.1 adopters. The Z97A Gaming 6 is one such motherboard and distinguishable through the Z97A part but also the Gaming 6 was never a model name for the base Z97 product line.
Semantics of the industry aside, the Gaming 6 is part of MSIs ever growing Gaming line. If there's one thing we can certainly offer kudos to MSI for, it's how to build a gaming brand quickly in a non-constant marketplace. For those in the gaming community, MSI's perception as a gaming brand is now rooted through the gaming PC components and gaming notebook segments. When comparing against the direct competition, ASUS' Republic of Gamers is also in a similar position.
Perhaps somewhat unfortunately this means that most new products form the gaming range aren't a big fanfare. They're designed to fill in price points and share functionality across the range - only the big products (such as the GT80 Titan notebook or X99A Godlike Gaming) get the focal points of marketing and discussion. This means it becomes more than vital to test the products that will actually sell, like the Gaming 6, to see if that herald of quality follows down the product line.
The Z97A Gaming 6 fits in a stack from the Gaming 3 to the Gaming 9, and as such the feature set adjusts accordingly for the $160 model we are reviewing today. Support for 3x CFX and 2x SLI (when bottom PCIe is not used) is combined with a M.2 SATA/10Gbps PCIe slot, a SATA Express port, six USB 3.0 ports, voltage check points and a single USB 3.1 Type-C port on the rear panel provided through and ASMedia ASM1142 controller. Audio comes via an enhanced Realtek ALC1150 layout (EMI shield, filter caps, PCB separation), and with the gaming theme the network comes through a Killer E2205 NIC. Aesthetically, the black and red MSI gaming theme comes through via the black PCB, heatsinks and the gaming motif above the chipset.
We've covered MSI's Z97 BIOS and software before, showing that while intuitive there are a few areas for improvement. The XMP button in the BIOS is always a plus, along with the fan speed adjustment tool and the Board Explorer for determining potential faults. The BIOS still lacks an easy mode though. Software is headed up by Live Update 6, currently the best update tool for a motherboard on the market, although the ability to easily overvolt the CPU to 2.1 volts in Command Center is an easy fix to reduce it down, but that doesn't seem to be done over a year after pointing it out.
Visual Inspection
The current fascination with red and black for gaming products is perhaps a lesson in PC builder psychology. Why is red and black the most popular? Some other companies have tried different combinations, and even speaking to MSI about their Krait line of products (which are white and black), it seems the overriding consensus is that a clean look sells more than the color - so why red and black? Regardless of the answer the Z97A Gaming 6, like MSI's other gaming motherboards, uses a black coating over most of the board as well as fewer components to enhance the look.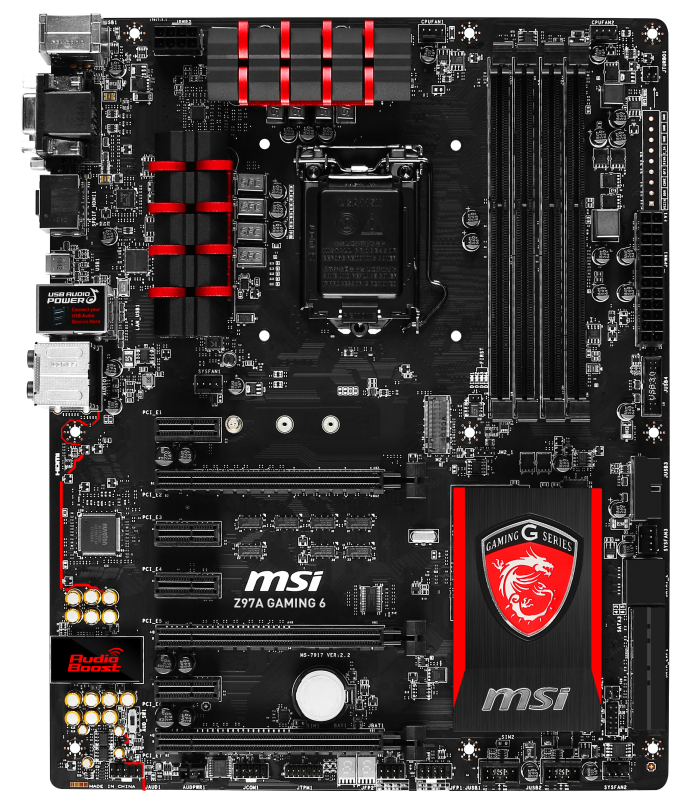 Motherboard enthusiasts will notice that the regular white pattern for Intel's socket specifications is not here, again to aid with the look. Around the socket area instead is an eight phase layout with red and black heatsinks as well as three easy to reach fan headers. The two 4-pin CPU headers are located on the top right of the board, one either side of the DRAM slots, with the third 4-pin underneath the power delivery heatsink on the left. The system has two other 4-pin fan headers, one of which is between the USB 3.0 header and the SATA ports on the right hand side and the other is in the bottom right of the motherboard.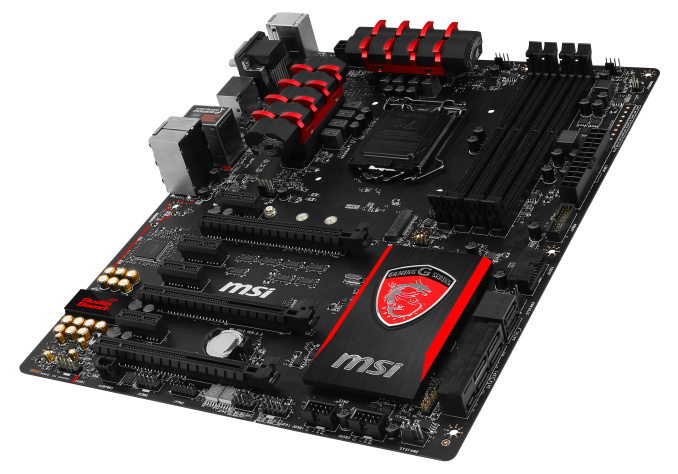 Moving down the right hand side of the board we get a set of voltage read points allowing extreme overclockers to monitor various voltage rails directly rather than relying on software output values that might be erroneous. Under these and the 24-pin ATX power connector are two USB 3.0 headers, one sticking out of the board and one at right angles to cater for different scenarios. After this follows an aforementioned fan header and six SATA ports, two of which form part of the SATA Express connector.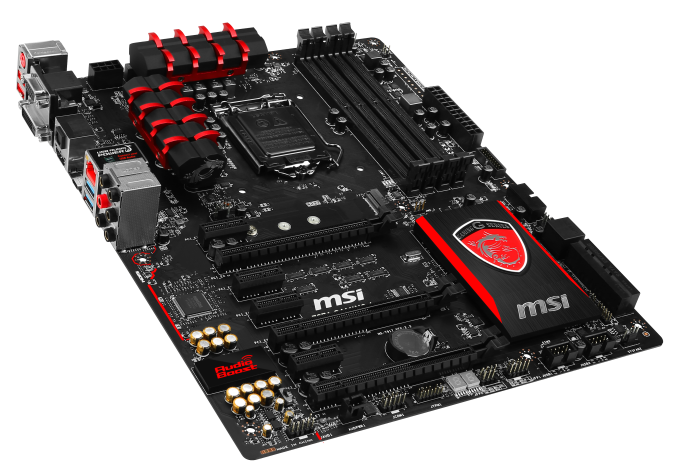 Along the bottom of the board is our front audio header, a floppy power connector to provide additional audio power, a COM header, a TPM Header, a two-digit debug display, the front panel header and two USB 2.0 headers. Despite of where this system stands in the stack, it seems we do not get physical power/reset buttons here and have to rely on the front panel header for these functions.
The PCIe layout affords four separate PCIe 2.0 x1 slots from the chipset, although some of these will be disabled if the M.2 slot above them is populated with a PCIe SSD. The M.2 slot operates in either SATA mode or PCIe 2.0 x2 mode. For the Z97A Gaming 6, MSI has used a PCIe 3.0 tri-GPU layout, meaning x16, x8/x8 and x8/x4/x4 support without the use of a PCIe 2.0 x4 slot. When a company uses this layout, it allows for 3x CrossFire situations using all CPU lanes, but only dual SLI and only if the bottom slot is unpopulated because SLI has an x8 minimum lane requirement. This is NVIDIAs specifications, and the only counter to it is to support x8/x8 on the motherboard with an additional PCIe 2.0 x4 from the chipset, although this would reduce the bandwidth for three-way CFX and reduce chipset lane availability elsewhere on the motherboard. It is a hard one to balance.
On the bottom left of the motherboard is the audio solution, using the high-end Realtek ALC1150 audio codec under an EMI shield supported by additional audio filter caps and PCB separation to improve audio quality. In order to directly improve gain MSI has added an auxiliary power connector and a switch to enable it. The audio jacks on the rear panel, despite being colored red and black to be confusing, have a gold coating inside to help avoid corrosion over long-term use.

The rear panel contains a combination PS/2 port, two USB 2.0 ports, two USB 3.0 ports, a VGA port, DVI-D, HDMI, SPDIF output, networking via the Killer E2205 and the audio jacks from the ALC1150. The key point of the rear panel is the USB 3.1 port, in this case Type-C. While we are still waiting on USB 3.1 devices to enter the market, MSI has seen it prudent to somewhat futureproof the Gaming 6 with one. Although Type-C has its uses, I fear that the lack of a Type-A version might hinder some of the initial devices depending on which cables are bundled. Other Z97 refresh motherboards typically have two USB 3.1 ports, either both Type-A or a combination A/C, in order to facilitate the transition.
Board Features
MSI Z97A Gaming 6
Price
US
Size
ATX
CPU Interface
LGA1150
Chipset
Intel Z97
Memory Slots
Four DDR3 DIMM slots supporting up to 32 GB
Up to Dual Channel, 1066-3300 MHz
Video Outputs
HDMI
DVI-D
VGA
Network Connectivity
Killer E2205
Onboard Audio
Realtek ALC1150
Expansion Slots
3 x PCIe 3.0 (x16, x8/x8, x8/x4/x4)
4 x PCIe 2.0 x1
Onboard Storage
6 x SATA 6 Gbps, RAID 0, 1, 5, 10
1 x SATA Express
1 x M.2 (SATA or PCIe 2.0 x2)
*SATA Express, M.2 and 2x SATA are shared
USB 3.0 / USB 3.1
2 x USB 3.0 on back panel
4 x USB 3.0 in 2 headers
1 x USB 3.1 Type-C on back panel (ASMedia)
Onboard
6 x SATA 6 Gbps
1 x SATA Express
1 x M.2
5 x Fan Headers
1 x TPM Header
1 x Serial Header
2 x USB 3.0 Headers
2 x USB 2.0 Headers
1 x Front Audio Header
1 x Front Panel Header
1 x Clear CMOS Jumper
1 x Audio Switch
Power Connectors
1 x 24-pin ATX
1 x 8-pin CPU
Fan Headers
2 x CPU (4-pin)
3 x SYS (4-pin)
IO Panel
Combination PS/2 Port
2 x USB 2.0
2 x USB 3.0 Type-A
1 x USB 3.1 Type-C
HDMI
DVI-D
VGA
Killer E2205
Audio Jacks
Warranty Period
3 Years
Product Page
Link
BIOS and Software
Due to the way that BIOSes and software packages are updated, nothing new from our previous analysis of MSI's Z97 BIOS or software comes into effect here compared to our previous reviews. The conclusions are still the same – MSI is making progress on the BIOS but the layout is sub-optimal for providing the most amount of information and Live Update 6 still remains the best motherboard driver and software update package from any motherboard manufacturer. As a result, take a look at our MSI Z97 Gaming 5 review or our MSI Z97 Guard Pro review for a more detailed analysis.