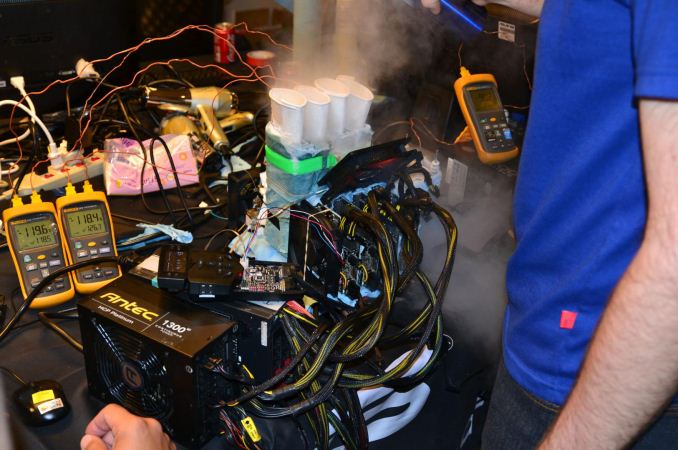 In our Haswell-E coverage we did some basic 24/7 type overclocking suitable for the system under the desk, and there will be users with custom loops willing to go a bit further. Overclocking beyond this requires a level of skill and exotic coolants not intended for the average user, akin to what drag cars are to normal runabouts. We have previously reported on overclocking events where the world's best battle it out to see who can get the best results – to see who can do that quarter mile the fastest. With the launch of the new Haswell-E platform, each of the companies invested in overclocking performance products got their best in-house teams for day one results. Both ASUS and G.Skill are two of the big winners.
With a new memory system behaving differently in terms of voltage and setup, G.Skill and ASUS worked together to hit DDR4-4004 MHz using an i7-5930K and an ASUS Rampage V Extreme, with the memory at a rather tame 1.5 volts (compared to 1.2 volts standard, 1.35 volts for high performance kits). This was using a soon-to-be-announced DDR4-3300 memory kit from G.Skill. Absolute DRAM frequency records are similar to CPU frequency records: performed with a stripped out system with the aim to get that frequency number the highest. So while the record was performed under liquid nitrogen and with a single memory module, and ultimately has little real world value, both ASUS and G.Skill can claim together that they have the world's fastest memory.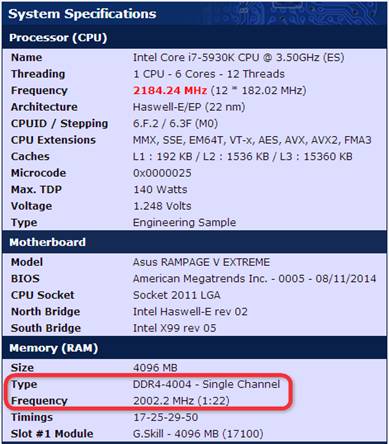 ASUS' level of records go substantially deeper than just memory. After day one of Haswell-E launch, ASUS held no fewer than 37 records across CPU frequency, CPU absolute performance and popular 3D benchmarks such as 3DMark and Catzilla.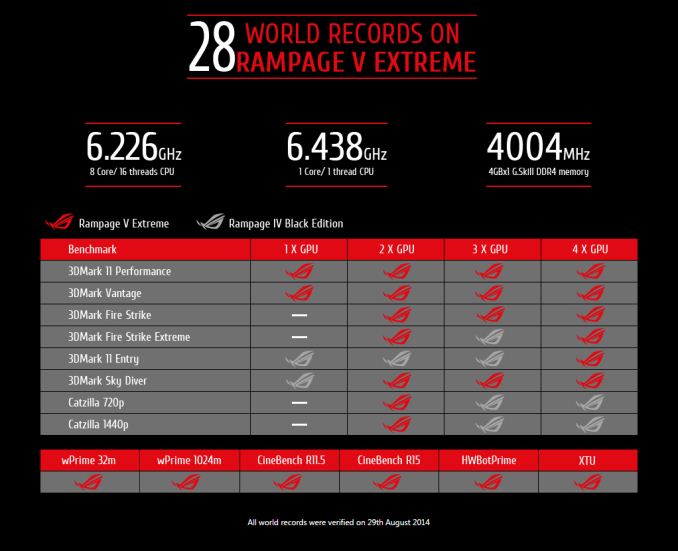 26 of these records comes from the new Rampage V Extreme paired with Haswell-E CPUs, with records coming from professional overclockers such as Shamino, 8Pack, Wizerty, Hazzan, Gunsligner, Slamms and Elmor. For example, the 3DMark Fire Strike 4-way record was performed using an i7-5960X at 5.624 GHz (+87% overclock) with four ASUS Matrix R9 290X cards at 1460/1750 (+46% overclock), G.Skill memory at DDR4-3000 C12 and the whole system under liquid nitrogen.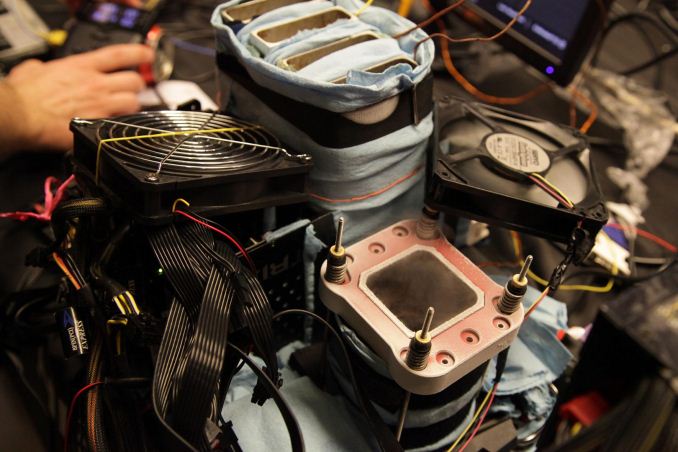 The records are continuously evolving, for example a new 8-core Cinebench R15 record has been posted in the past 24 hours with an MSI motherboard and a CPU at 5930 MHz. As overclockers start to understand the platform and the motherboard manufacturers update their BIOSes to be more amenable to extreme overclocking settings, no doubt there will be more records in the future, especially for benchmarks that can use all eight threads. Ultimately one might ask the point of all this – as an overclocker myself, sometimes getting a bigger number than the other guy is just more fun! Also learning how this hardware works outside their suggested thermal window can be an interesting experience in itself. Many of these manufacturers also use their records as an advertising tool, to say they have/support the fastest on the market as a nod towards their commitment to produce the better hardware with features that help regular users get the most from their setups.