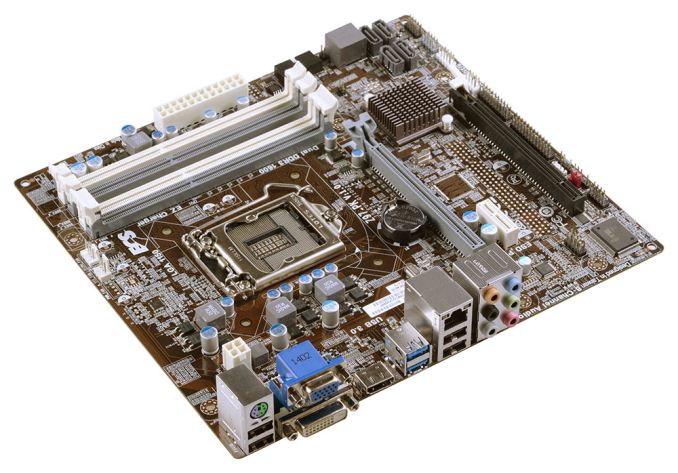 With the launch of the overclockable Pentium G3258 processor, some motherboard manufacturers have been scrambling to get a cheaper product to market to be the centre point of a Pentium based build. We covered ASRock's Z97 Anniversary launch and have an upcoming review of an $110 MSI motherboard aimed at the same market, but today ECS is announcing its Z97-PK (PK = Pentium K ?, even though Intel call it the Pentium AE). The main stand out feature of the motherboard is the 'One Key OC', which claims to boost the G3258 from 3.2 GHz to 4.7 GHz.
This an impressive claim, given the motherboard relies on a 2-3-phase power implementation with no power delivery heatsink – I would assume that ECS has performed enough testing on enough CPUs to make sure the 4.7 GHz value covers the majority of G3258 dies. Even though ECS lists a 'One Key OC' for this functionality, there is no actual physical button on board (like with MSI's OC Genie), which makes me believe that this is either a software or a BIOS implementation. Ultimately I would have preferred a physical button due to the low number of home users who actually enter the BIOS or install the bundled software.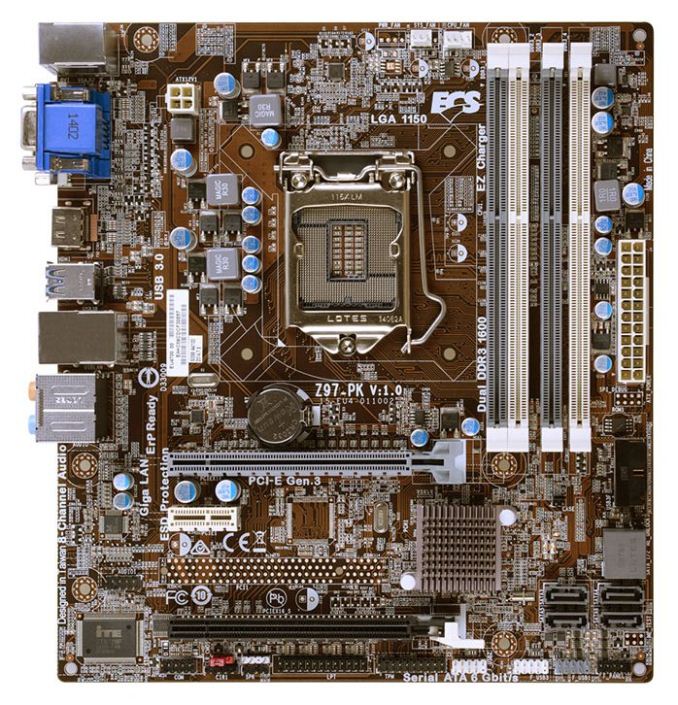 The motherboard is in the mATX form factor, offering a single PCIe 3.0 x16 slot for graphics with a PCIe 2.0 x4 slot from the chipset. This means there is no SLI support but Crossfire is available at a reduced bandwidth for the second card. Like other lower cost motherboards there are six SATA 6 Gbps ports, with this layout affording two at right angles to the motherboard and four coming out of the PCB. There are only four USB 3.0 ports, with two of these coming from an internal header. Also of note is the DRAM slots which are not equidistant from each other; this could reduce signalling margins for overclocked memory unless ECS have engineered the board to compensate. That being said, the webpage only lists DDR3-1600 memory support.

Audio and networking is provided by Realtek, and integrated video outputs come via the VGA, DVI-D and HDMI outputs. This is interesting when comparing to the Z97 Guard-Pro, which uses VGA, DVI-D and DisplayPort instead to allow tri-monitor setups. Also on the motherboard for legacy connectors are a COM header, an LPT header and a TPM header.
The ECS Z97-PK might not win any aesthetic awards, but ECS usually aims at the super low pricing bracket which might pique some interest in mass production builds. We are awaiting information about release dates and pricing, although ECS is claiming that this motherboard and the G3258 in a bundle would cost less than an i5 processor by itself. The only downside with that comparison is that as our review and analysis showed, the i5 performs significantly better than an overclocked G3258 in multi-threaded tasks and multi-GPU gaming.
Source: ECS
Update: ECS has let me know that this motherboard should be available at the end of September, for a combo price with a G3258 for $100. The CPU alone is $70, making this motherboard $30 in the deal. To be honest, for budget builds, that is a quite good price.