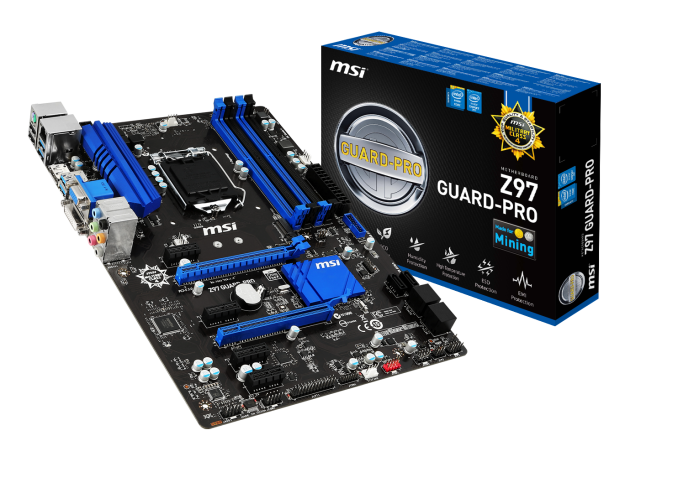 Next in our recent run of lower cost motherboards is the MSI Z97 Guard-Pro, a motherboard that MSI billed to me as one suited for the overclockable Pentium G3258 on a budget. At $110, we see if it differs much from the more expensive options on the market.
MSI Z97 Guard-Pro Overview
Having had the majority of my reviewing time at AnandTech dealing with motherboards equipped to the hilt, the Z97 Guard-Pro feels quite barren in contrast. The design looks lightweight, with only two full length PCIe slots, four power phases and six SATA ports. The traces on the motherboard between the components and slots also look fewer than the higher end models. Perhaps to reduce the price, this motherboard eschews SLI certification by only having one full PCIe 3.0 x16 from the CPU paired with a PCIe 2.0 x4 from the PCH.
One of the positive things to come from a cheaper end motherboard that still retains a high level chipset is the connectivity, meaning that the six SATA 6 Gbps ports is also paired with an M.2 x2 port and six USB 3.0 ports, one of which is a header. For most users this combination works out well, and the limited bandwidth on the second full length PCIe slot means that a couple of the SATA ports are coming out of the motherboard on the right hand side, which we normally see associated with a low cost product. Another feature for low cost is the combined use of Realtek ALC892 audio and a Realtek NIC which are often both bundled together at a lower than individual unit cost.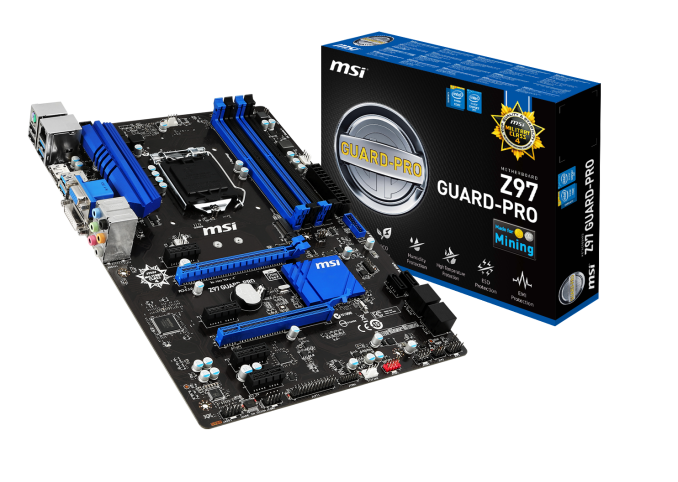 MSI is still equipping the board with its Military Class 4 designation, meaning that is passes various military standard tests, but the Guard-Pro element to the design is relatively new. The nomenclature is designed to encompass a series of design elements for increased protection, such as PCB coating for humidity protection (a paint rather than superhydrophobic), each IO port is fused for electrostatic discharge protection, the motherboard complies with FCC regulations for electromagnetic interference (though I would assume almost all motherboards would do) and also ECO Power implemented to allow for lower power operation.
We have covered MSI's software and BIOS implementations for Z97 several times previously, and the ecosystem as a whole is a definite plus, giving an easy XMP button in the BIOS along with ordered overclock options and graphical fan controls. A couple of negative elements still exist however, such as high voltage selection in Control Center being very easily to implement and we experienced issues trying to get into the BIOS with too low a voltage selected during overclocking without a full BIOS reset.
Benchmark results across the board were in the bottom half compared to most of our other Z97 testing, and the ALC892 dynamic range audio results were lower than expected even for the codec used. DPC Latency was under a hundred which is a plus, with POST times around 12-13 seconds. USB performance was average, but power consumption figures were good for Z97: not ultimately surprising due to the lack of additional features here.
One of MSI's points about the Z97 Guard-Pro when they shipped me the sample was their aim to make it one of their focus models for Pentium G3258 overclocking, and they provided an extra CPU sample for me to test with. That sample, despite some odd voltage jumps while ramping the frequency, hit 4.8 GHz without any issue with peak temperatures barely touching 80ºC. Despite the four power phases, the Z97 Guard-Pro can withstand a dual core overclocking session for a long-term build.
Visual Inspection
As mentioned above, my first look at this motherboard was one of surprise due to the lack of anything. Perhaps this is due to no power delivery heatsink above the socket and no white outline on the PCB showing where the socket should be. The four power phases for the CPU are to the left of the socket, with the heatsink covering the ICs that generate the heat. For a low cost motherboard, the heatsink is of a decent size which is good to see.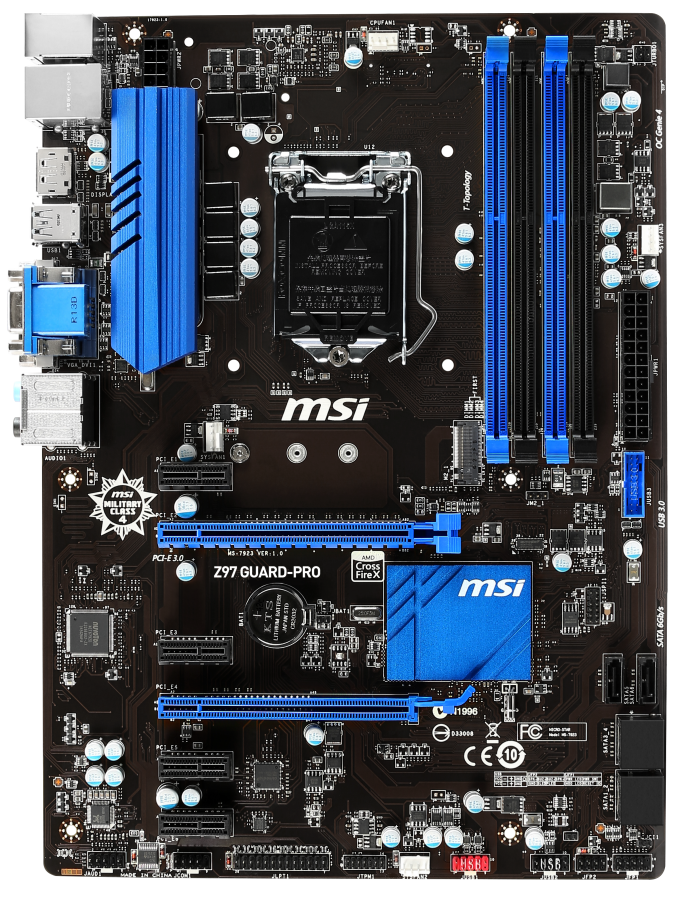 The motherboard has four 4-pin fan headers in white around the motherboard, three within the socket area. The CPU fan header is above the socket, and a 4-pin SYS fan header just above the first PCIe slot. Another SYS header is to the right of the DRAM slots, with the final header at the bottom of the motherboard. Having white fan headers does provide a contrast against the black PCB, although it does perhaps disjoint against the black and blue color of the rest of the motherboard, such as the DRAM slots, PCIe slots, heatsinks and USB 3.0 header.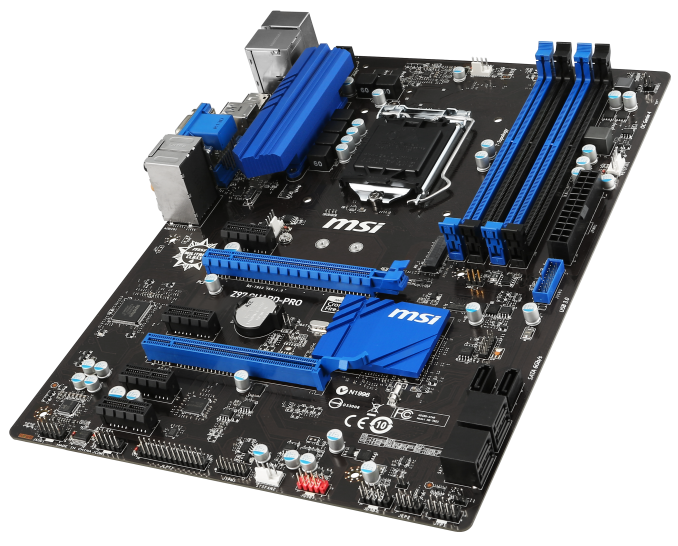 On the right hand side of the motherboard is the USB 3.0 header, followed by two SATA 6 Gbps ports coming out of the board and four SATA 6 Gbps ports at 90º to the PCB. All six are from the PCH and have full RAID 0/1/5/10 capabilities. At the bottom of the board are the front panel headers, two USB 2.0 headers (the one in red supports fast charging), a TPM header, an LPT header, a COM header and the front audio header. In previous MSI motherboards I have leveraged a criticism that the front panel headers do not guide where the case connectors should be for power/reset buttons, but this motherboard has a printed on guide next to the SATA ports.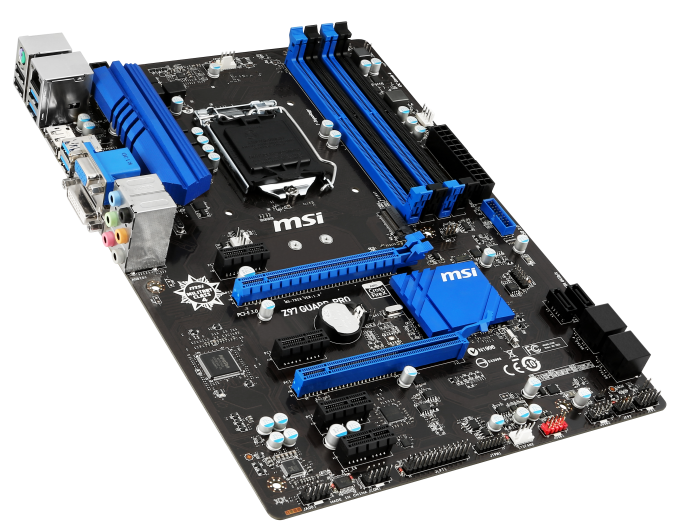 The PCIe slots are advertised as being 'perfect for Bitcoin', suggesting that all six can be used at once. This would mean that the four PCIe 2.0 x1 slots and PCIe 2.0 x4 slot are all available to use simultaneously, which would use up all eight of the chipset PCIe 2.0 lanes. As mentioned in the overview, this motherboard has a PCIe 3.0 x16/PCIe 2.0 x4 arrangement on the full length PCIe slots which means this motherboard does not support SLI with NVIDIA graphics cards. Crossfire is possible but the bandwidth restriction on that PCIe 2.0 x4 slot might not provide the maximum FPS gain desired by adding a second GPU.

The rear panel is slightly shifted compared to most other Z97 motherboards with the network port nearer the top of the motherboard and the D-Sub/DVI-D port lower down. Aside from these, the rear panel also houses a combination PS/2 port, two USB 2.0 ports, four USB 3.0 ports, a DisplayPort and the audio jacks. Having a DisplayPort on the motherboard rather than a HDMI seems odd, though it might save costs based on HDMI licensing.
Board Features
MSI Z97 Guard-Pro
Price
US (Newegg)
Size
ATX
CPU Interface
LGA-1150
Chipset
Intel Z97
Memory Slots
Four DDR3 DIMM slots supporting up to 32 GB
Up to Dual Channel, 1066-3300 MHz
Video Outputs
DisplayPort (4096x2304 at 24 Hz, 3840x2160 at 60 Hz)
VGA (1920x1200 at 60 Hz)
DVI-D (1920x1200 at 60 Hz)
Onboard LAN
Realtek RTL8111G
Onboard Audio
Realtek ALC892
Expansion Slots
1 x PCIe 3.0 x16
1 x PCIe 2.0 x4
4 x PCIe 2.0 x1
Onboard SATA/RAID
6 x SATA 6 Gbps, RAID 0/1/5/10
USB 3.0
6 x USB 3.0 [4 rear panel, one header]
Onboard
6 x SATA 6 Gbps
1 x USB 3.0 Header
2 x USB 2.0 Headers
4 x Fan Headers
1 x TPM Header
1 x LPT Header
1 x COM Header
Front Panel Headers
Front Audio Header
Power Connectors
1 x 24-pin ATX
1 x 4-pin CPU
Fan Headers
1 x CPU 4-pin
3 x SYS 4-pin
IO Panel
1 x Combination PS/2 Port
2 x USB 2.0 Ports
4 x USB 3.0 Ports
VGA
DVI-D
DisplayPort
1 x Reatek NIC
Audio Jacks
Warranty Period
3 Years
Product Page
Link
The Z97 Guard-Pro totally makes sense from the point of view of a compute platform that does not rely on PCIe bandwidth. MSI is promoting all of its protection features along with 6-way PCIe device supportand enough horsepower with an overclocked G3258 to organize the data. Note that the decision to use DVI-D, VGA and DisplayPort on the rear means that users can equip three screens from the processor graphics without issue.