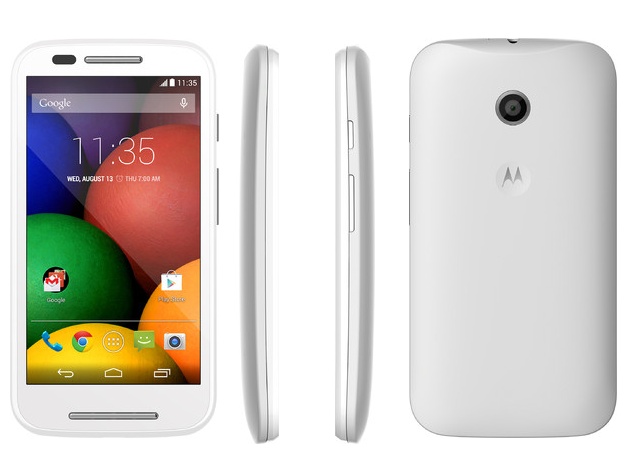 It doesn't seem like it was long ago that everyone was excited by rumors of a new Motorola phone after Google's short-lived acquisition of the company in May 2012. Motorola had long been known as a company that introduced their own custom interface onto Android which users felt offered little benefit in return for the performance impact it had on their devices. After their acquisition by Google it was hoped that Motorola would offer an experience closer to that of Google's Nexus devices. Those wishes came true, and Motorola has since been creating devices that are very close to stock Android with only minor modifications which, for the most part, are generally seen as helpful. Motorola also made a move for the mid-end segment of the market with the Moto G which offered users a formidable smartphone relative to its price.
Today Motorola has continued along their new path by introducing the Moto E, the most inexpensive device in their new lineup of smartphones.
Motorola's Smartphone Lineup
Motorola Moto E
Motorola Moto G
Motorola Moto X
SoC
Qualcomm Snapdragon 200 (MSM8x10)
2x ARM Cortex A7 at 1.2GHz
Adreno 302 at 400MHz
Qualcomm Snapdragon 400
(MSM8x26)
4x ARM Cortex A7 at 1.2 GHz
Adreno 305 at 450MHz
Qualcomm Snapdragon S4 Pro (MSM8960Pro)
2x Krait 300 at 1.7 GHz
Adreno 320 at 400MHz
Motorola X8 System (SoC+NLP Processor+Contextual Processor)
RAM/NAND
1GB LPDDR2 + 4GB w/ MicroSDHC
1GB LPDDR2 + 8/16GB NAND
2GB LPDDR2 + 16/32GB NAND
Display
4.3" 960x540 LCD
4.5" 1280x720 IPS LCD
4.7" 1280x720 RGB Stripe AMOLED
Network
2G / 3G (MSM8x10 21.1Mbps HSDPA 850/900/1900/2100MHz or 850/1700/1900/2100MHz)
2G / 3G (Qualcomm MSM8x26 21.1Mbps HSDPA)
2G / 3G / 4G LTE (Qualcomm MDM9x15 UE Category 4 LTE)
Dimensions
124.38 x 64.8 x 12.3mm, 142g
129.9 x 65.9 x 11.6 mm, 143g
129.3 x 65.3 x 10.4 mm, 130g
Camera
5MP (2592 х 1944) Rear Facing
5MP (2592 х 1944) Rear Facing w/ 1.4µm pixels and F/2.4 aperture

1.3MP Front Facing
10 MP (4320x2432) Clear Pixel (RGBC) Rear Facing w/ 1.4µm pixels and F/2.4 aperture

2MP 1080p Front Facing
Battery
1980 mAh (7.52 Whr)
2070 mAh (7.87 Whr)
2200 mAh (8.36 Whr)
OS
Android 4.4.2
Android 4.4.2
Android 4.4.2
Connectivity
802.11 b/g/n + BT 4.0, USB2.0, GPS/GNSS
802.11 b/g/n + BT 4.0, USB2.0, GPS/GNSS
802.11 a/b/g/n/ac + BT 4.0, USB2.0, GPS/GNSS, DLNA, NFC
SIM Size
Micro-SIM (Dual SIM SKU)
Micro-SIM
Nano-SIM
The Moto E sports a similar design to the other smartphones in Motorola's lineup with a rounded plastic design and a lip at the top for the 3.5mm headphone jack. Similar to the Moto G, customers will be able to swap out the back cover for ones of many different colors which adds a level of customization to the phone's design. I hope that Motorola has not compromised on the quality of construction to attain such a low price point; the Moto G felt exceptionally well crafted given its cost.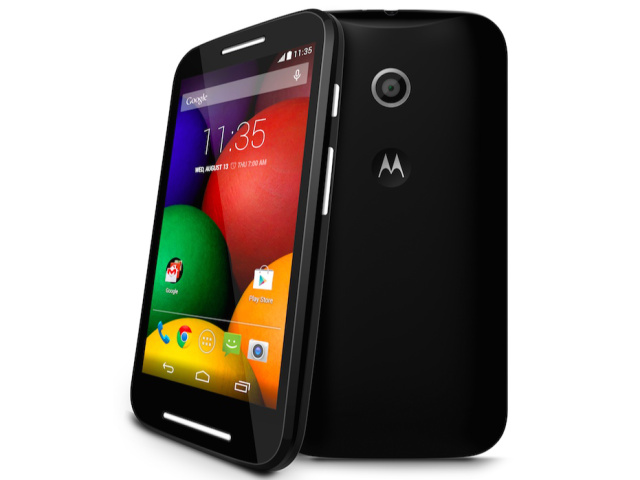 On the face of the device we have a 960x540 qHD display. Motorola isn't being forthcoming with whether or not this is an IPS panel, although they do confirm that it is covered with Corning Gorilla Glass 3. To attain its low price point the Moto E does not come with a front facing camera. There is also a large front facing speaker along the bottom of the device. On the back we have the 5MP camera which is capable of FWVGA (854x480) video recording, and the indented Motorola logo that has become standard across Motorola's new devices.
Inside the device we have Qualcomm's Snapdragon 200 platform with two Cortex A7 cores running at 1.2GHz and an Adreno 302 GPU at 400MHz. On the cellular side the device supports 21.1Mbps HSDPA on bands 1, 2, 5, and 8 for the North American and European versions and bands 1, 2, 4, and 5 in Latin America. A special SKU with support for dual SIM cards will also be available in certain markets with support for dual SIM standby. The device packs a 7.52 Whr battery and Motorola is promising that it will be capable of lasting you the day on a single charge. The device ships with only 4GB of NAND (only 2.2GB of which is available to the user) but to compensate Motorola has included a MicroSD card slot for up to 32GB of storage expansion.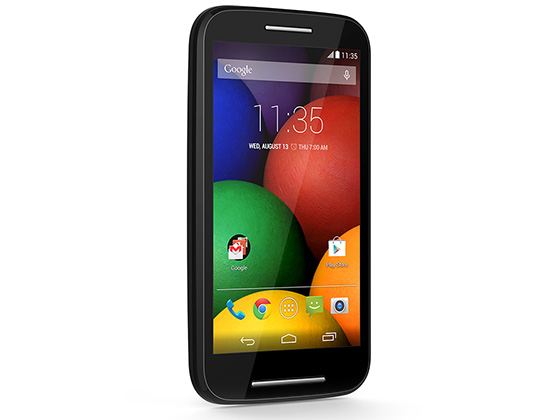 Motorola is marketing this as the smartphone to kill the dumbphone and they have set up a website which encourages users to tell their friends still using flip phones to make the switch. The website states "Life before mobile apps should be a thing of the past. Introducing the Moto E. Made to last. Priced for all." It really is something to see such a capable device at a price accessable to the masses. It was only a few years ago that hardware of this capability was reserved for the fastest and most expensive of smartphones.
The Moto E comes with Android 4.4.2 out of the box. It is available now in the US and India for $129 USD and 6999 Rs respectively, with Motorola planning to launch in over 40 countries in the coming weeks.
Source: Official Motorola Blog