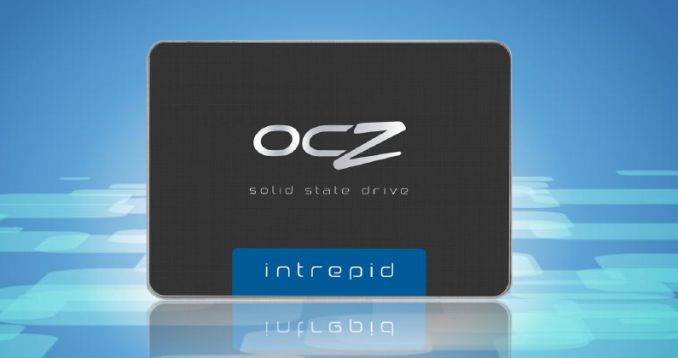 The last few weeks have been tough for OCZ. The company filed for bankruptcy and a week later OCZ announced that Toshiba will be acquiring their assets. While there is a lot going on at OCZ at the moment, their business continues to operate normally in the mean time. The proof of that is OCZ's latest release: the Intrepid 3000. It is OCZ's first in-house developed enterprise SSD, although quite surprisingly it utilizes the Marvell 88SS9187 based Everest 2 platform (same as in Vertex 4) instead of the newer, fully in-house developed Barefoot 3 platform. Enterprise drives often require significantly more validation than client drives, which is the likely reason why the Intrepid 3000 uses an older platform. The other possibility is that the Barefoot 3 is simply not equipped for enterprise, although I find that unlikely. Nevertheless the firmware has been developed by OCZ from a scratch, which is new to OCZ's enterprise offerings since OCZ has relied on SandForce for the controller/firmware in the past. Due to the controller, the Intrepid 3000 is still a 2.5" SATA 6Gbps device. We are seeing some shift towards SAS 12Gbps and PCIe in the enterprise but SATA drives have their place in the market thanks to broad support and compact form factor.
The Intrepid 3000 consists of two models: the 3600 and 3800. The only difference between the two is that the 3600 uses regular consumer-grade MLC (i.e. cMLC), whereas the 3800 utilizes more durable eMLC NAND. The 3600 suits better for read intensive environments (e.g. media streaming, online archiving) where write endurance isn't a top priority while the 3800 can be used for workloads that tend to be write intensive, such as VM infrastructures and email servers. Both models are available in capacities of 100GB, 200GB, 400GB and 800GB -- the over-provisioning is likely 28% (standard for enterprise drives), which translates to raw NAND capacities of 128GiB, 256GiB, 512GiB and 1024GiB respectively.
OCZ Intrepid 3000 Specifications
Intrepid 3600
Intrepid 3800
Capacities (GB)
100, 200, 400, 800
Controller
Marvell 88SS9187 (OCZ Everest 2)
NAND
19nm MLC
19nm eMLC
Steady-State 128KB Sequential Read
520MB/s
Steady-State 128KB Sequential Write
470MB/s
Steady-State 4KB Random Read
91K IOPS
Steady-State 4KB Random Write
40K IOPS
Endurance
1 DWPD
5 DWPD
Power Consumption
3.7W
Warranty
5 years
Since the Intrepid 3000 is an enterprise-class SSD, all the performance numbers OCZ reports for are worst-case scenarios. 40K random write IOPS at steady-state sounds about right when compared to the Vector and Vector 150 with 25% OP. We are mostly limited by NAND when it comes to steady-state performance, which is why enterprise SSDs are not really better than client drives with added over-provisioning.
OCZ Intrepid 3000 Endurance (Total Bytes Written)
Intrepid 3600
Intrepid 3800
100GB
184TB
932TB
200GB
379TB
1874TB
400GB
784TB
3738TB
800GB
1498TB
7485TB
With focus on the enterprise market, the Intrepid 3000 features power-loss protection, 256-bit AES encryption, advanced ECC (up to 85 bits per 2Kb of data) and end-to-end data protection. There is also data redundancy similar to SandForce's RAISE functionality and the idea is that some of the NAND is used for parity to protect against page/block failures. Furthermore, OCZ provides a web-based StoragePro XL application with the Intrepid 3000, which is meant for system administrators and it allows them to monitor and manage OCZ drives remotely.
Availability for these drives is slated for Q1'14, but OCZ has not released pricing yet.
Given OCZ situation, I have reservations recommending their products at this time. OCZ has assured that all product warranties will be honored but OCZ also told us that they can only promise that for the time being. In other words, there is no guarantee that Toshiba will take responsibility of OCZ's warranties but the negotiations are still on-going. If Toshiba is interested in OCZ's enterprise customers, it would make sense to cover the warranty costs because otherwise customer may go elsewhere. The same does apply to consumers too but on a smaller scale because the enterprise market has fewer customers and hence every single one of them is crucial. You'll be the first to know once we hear more about the terms of the acquisition and the state of existing product warranties.