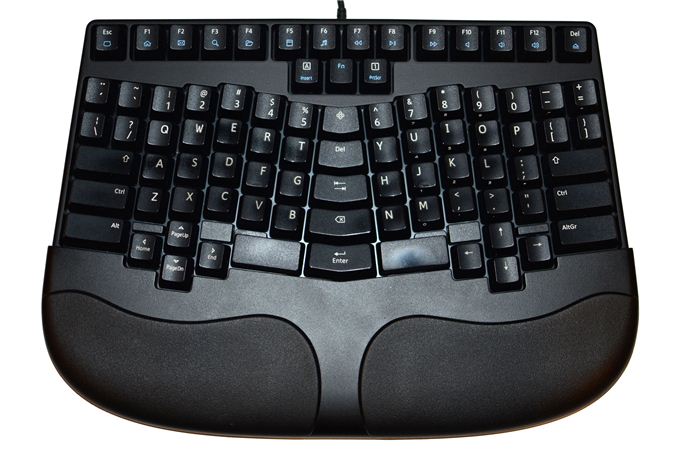 Earlier this year I reviewed both the TECK and ErgoDox keyboards, the latter coming via Massdrop. As I discussed in the ErgoDox review, Massdrop does a group buy of selected products in order to get reduced pricing, which can result in substantial savings. Right now they're doing a group buy on the TECK, and while it wasn't necessarily my personal favorite of the ergonomic keyboards I've tested, it has some good elements as well – plus TECK has also released their public remapping utility, which allows you to permanently change key mappings if you want to, as an example, swap the location of the Shift and Control keys.
At present, the TECK Massdrop group buy has six days remaining, with six of the required 25 slots filled. That will get you the keyboard at a price of $212, which is about 15% off the retail price of $248 – not bad. If the group buy gets at least 50 purchasers, the price will drop to $199 (20% off), and the maximum discounted price of $188 (24% off) kicks in with at least 100 buyers. That's about the lowest price you'll find on any ergonomic keyboard with mechanical switches, period.
Of course, maybe you don't want the TECK and would prefer my favorite of the keyboards I've reviewed, the Kinesis Advantage? Well, the TECK apparently won in the Massdrop voting stage over the Kinesis Advantage, at least this last round. You can wait for another voting round, or you can also vote for the Linear Feedback model with Cherry MX Red switches. It could be a while before Massdrop offers a group buy on either Kinesis, unfortunately (and the best price I've found outside of eBay is from Sears Marketplace for $269). If there's enough interest I'm sure Massdrop could hit a better price point, but patience will definitely be required. Massdrop lists a variety of other mechanical switch keyboards as well, mostly in the voting stage, so you could give those a look as well.
Let me wrap up this post by noting that keyboards are a highly subjective device, so when I say that the TECK wasn't my favorite and that I preferred the experience of typing on the Kinesis Advantage, that doesn't mean everyone will feel the same way. The TECK isn't necessarily perfect, but that's also true of the Kinesis, Microsoft, Logitech, ErgoDox, etc. keyboards – no product is perfect for everyone. You can see in the comments below that quite a few people have complained about this "advertisement", but let me assure you that I received nothing from Massdrop or Truly Ergonomic for doing this post; rather, I feel like the TECK will actually be a good keyboard for many people, and considering most quality ergonomic keyboards cost a lot of money and don't usually go on sale, the potential to get one for under $200 makes this something I wanted to pass along.
Source: Massdrop