While the Droid RAZR HD and RAZR MAXX aren't due out until later this year, Motorola/Google sampled press who attended the On Display event earlier today with a Droid RAZR M. As a recap, the RAZR M shares the same internal hardware as the RAZR HD and MAXX, but with a small battery, less on-board storage and a smaller display.
The 4.3-inch qHD (960 x 540) Super AMOLED Advanced (RGBG PenTile, similar to the original Droid RAZR) display is crammed into a chassis that's only a bit larger than the iPhone 4S.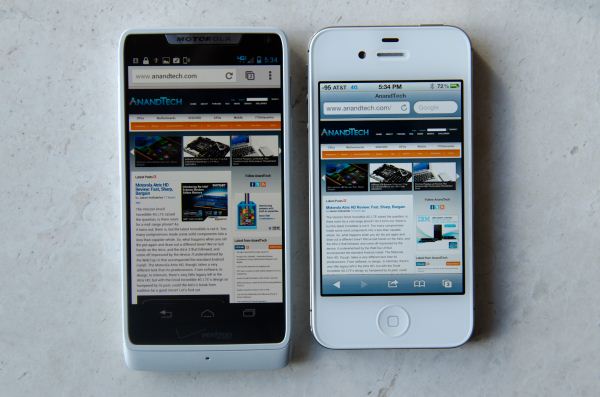 I have to say I'm a fan of the compact chassis combined with extremely large screen. Although I definitely understand the appeal of larger devices (I like the One X a lot), the RAZR M really does offer a great balance of form factor and display size. The device feels solid and relatively light, although the plethora of breaks in the design do give the RAZR M a distinctly lower tier look.
The phone ships with 8GB of on-board storage, but you do get a microSD slot for expansion.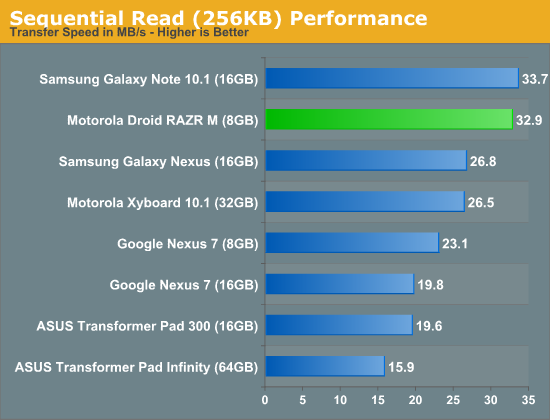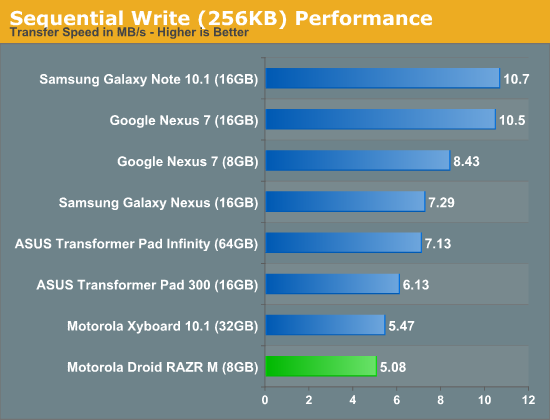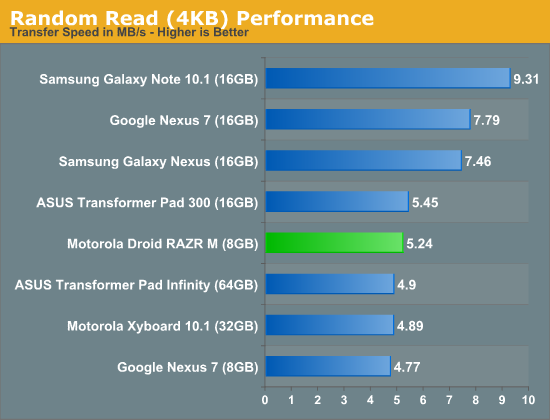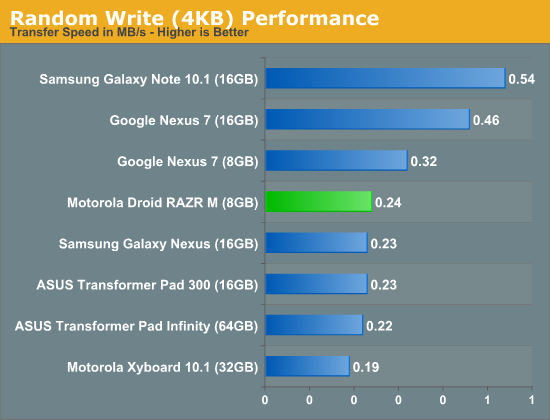 The on-board NAND performance is good when it comes to large block, sequential reads, and is simply ok at best everywhere else.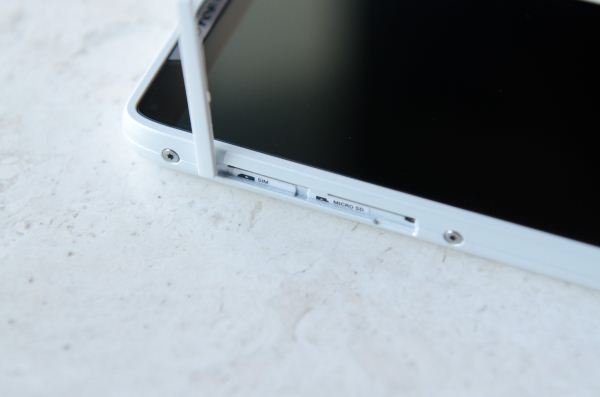 The microSD and micro SIM slots are located behind the same plastic cover on the left edge of the device. The micro USB port is also found on the left side of the RAZR M. Power/lock and volume rocker are both located on the right side.
Surprisingly enough I had no issues using Verizon's LTE network while walking around Manhattan today in between meetings. In fact I did most of my testing while wandering around the city, which leads me to my next point: the RAZR M can get quite warm during heavy use. That's nothing too surprising, but a single loop through GLBenchmark 2.5 will warm up your pocket enough to make things a bit uncomfortable. This isn't really an issue specific to the RAZR M, but rather a reminder that even with the move to 28nm we're still dissipating the same amount of power under max load as we have in earlier designs.
I didn't bring my display testing equipment with me so I'll have to save those results until I'm back in Raleigh this weekend. Subjectively the display looks vibrant although small text doesn't look all that good by today's standards.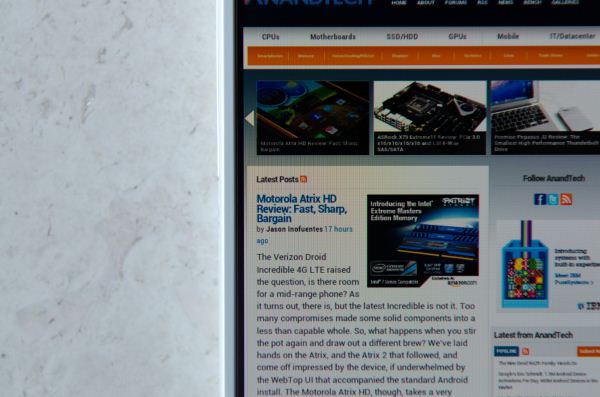 The RAZR M, like the rest of the new Droid RAZR family, ships with Chrome as the default browser. It's not as much of a bold statement as it would've been prior to Jelly Bean (Android 4.1) officially doing the same thing, but it's a nice addition. Unfortunately it looks like JS performance isn't anything earth shattering. We've definitely seen better performance from other devices running Chrome. Motorola did caution us about drawing any conclusions based on this data since final software is still not quite ready.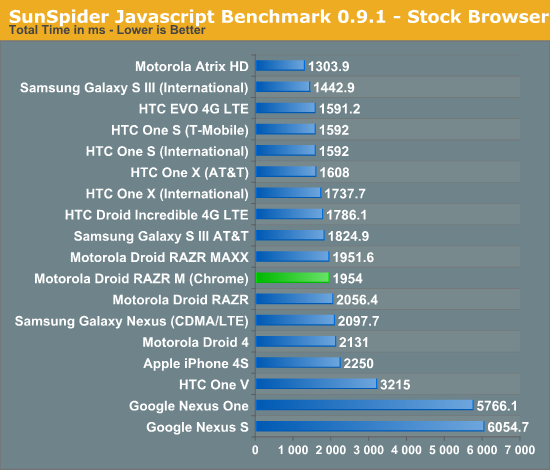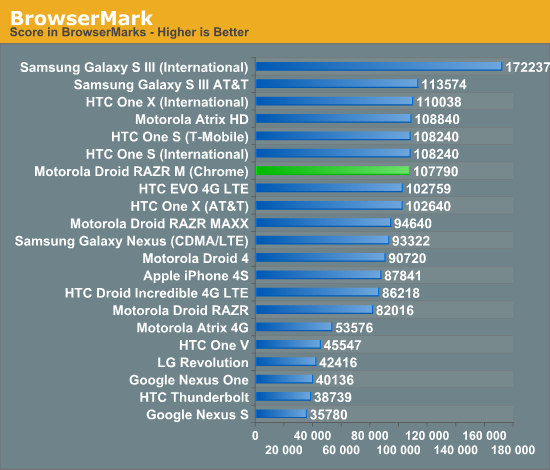 Overall performance courtesy of Vellamo looks to be in line with other S4 based devices: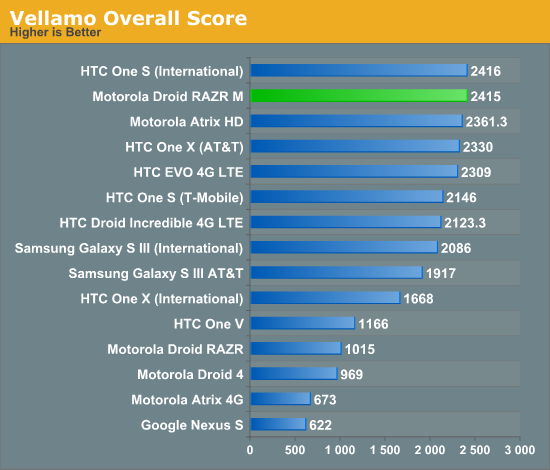 The rest of the software is custom Motorola layered on top of Android 4.0.4 (Jelly Bean upgrades promised before the end of the year). Motorola's changes to Android don't feel terrible and they don't seem to take as much getting used to as what you get from HTC or Samsung, but that may just be me.
Most UI transitions are smooth although you will see dropped frame rates from time to time. The move to Jelly Bean will hopefully help alleviate some of those issues though.
GPU performance is right where you'd expect it to be based on the underlying hardware (dual-core Snapdragon S4 running at 1.5GHz with Adreno 225):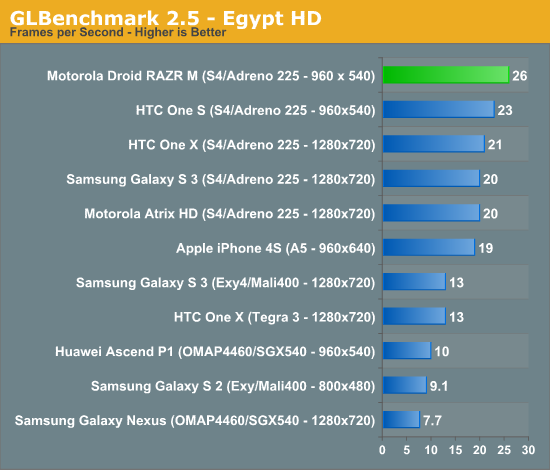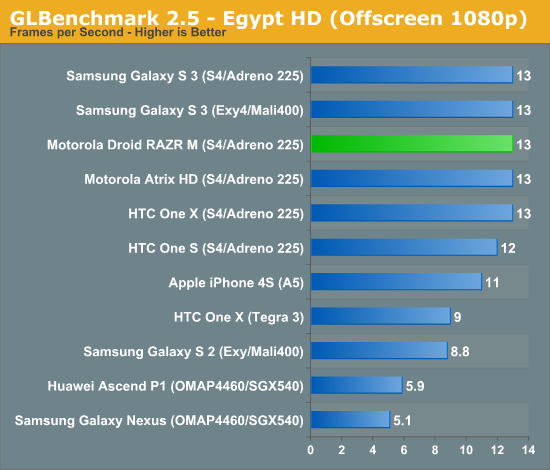 We still have a lot more to do before we're at full review status of the device, but so far I like what Motorola has done with the RAZR M. It's good to see Motorola focusing on both the larger and smaller device form factors in the RAZR family.