After snagging long time AMD/ATIer Godfrey Cheng, Synaptics is looking to significantly increase its public exposure. As a manufacturer of touch controllers and touch platforms in an increasingly touch driven world, Synaptics has a significant role to play in the devices we use and review.
I spoke with Synaptics at the show about the relatively poor state of current buttonless click pads that PC OEMs have been shipping for far too long. Synaptics claims that its reference designs can deliver great performance, however it's up to PC OEMs to actually implement all of the components in the design. In the constant quest for lower pricing while maintaining margins, PC OEMs have often sacrificed in areas such as display, keyboards and of course trackpads.
This is thankfully beginning to change. With a desire to move up in the market coupled with Microsoft's more stringent certification for Windows 8 touchpad solutions, it looks like things will get better over the next year. Some OEMs are even taking matters into their own hands. I met with ASUS at the show and was shown a version of the Zenbook with an ASUS developed touchpad driver.
Synaptics also gave me some hands on time with their Click EQ product. Buttonless trackpads are commonplace on many modern notebooks however they are usually the top hinged design, similar to what Apple uses in its MacBook Pro/Air lines. A single hinge along the top of the trackpad makes clicking near the bottom of the trackpad easier than clicking near the top (a difference in leverage). Synaptics Click EQ on the other hand lacks a single hinge, instead the entire surface of the clickpad moves up and down when you click it. In other words, it requires equal effort to click regardless of where you're pushing on the pad. Acer's Chromebook currently features a Click EQ pad, while Synaptics says other designs are forthcoming.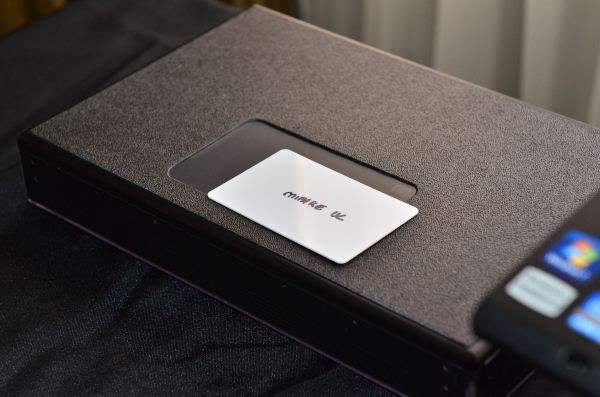 Finally, Synaptics is working closely with NFC vendors as the trackpad/clickpad is likely going to be where NFC enabled notebooks interface with NFC tags or other NFC devices. Intel actually had a demonstration at the show where an NFC enabled Medfield phone sent the currently active URL in the browser to an NFC enabled Ultrabook simply by bringing it near the trackpad of the notebook. The trick is making sure the trackpad doesn't cause any interference with the NFC and vice versa. Synaptics showed a demo where the trackpad was fully functional during an active transfer over NFC.
Needless to say there's a lot of work that goes into making these touch interfaces work properly. Given how important touch is today and how important non-traditional interfaces will be going forward, expect to see a lot of innovation on this front.