Apple is a bit infamous for its tight control over new products, particularly iPhones. Development mules are often updated internals stuffed into nondescript previous generation designs. And talk of new products is forbidden, until the official reveal. Samsung, seems to have taken a different tack with their latest flagship device, the Galaxy S III. In the weeks leading up to today's announcement there were positively dozens of leaked images and specifications lists. And each one seemed so pointedly different than the last to leave the tech press exhausted with confusion and anticipation. All those leaks are put to the test, now, though; as Samsung has just revealed their most advanced phone yet, the Galaxy S III.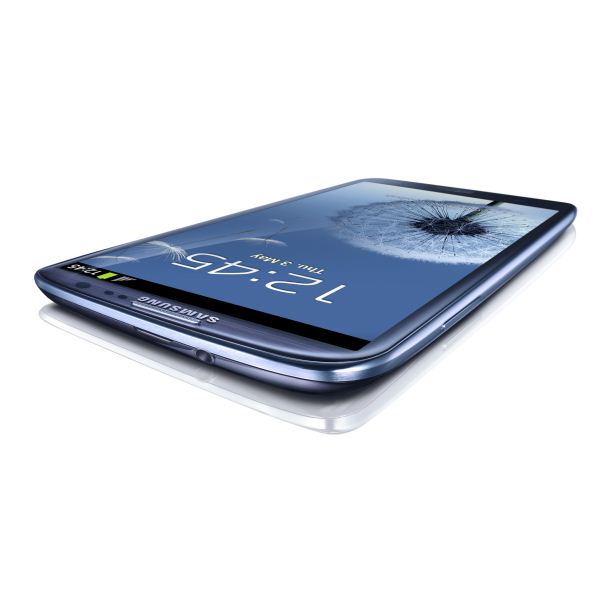 Physical Comparison
Apple iPhone 4S
Samsung Galaxy S 2
Samsung Galaxy S 3
HTC One X (AT&T)
Height
115.2 mm (4.5")
125.3 mm (4.93")
136.6 mm (5.38")
134.8 mm (5.31")
Width
58.6 mm (2.31")
66.1 mm (2.60")
70.6 mm (2.78")
69.9 mm (2.75")
Depth
9.3 mm ( 0.37")
8.49 mm (0.33")
8.6 mm (0.34")
8.9 mm (0.35")
Weight
140 g (4.9 oz)
115 g (4.06 oz)
133 g (4.7 oz)
129 g (4.6 oz)
CPU
Apple A5 @ ~800MHz Dual Core Cortex A9
1.2 GHz Exynos 4210 Dual Core Cortex A9
Exynos 4 Quad (4412) Quad Core Cortex A9 / Dual Core Qualcomm Snapdragon MSM8960
1.5 GHz Dual Core Qualcomm Snapdragon MSM8960
GPU
PowerVR SGX 543MP2
ARM Mali-400
ARM Mali400MP4 / Adreno 225
Adreno 225
RAM
512MB LPDDR2-800
1 GB LPDDR2
??
1 GB LPDDR2
NAND
16GB, 32GB or 64GB integrated
16 GB NAND with up to 32 GB microSD
16/32/64 GB NAND with up to 32 GB microSD
16 GB NAND
Camera
8 MP with LED Flash, Front Facing Camera
8 MP AF/LED flash, 2 MP front facing
8 MP with AF/LED Flash, 1.9 MP front facing
8 MP with AF/LED Flash, 1.3 MP front facing
Screen
3.5" 640 x 960 LED backlit LCD
4.27" 800 x 480 SAMOLED+
4.8" 1280x720 SAMOLED HD
4.7" 1280 x 720 LCD-TFT
Battery
Internal 5.3 Whr
Removable 6.11 Whr
Removable 7.77 Whr
Internal 6.66 Whr

Dubbed the Galaxy S III, the latest Samsung flagship device brings updated internals and many software additions to the Galaxy line. The 8.6 mm thick slate features a 4.8" HD SAMOLED display pushing 1280x720 pixels, on an RGBG stripe. The body is curvy and smooth and comes in Pebble Blue or Marble white, and appears to be metal in appearance (Ed. note: the images seem a bit ambiguous, we'll update when we get hands-on). There's more to unpack than was even included in the announcement, so let's get to it.
The display is going to undoubtedly be a point of contention for some of you. Indeed, before any of you have read down this far, I suspect the first comment has appeared below bemoaning the lack of a '+' at the end of the display's nomenclature. Yes, the 4.8" 1280x720 AMOLED display is of the Super variety, but lacks the RGB stripe of the Plus variety. We'll crunch some numbers and consider the likelihood that anyone will be able to suss out individual subpixels later. Aside from that we'll reserve judgment till we have a review unit in hand to sort out display quality. The 4.8" display only stretches the width of the device another 1.5 mm or so, so users comfortable with these larger phones should have no issues. Those of us still skeptical about this screen size might hesitate.
The design is oddly reminiscent of the iPod touch, but with gently curved surfaces across the front and back of the device. There is a familiarity to the design and doesn't step boldly away from the language first seen in the original Galaxy S. We'll know more about the tacticle experience after our hands-on. For now, peep the gallery and stay-tuned for a hands-on and an overview of the software aspects being introduced today.
Some of what we know today wasn't leaked, but was formally announced by Samsung earlier. Samsung Semiconductor, designers and fabricators of their Exynos family of ARM silicon, anounced that the next Galaxy phone would include their Exynos 4 Quad, previously known as the Exynos 4412. Like NVIDIA's Tegra 3, the Exynos 4 Quad features four ARM Cortex-A9 cores, though no companion core is put to use for powersavings. Each core can be power gated individually, just like Tegra 3. The big news here is the Exynos 4 Quad is built on Samsung's 32nm high-k + metal gate process, which should provide for a sizeable decrease in leakage and an overall improvement in power consumption compared to previous 45nm desgins.
That's not the only SoC we'll be seeing in the latest Galaxy devices, though. Like the Galaxy S II devices, LTE is limited to devices running Qualcomm SoC's, so US variants on Verizon, AT&T and Sprint will likely be sporting our latest favorite SoC, the Snapdragon S4. We can expect a lot of this, as it's not just necessary to move the performance bar with each generation, users expect battery life to see a respectable improvement as well. In our HTC One X (AT&T) review we noted just how much better battery life is with Qualcomm's 28nm radios, this is the kind of generational leap we want to see. Now, we're not sure why we're not seeing their 28nm radio-only parts, the MDM9x15. These basebands will include the same LTE Cat. 3 performance, but at much lower power consumption. We've never seen its predecessor the MDM9x00 paired in a phone with anything other than Qualcomm silicon, but we have seen it in data-only situations paired with the likes of the Apple A5X in the iPad 3 and within mobile hotspots and data cards.
None of this was mentioned during the event, but our man Brian Klug is hard at work pressing Samsung for confirmation on these details and we'll update as we learn more. Notably, is this statement from Samsung:
Samsung Mobile is planning a U.S. version of Galaxy S III, optimized for the fastest LTE and HSPA+ networks in the U.S., which will be available in the summer of 2012. Exact timing and retail channel availability is not being announced at this time. We believe the Galaxy S III is the most anticipated product in the 20-year history of Samsung Mobile; therefore, we will continue to share information as it becomes available.
So, without committing to anything, they're admitting that additional work will go into the S III before it appears on these shores.