Corsair has been making a tremendous number of waves over the past year, as announcements made at last year's CES are beginning to come to fruition. They continue to expand into other markets, but they do so from the top down.
One of their big new lines for 2011 and growing in 2012 is their Vengeance series of gaming peripherals. Ordinarily the marketing phrase "gaming peripherals" is enough to make most of us retch, but what Corsair brings to the table is worth your attention. Their Vengeance keyboards use cherry red MX switches and we're expecting to have them in for a quick look soon. At the same time, their Vengeance mice showed an impressive amount of polish on the software aside, allowing you to save the mouse button programming to the mouse's onboard memory. Their FPS-oriented model actually has a "sniper" button that dramatically reduces the sensor's DPI while it's being held down; it's a useful feature if you're like me and can't line up a shot to save your life.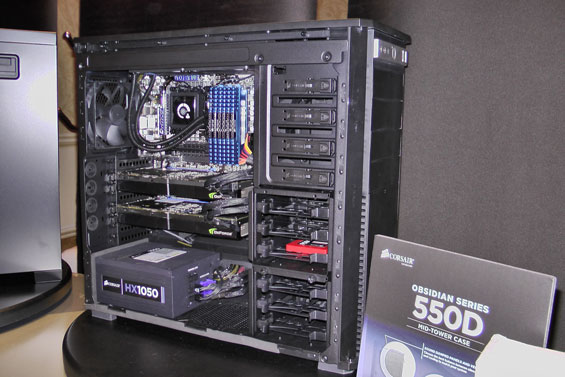 Corsair's "progress in reverse" continues unabated in their case lineup with the Carbide 300R and Obsidian 550D. The Carbide 300R is targeted for just $79 and features all of the amenities you've come to expect from Corsair enclosures while trimming the fat to get the pricetag down. The Obsidian 550D, on the other hand, is Corsair's first silence-oriented enclosure. It's exceedingly compelling, with a door that swings open in either direction (or can be removed entirely) and acoustic padding internally. That's coupled with the easy assembly Corsair cases are becoming known for.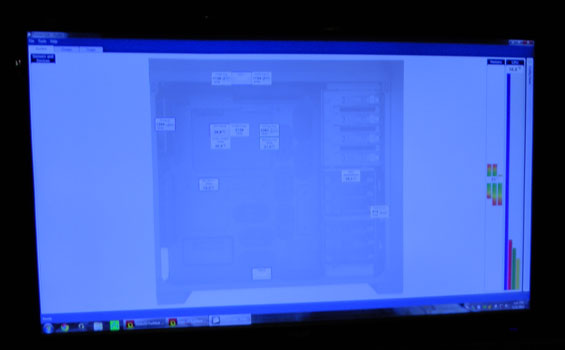 Finally, the Corsair Link platform that was announced at last year's CES is bearing fruit. The software essentially hooks into a hardware control box that fits inside a 3.5" drive bay and offers outstanding software-based control for up to four fans along with four analog thermal sensors. It can also be used to monitor and log all operating temperatures, including coolant temperatures in the H100, as well as control LED strips plugged into it. Honestly I was very skeptical of it at CES 2011, but seeing it running in person was enough to convince me. We'll definitely be checking this out in the future, and the platform as a whole is strong enough to be worth considering regular use in our case reviews.
If there's one product I wasn't as sold on, it was Corsair's Accelerator SSD series. These are SSDs in low capacities (topping out at 60GB) that are designed to be used as solid state cache but available at low prices. I'm not convinced; 60GB is actually fairly adequate for a basic system drive, and with 60GB drives available for under $100 and only getting cheaper, I'm not sure this was a market that needed servicing. Corsair is working with Nvelo to offer their caching software with the drive (basically an alternative to Intel's Smart Response Technology that doesn't have the Z68 chipset requirement).
As a whole, though, Corsair's presence at CES was a very strong one, continuing to execute strongly in the markets they're branching out in.