GameSpot unveiled a new feature today: free streaming game demos courtesy of OnLive. Demos courtesy of the cloud gaming service are integrated right into GameSpot's game profiles, alongside reviews, screenshots and videos. In return, some GameSpot videos will appear within the OnLive client.
OnLive CEO Steve Perlman told Gamasutra that the move is "in some ways the first large-scale announcement of OnLive's B2B [business-to-business] offering. The pieces have always been there, but it's such a new animal."
The process is simple. After downloading the OnLive client and creating a free account (no credit card required, just an email address), I was able to stream a Red Faction: Guerrilla demo by clicking on the button (see below).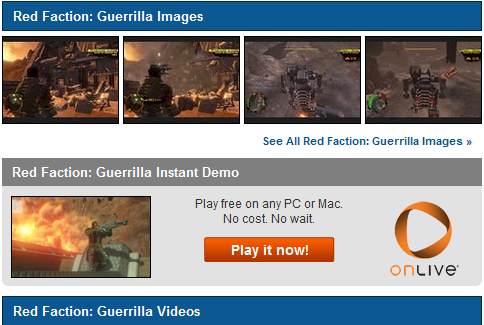 GameSpot may not be the only site or retailer to integrate OnLive demos. "You'll be seeing announcements from retailers and other sites," Perlman told Gamasutra. Business-to-business deals like this one and a recent partnership with Juniper Networks show OnLive adapting their cloud computing tech for audiences other than simply gamers.
This announcement comes less than a week after OnLive made headlines by offering free game coupons with boxed PC copies of Deus Ex: Human Revolution. The move irked GameStop (not to be confused with GameSpot), who promptly removed the coupons – and then the games themselves.