Roku, founded in 2002, is one of the pioneers in the media streamer market. OTT (over-the-top) content from premium service providers like Netflix and Hulu has become more popular in the US compared to local content. OTT streaming has been one of Roku's strong points. Today, Roku is introducing the Roku 2 lineup. This builds upon the media streaming potential (adding a host of new apps / channels) and also brings with it some attention to casual games.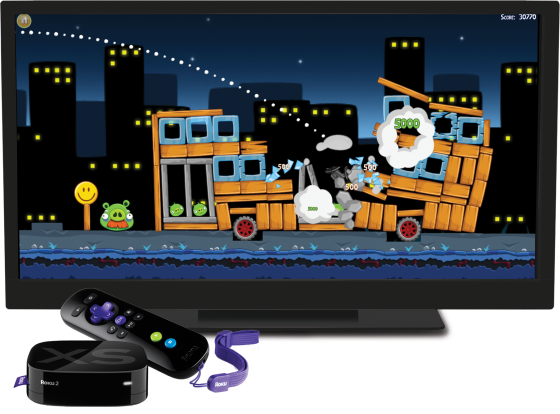 Roku 2 Lineup

There are 3 members in the refreshed lineup, and their main features are summarized below:
Roku 2 HD

Model number 3000X
720p
$59

Roku 2 XD

Model number 3050X
1080p
$79

Roku 2 XS

Model number 3100X
1080p
Motion Remote
Ethernet
USB 2.0 Host

Engadget did some investigation into the FCC filings last month and came up with a nice comparison table on this page.

Note that all the models are equipped with built-in wireless and Bluetooth. So, the motion remote (Roku Game Remote) can be purchased as an add-on for the Roku 2 HD and Roku 2 XD. For $29.99, Roku will be offering the Roku Game Remote along with a 2 GB microSD card.

Casual Gaming Focus

Roku 2 supports a dedicated Bluetooth motion sensing remote supposedly optimized for the bird slinging in Angry Birds. The full version of Angry Birds comes in free with the Roku XS, and we hope it will not bring ads with it (like it does on the Android version).

Other than the full version of Angry Birds available at launch, Roku also indicated that the following games would be coming in the weeks following the launch:
Pacman from Namco Bandai
Galaga from Namco Bandai
Angry Birds Seasons from Rovio
Angry Birds Rio from Rovio
Other games are supposed to be announced soon.

Streaming Platform Updates

Roku is introducing new channels with the Roku 2:
Facebook
EPIX
Major League Soccer
AOL HD
FOXNews.com
Of course, all the existing channels such as Netflix, Hulu Plus, NBA Game Time, NHL GameCenter Live, Pandora, TuneIn Radio etc. will also continue to work

One of the peeves we have had with Netflix in general is the fact that their 1080p offerings have been restricted to only the PS3 so far. On the audio side, it is slightly better with players such as the Boxee Box, Apple TV 2, WDTV Live Plus/Hub etc. supporting Dolby Digital Plus 5.1 tracks. Even the PC client doesn't support 1080p with 5.1 audio.

The Roku 2 becomes the second media streamer after PS3 to fully support 1080p Netflix encodes with English subtitles and DD+ 5.1 audio tracks. 1080p is obviously available only on the XD and XS models.

Roku indicated that the XS model would support playback of local media via the USB drive and that popular formats would be supported. I can't wait to put our media streamer test suite through the Roku 2 XS! Features such as HD audio bitstreaming are unknown at this point, but we wouldn't be surprised if Roku decides to restrict itself to supporting just the non-HD formats.

The Roku XD from Netgear that we reviewed earlier had a NXP chipset. Broadcom has been supplying the networking chips in the Roku boxes for quite some time. By getting design wins for all the major chips in the product, it looks like they were able to convince Roku to go in for a package deal.

There is no public information available yet about the Broadcom 2835 chip (discovered by Engadget in the FCC filings before Roku put in a confidentiality request) being used in the Roku 2 lineup. However, Roku confirmed that the chip has a GPU built-in. Roku notes that they have been developing this product for more than a year now. Broadcom signed a term licensing deal with ARM for their Mali graphics IP in early 2008. Circumstantial evidence points to this GPU being used in the 2835. We are trying to confirm this in time for our final review.

Final Words

The Roku 2 represents the movement of Roku away from a single-purpose box to that of a casual gaming solution also. While other media streamer manufacturers are hoping to run Android on their streamer boxes, Roku continues to build upon their existing software infrastructure in a new hardware platform.

The power consumption of the Roku 2 is more in line with what the Apple TV 2 consumes (~2W). The dimensions are also similar to that of the Apple TV 2 and so is the pricing. So, we know that the target market is the average consumer and not the hardcore media streamer enthusiast.

Serious media streamer enthusiasts have been clamouring for expanded local media playback options. Does the Roku 2 address this? Will the Roku 2 start a casual gaming revolution on the big screen? How will the market react to the way Roku is reshaping its media streamers? We will know the answer in the coming months.