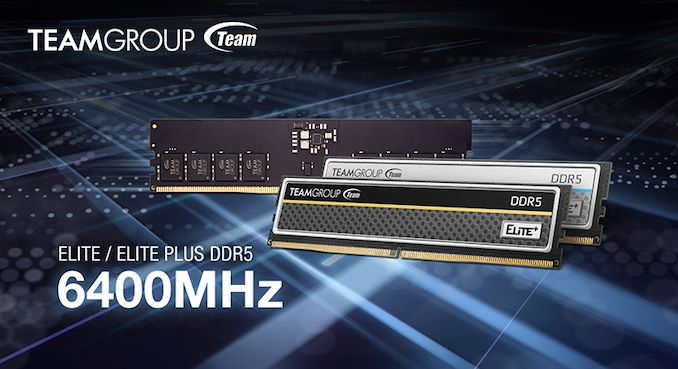 While DDR5 memory has been out and in use for a couple of years now, so far we haven't seen the memory reach its full potential – at least, not for rank-and-file standards-compliant DIMMs. The specification allows for speeds as high as DDR5-6400, but to date we've only seen on-spec kits (and processors) as fast as DDR5-5600. But at last, it looks like things are about to change and DDR5 is set to live up to its full potential, going by a new memory kit announcement from TeamGroup.
The memory kit vendor on Monday introduced its new ElitePlus-series DDR5-6400 memory modules, the first DDR5-6400 kit to be announced as JEDEC specification compliant. This means their new kit not only hits 6400 MT/s with standards-compliant timings, but arguably more importantly, it does so at DDR5's standard voltage of 1.1V as well. And while there are no platforms on the market at this time that are validated for JEDEC DDR5-6400 speeds, TeamGroup's product page already lists compatibility with Intel's yet-to-be-announced "Z790 Refresh" platform – so suitable processors seem to be due soon.
TeamGroup's Elite and ElitePlus DDR5-6400 memory modules come in 16 GB and 32 GB capacities (32 GB and 64 GB dual-channel kits) and feature JEDEC-standard CL52 52-52-103 timings as well as 1.1V voltage, as specified by the organization overseeing DRAM specs. For the moment, at least, TeamGroup's DDR5-6400 modules are the industry's fastest UDIMMs that are fully compliant with the JEDEC specifications.
And while DDR5-6400 speeds (and far higher) are available today with factory overclocked XMP/EXPO, the announcement of a JEDEC standards-compliant kit is still significant for a few different reasons. Being able to hit DDR5-6400B speeds and timings at 1.1V means DDR5 memory has improved to the point to make higher speeds at low voltages more viable, which has potential payoffs for memory at every speed grade by allowing for improved speeds and reduced power consumption/heat. And for OEM and other warrantied systems that only use JEDEC-complaint RAM, this allows for a straightforward improvement in memory speeds and bandwidth. About the only downside to faster on-spec kits is that they lack XMP or EXPO serial presence detect (SPD) profiles, which makes their configuration slightly more complicated on existing platforms from AMD and Intel, as they don't officially support DDR5-6400.
Meanwhile, on their product pages TeamGroup notes that the new RAM is compatible with Intel's "Z790 Refresh" platform, a platform that has yet to be officially announced, but is rumored to go hand-in-hand with Intel "Raptor Lake Refresh" processors. Despite the lack of formal announcements from Intel there, TeamGroup seems to have let the cat out of the bag. So, prospective owners of Z790 Refresh systems can look forward to having access to specs-compliant 1.1V DDR5-6400 memory when that platform launches later this year.
As for the modules at hand, traditionally, TeamGroup's Elite and ElitePlus memory modules are minimalistic and are aimed both at system integrators and at enthusiasts who are not after fancy designs of heat spreaders, RGB lighting, and maximum performance. In fact, TeamGroup's Elite modules do not have heat spreaders at all, whereas ElitePlus modules have a minimalistic heat spreader that will not interfere with large CPU coolers.
TeamGroup says its Elite and ElitePlus DDR5-6400 memory modules will be available separately and in dual-channel kits starting from August in North America and Taiwan. And from that, we'd assume, Raptor Lake Refresh will not be far behind.
Source: TeamGroup