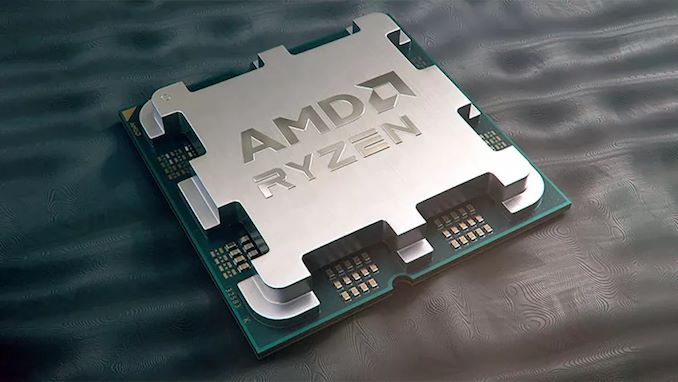 Over the weekend, AMD officially listed the Ryzen 5 7500F processor on their website. Although initial reports pointed towards a China-only release, and at present, that much is true, the Ryzen 5 7500F is heading towards global availability, at least according to AMD. With a reported MSRP of around $179, the Ryzen 5 7500F is currently the cheapest Zen 4-based desktop processor. It comes with six Zen 4 cores and is similar in specifications to the Ryzen 5 7600, albeit with a few variances. Most importantly, it doesn't feature AMD's RDNA 2 integrated graphics, as seen on other Ryzen 7000 SKUs.
When AMD initially launched their Ryzen 7000 desktop processors based on their latest Zen 4 microarchitecture in September last year, they received many performance and power efficiency plaudits. One area that didn't shine so brightly was in value, as AMD's Ryzen 7000 processors only support DDR5, and at the time, AMD's new (at the time) AM5 platform was hardly cheap. Fast forward to now, and AMD looks to rectify that with their first sub $200 chip based on Zen 4, the Ryzen 5 7500F.
AMD Ryzen 5 Series Line-Up (Sub $300)
AnandTech
Cores
Threads
Base
Freq
Turbo
Freq
Memory
Support
L3
Cache
TDP
PPT
Price $
Ryzen 5 7600X
6C / 12T
4.7 GHz
5.3 GHz

DDR5-5200

32 MB
105 W
142 W
$299
Ryzen 5 7600
6C / 12T
3.8 GHz
5.1 GHz

DDR5-5200

32 MB
65 W
88 W
$227
Ryzen 5 7500F
6C / 12T
3.7 GHz
5.0 GHz

DDR5-5200

32 MB
65 W
88 W
$179?*
*Price as reported by Toms Hardware & TechPowerUp
Despite only being available at the time of writing in the Chinese market, the AMD Ryzen 5 7500F benefits from six Zen 4 cores (and 12 threads), as well as a base frequency of 3.7 GHz and a turbo of up to 5.0 GHz. As with other Ryzen 5 models, such as the 7600X and 7600, the 7500F also has 32 MB of L3 cache. It also aligns with the more efficient Ryzen 5 7600 and, as such, has a 65 W base TDP with a Package Power Tracking (PPT) of up to 88 W.
The most significant difference between the Ryzen 5 7500F and the other Ryzen 7000 series processors is it seems to be the first Zen 4-based CPU to omit integrated graphics. Although the other Ryzen 7000 series chips use RDNA 2-based integrated graphics, which, although not good enough to game with at decent frame rates, does provide other benefits as it is more than powerful enough to operate typical desktop work. The Ryzen 5 7500F does retain all the other benefits of the Zen 4 and AM5 platform, such as 28 x PCIe 5.0 lanes and support for a fully-fledged high-performance PCIe 5.0 x4 M.2 SSD.
All currently associated reviews of the Ryzen 5 7500F are from Chinese and South Korean media outlets. As we mentioned, this is because, technically, the only place users can currently buy this chip is in China. Still, things point to a subsequent global launch further down the line or imminently in other regions such as North America and Europe.