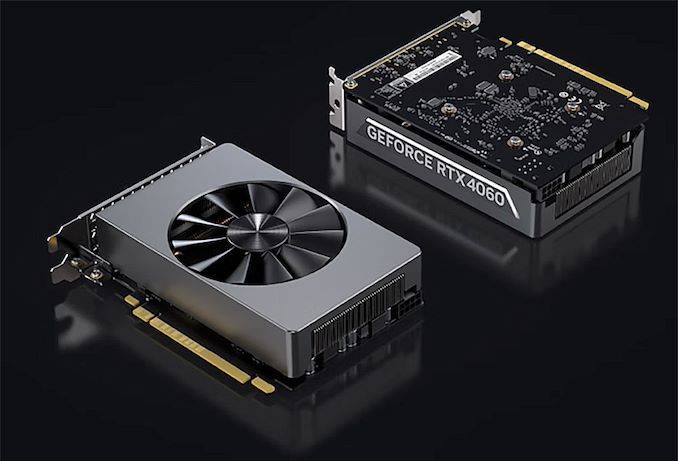 One of design perks of NVIDIA's GeForce RTX 4060 is its relatively low power consumption, which has allowed graphics cards makers to produce compact add-in-boards without the massive heatsink and VRM setups required by higher-end cards. At 115 Watts, the power consumption of the card is low enough that it makes even Mini-ITX-sized cards practical, which is great news for the SFF PC community. And to that end, we've seen a few manufacturers introduce Mini-ITX GeForce RTX 4060 designs, with Lenovo now joining them as the latest member of the club with their own Mini-ITX 4060 card.
Specifications-wise, Lenovo's Mini-ITX GeForce RTX 4060 is exactly what you'd expect: it a stock-configuration RTX 4060 that carries NVIDIA's AD107 graphics processor with 3072 CUDA cores that is mated to 8 GB of GDDR6 memory using a 128-but interface. Lenovo does not disclose display outputs configuration (though expect both DisplayPort and HDMI to be present), though we see an eight-pin auxiliary PCIe power connector on the back of the board.
Meanwhile, the video card is equipped with a dual-slot, single-fan cooling system, which is typical for cards in this segment. The small heatsink and single fan is a big part in what's enabled Lenovo to build such a small card, ensuring it will fit in a Mini-ITX system (at least so long as it can accept dual-slot cards).
Overall, with its size and scale as the world's largest PC maker, we've seen Lenovo designs and manufacture scores of components over the years for their own internal use, with their Mini-ITX video card being the latest example. For the moment, Lenovo's Mini-ITX GeForce RTX 4060 is exclusively used for the company's IdeaCentre GeekPro 2023 system that is sold on JD.com. The PC is powered by Intel's Core i5-13400F and is outfitted with 16GB of RAM along with a 1TB SSD.
And while Lenovo is only using the card internally for now, there's also a chance the card could eventually make it to retail as a grey market product. The large scale of the company that makes internal component production viable also means that Lenovo parts sometimes end up on etailer shelves, especially if the company has excess stock to move.
Source: JD.com