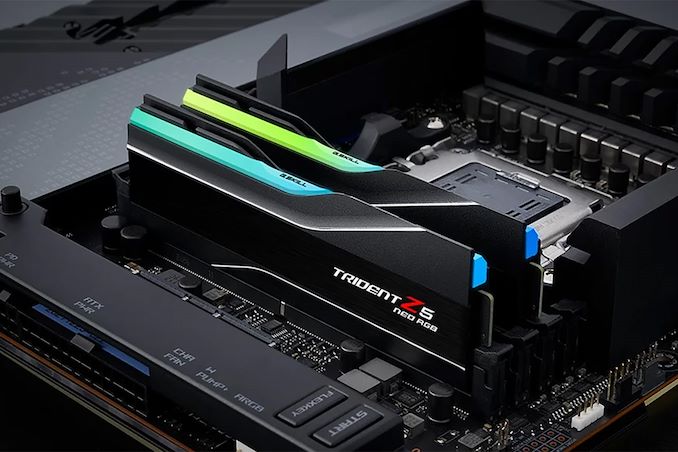 G.Skill has quietly started selling its 24 GB DDR5 memory modules with AMD EXPO profiles for single-click overclocking. G.Skill's Trident Z5 Neo RGB modules are among the first EXPO-profiled DIMMs larger than 16GB to hit the market, with G.Skill offering kits as large as 48GB (2 x 24GB).
G.Skill's 24 GB Trident Z5 Neo RGB memory modules with AMD EXPO profiles support are designed for a 6000 MT/s data transfer rate, which is considered to be a sweet spot for AMD's Ryzen 7000-series processors based on the Zen 4 microarchitecture. As for timings, the manufacturer recommends CL40 48-48-96 settings at 1.35V, which is a rather significant (22%) overvoltage for DDR5 memory.
Traditional for G.Skill's Trident-series modules for PC hardware enthusiasts and overclockers, 24 GB Trident Z5 Neo RGB DIMMs come equipped with aluminum heat spreaders and, as their name suggests, addressable RGB bars. Keeping in mind that these memory sticks are overvolted and also carry a power management IC and voltage regulating module onboard, these heat spreaders promise to come handy.
The key selling point of G.Skill's 24GB Trident Z5 Neo RGB modules and associated 48GB dual-channel kits is support for AMD's EXPO memory technology, which enables single-click overclocking profiles for modules rated to operate at beyond standard settings.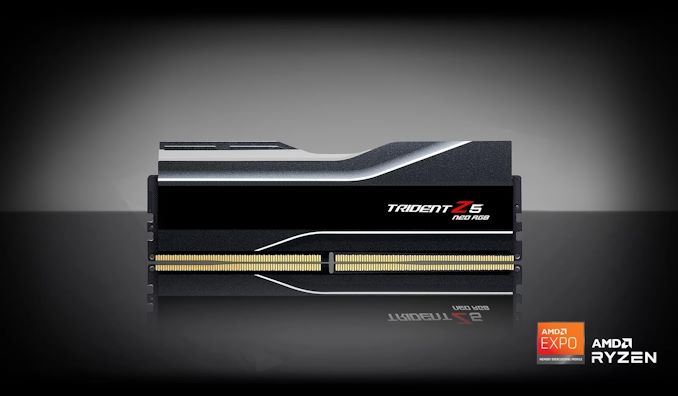 24GB DIMMs have been available in the market for a bit, but the first products were aimed at Intel systems, and shipped with XMP 3.0 profiles. Initial media reports have demonstrated that there have been some compatibility issues with these new 24GB XMP DIMMs and AMD systems, so having DIMMs that are formally tested for AMD platforms is a welcome step forward. Though most of the heavy lifting is coming from UEFI BIOS updates to account for the relatively novel, non-power-of-two organization of these new DIMMs.
G.Skill's Trident Z5 Neo RGB 48GB dual-channel (2 x 24GB) DDR5-6000 kit F5-6000J4048F24GX2-TZ5NR is now available from Newegg for $159.99.