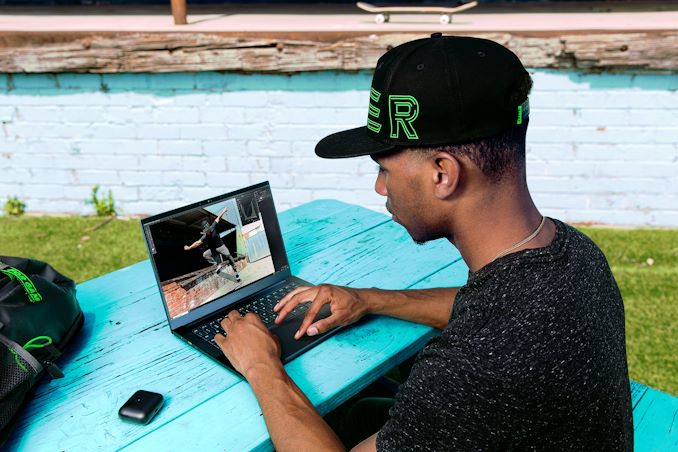 Despite running late and experiencing shipping delays, AMD's latest Zen 4 mobile chips with RDNA 3 graphics and Ryzen AI, the Ryzen 7040HS mobile chips, are becoming more widely available. Razer has adopted the Ryzen 7040HS series notebooks for its flagship Blade 14 model, which is powered by a Ryzen 9 7940HS and is available either with an NVIDIA GeForce RTX 4060 (140 W TGP) or the higher spec RTX 4070 (140 W TGP). Starting at $2400 and up to $2800, Razer claims the latest Blade 14 with the AMD Ryzen 7940HS is the most powerful Blade 14 they've ever created.
Outside of the latest Razer Blade 14 powered by AMD's Ryzen 7940HS 8C/16T mobile Zen 4 chip, it has seemingly felt like ages since AMD first announced the Ryzen 7040HS series back at CES 2023. Expected back in Spring, AMD looks to have worked out any kinks and started shipping their Ryzen 7040HS mobile parts more widely to its partners and vendors, with various new notebooks from multiple vendors set to launch imminently.
Below is more of our detailed AMD Ryzen 7040HS series coverage:
Razer Blade 14 (2023): Ryzen 7940HS, Up to RTX 4070 Graphics
Moving onto Razer's latest member of the popular Blade 14 series, the updated Razer Blade 14 is powered by AMD's Ryzen 7940HS processor, and it is the first generation of Blade 14's to be available in both 'Mercury' White and black. The latest Razer Blade 14 chassis is made of precision-milled aluminum, an anodized finish, and a fingerprint-resistant coating.
In terms of size and profile, it is 228 mm deep and 310.7 mm wide, with a thickness of just 17.99 mm and weighing in at just 4.05 lb; it's a mighty, thin, and light powerhouse of a notebook on paper. Compared to the previous Blade 14, Razer claims the Ryzen 7040HS Blade 14 is 9% more lightweight and 11.5% more compact than the current Blade 15 model.
Focusing on the core specifications of the AMD Ryzen 7040HS Razer Blade 14, there are three primary configurations for users, one with an RTX 4060 and two versions with an RTX 4070. Opening with the shared parameters of both models, AMD's top 8-7040HS SKU powers both, the Ryzen 9 7940HS, which has eight Zen 4 cores and sixteen threads, clocked at 4.0 GHz base and up to 5.2 GHz for boost frequency, with 16 MB of L3 cache and a TDP of between 35 and 54 W.
All three new models are direct replacements and upgrades to last year's Razer Blade 14, which is powered by an AMD Ryzen 9 6900HX processor (Zen 3+) and an RTX 3070 Ti mobile graphics card. Razer's latest update to the Blade 14 encompasses AMD's Zen 4 cores. It also makes notable upgrades to key elements such as the IPS panel and provides a range of additional benefits from being a newer model.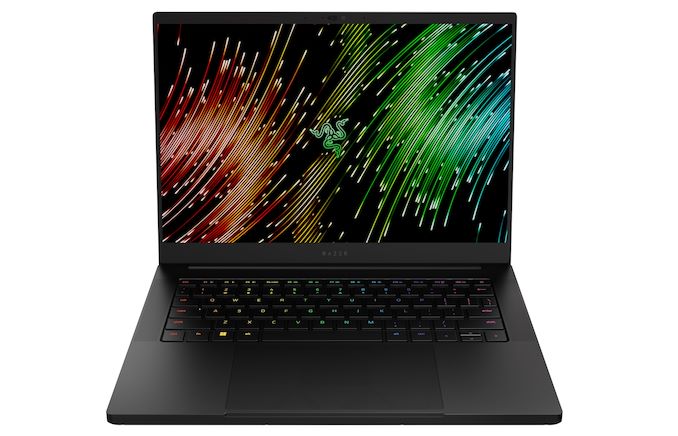 Also shared is a 1TB PCIe 4.0 x4 M.2 NVMe SSD, although they are configured to support up to 4 TB 4.0 x 4 drives; Razer hasn't disclosed whether there's only one slot available or additional room to expand. Both come with a high spec 240 Hz (3 ms response) 2560 x 1440p display with an aspect ratio of 16:10 and a maximum brightness of up to 500 nits. At the time of writing, it's unclear what panel tech Razer (e.g., TN or IPS) is using, as they haven't disclosed this to us yet.
The base model comes with a black finish and is powered by an NVIDIA GeForce RTX 4070 graphics card with up to 140 W of graphics power (TGP). The base model also features 16 GB of DDR5-5600 dual channel memory, with users able to install and expand the memory with capacities of up to 64 GB. This means the memory isn't soldered to the mainboard like many vendors do, so LPDDDR5x memory isn't supported.
Touching on last year's Blade 14 memory specs, as it was based on Zen 3+, it supported DDR4-4800 memory, which was soldered to the PCB, meaning it wasn't upgradable. Razer has prioritized the 2023 Blade 14 for a more configurable and customizable Blade 14 for users that need or want to install higher capacity memory.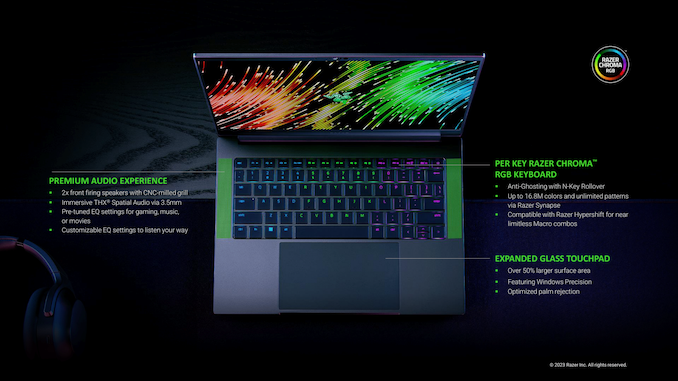 For the middle Blade 14, the only difference is that the graphics have been upgraded to a more powerful NVIDIA GeForce RTX 4070 graphics card, which also has the same 140 W TGP power budget allocated to it. The specifications remain the same, including the black anodized aluminum finish.
Each Razer Blade 14 has two front-firing speakers, a bespoke CNC-milled aluminum grill, and a 3.5 mm audio jack supporting THX Spatial Audio. Each key within the slim profiled keyboard includes per key RGB customization through Razer's Chroma software, with the touchpad comprising a glass finish with support for Windows Precision.
The more expensive of the three Razer Blade 14 with Ryzen 7040HS options also includes the RTX 4070 graphics but has 32 GB of DDR5-5600 memory installed, double that of the two previous models, and the same 64 GB expandability applies here. The primary difference is that this model is available in Razer's stylish 'mercury white' finish with an additional $100 premium, including the memory upgrade.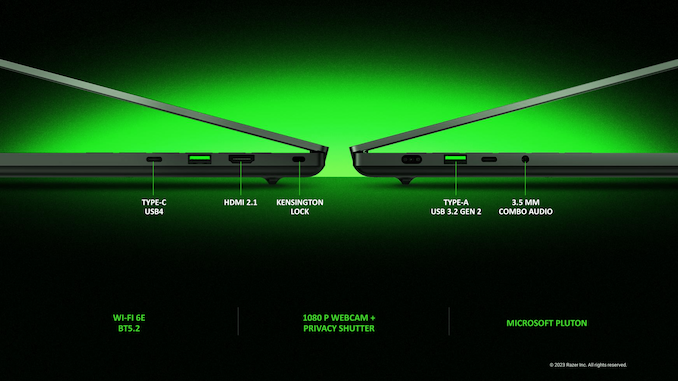 As with most Razer Blade models, the new Blade 14 has plenty of premium connectivity, including one USB 4 Type-C port, a second unspecific Type-C port, and two additional USB 3.2 G2 Type-A ports. A single HDMI 2.1 video output and a Kensington lock allow users to secure the laptop to hinder thieves. Along the top bezel of the Razer Blade 14 is a 1080p webcam with a built-in privacy shutter. In addition, there's support for Microsoft Pluton with the hardware built into the Ryzen CPU itself for an added layer of security for users. Razer includes a Wi-Fi 6E wireless interface with support for the latest BT 5.2 devices for networking capability.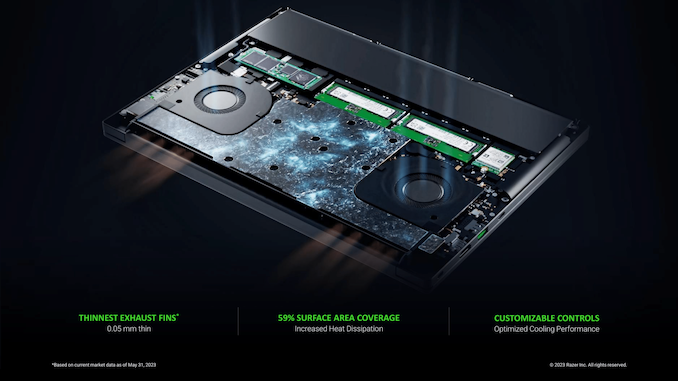 In terms of cooling, the Razer Blade 14 uses a vapor chamber cooling design, with what Razer claims is their thinnest exhaust fins yet, with a consistent gap of 0.05 mm between each fin. Razer claims the cooling design has 59% surface area coverage, with customizable cooling controls, including fan curve profiles. Although in practice, most gaming notebooks, when gaming at high settings, can run notoriously hot, and it is usually a trade-off between heat and noise. Touching briefly on the battery, Razer claims up to 10 hours of battery life with its larger 68.1 Wh battery. However, much like the thermal situation, the time it takes to drain the battery will be considerably lower when gaming.
AMD Ryzen 7040HS Series Coming to Many More Models Very Soon
The Razer Blade 14 with AMD's Ryzen 7940HS 8C/16T Zen 4 processor is only the beginning, as AMD and its partners intend to launch many more notebooks over the coming months. This includes key models from Acer, ASUS, HP, Lenovo, and other notebook vendors.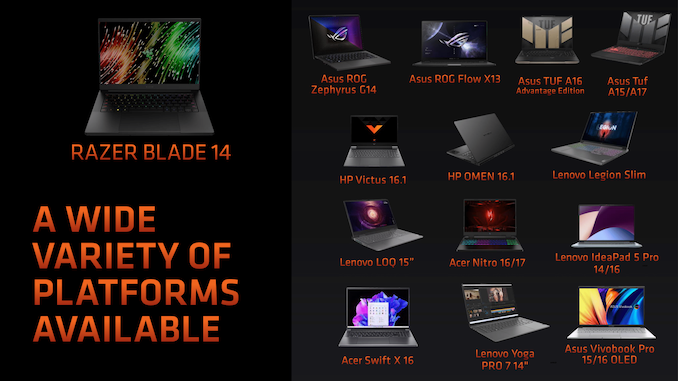 Some already touted models (courtesy of AMD) include the ASUS ROG Zephyrus G14, one of ASUS's most popular models, and their ROG Flow X13, which first debuted in 2021. It's worth highlighting that ASUS already has a ROG model with a Ryzen 9 7940HS, RTX 4070 8G, and a 14" 165 Hz QHD display already on the market for $1850. At the time of writing, HP plans to launch its Victus 16.1 notebook with Ryzen 7040HS mobile chips and the more gaming-focused HP Omen 16.1.
Lenovo has a couple, including their Legion Slim model and their IdeaPad 5 Pro in both 14 and 16 varieties, while Acer has their Nitro 16 and 17 models in the pipeline. Expect many more notebooks to be announced with AMD Ryzen 7040HS mobile processors within the next few months.
Regarding pricing and availability of the three Razer Blade 14 models, the cheapest starts at $2400 with RTX 4060 graphics and 16 GB of DDR5-5600, while it also has a Blade 14 model with an RTX 4070 for $2700; both of these models come with a black finish. The Razer Blade 14 with 32 GB of DDR5-5600, RTX 4070 graphics, and the stylish mercury white finish, costs $2800. All three Razer Blade 14 models are available to pre-order now, with full availability expected on June 20th.