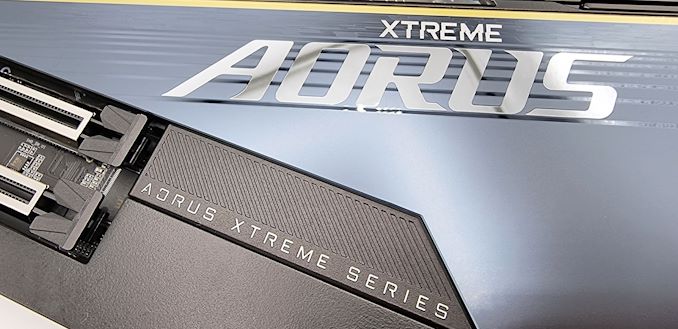 Over the years, motherboard manufacturers have consistently pushed the limits on top-end motherboards with striking designs and PCBs filled to the brim with the latest controllers and feature sets. Although these typically come with a high price premium, these 'flagships' represent the latest components, designed to operate the fastest processors to deliver leading-edge performance while offering the best controllers available at the time of manufacture.
One such model is the GIGABYTE Z790 Aorus Xtreme, which is the direct successor to the Z690 Aorus Xtreme, and boasts a premium feature set, including support for DDR5-8000 memory, dual Thunderbolt 4 Type-C, as well as 10 GbE and Wi-Fi 6E connectivity. Sitting at the top of GIGABYTE's Z790 range of motherboards, the Z790 Aorus Xtreme is designed for Intel's 13th (and 12th) generation Core series processors, and as such, benefits from advancements such as PCIe 5.0, native USB 3.2 G2x2 connectivity through a front panel header, and 10 x USB 3.2 G2 Type-A ports directly located on the back panel.
In a market with a massive choice of motherboards, the GIGABYTE Z790 Aorus Xtreme has plenty of bells and whistles and appeals to users looking for the best motherboard designs and technology. Despite not being cheap, GIGABYTE, over the last couple of generations on both AMD and Intel chipsets, has offered good levels of value while offering solid performance levels. Today we're taking a closer look at the Z790 Aorus Xtreme to see how it stacks up against other LGA1700 motherboards with our Intel Core i9-13900K and if there's any value to be had amid the solid and premium feature set offered by GIGABYTE.
GIGABYTE Z790 Aorus Xtreme Overview
With plenty of options for users and catering to all budgets, GIGABYTE has a diverse choice of Z790/LGA1700 motherboards to suit a specific user's needs. For the entry-level and more typical desktop systems, GIGABYTE's UD or Ultra Durable series offer a solid yet simplistic set of features acting as an entry point onto Intel's 13th/12th Gen Core series, while for content creators, GIGABYTE also offers a number of Aero branded models which focus more on premium connectivity and networking options.
The GIGABYTE Aorus series primarily targets gamers but consolidates all of the best features and controller sets into many offerings from the mid-range to the high-end, and the GIGABYTE Z790 Aorus Xtreme falls into the latter category. Sitting at the top of GIGABYTE's Z790 motherboard stack, the Z790 Aorus Xtreme has all of the best controller sets and features that GIGABYTE has to offer, including a blend of some features to make cable management easier for users, as well as a large and powerful power delivery designed to run Intel's 13th and 12th Gen Core series processors to their limits.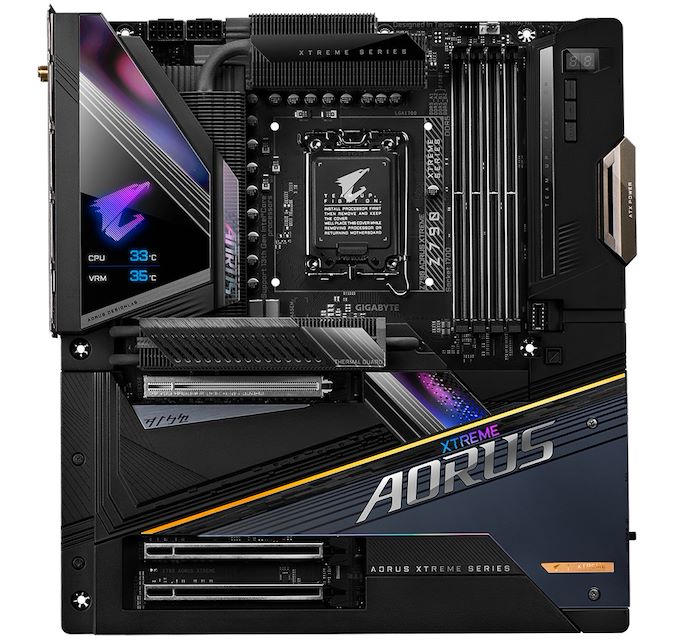 Looking closer at the GIGABYTE Z790 Aorus Xtreme motherboard, it has a large E-ATX-sized PCB, allowing GIGABYTE to implement more controllers and features onto the board itself. Looking at an overall view of the board from a birds-eye view, the Z790 Aorus Xtreme is predominately covered by waves of Aorus-inspired armor, which also includes a large metal chipset and PCIe armor cover across the center of the PCIe slot area, as well as a large rear panel cover. Interestingly, the rear panel cover features a 2.8-inch digital LCD monitor, which displays real-time system information such as CPU temperature, CPU clock speed, memory clock speed, and VRM temperatures. Typically a feature on high-end premium models such as this, the LCD display is a nice touch, but it does require a chassis with a clear windowed side panel to take advantage of this.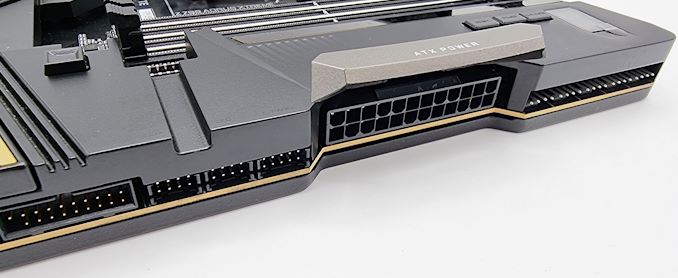 Touching more on GIGABYTE's implementation of cable management, the Z790 Aorus Xtreme, all around the edging of the board, features right-angled headers, connectors, and power inputs. Designed to allow users to plug a cable in at a right angle, this makes it easier as the cables don't directly stick out and can seamlessly be directed through the grommets within a chassis for a more uniform and less cluttered look. GIGABYTE also includes PCIe and M.2 EZ-latches, meaning PCIe and M.2 drives are easily installed and re-installed into the chassis at the tap of a switch or the flick of a thumb.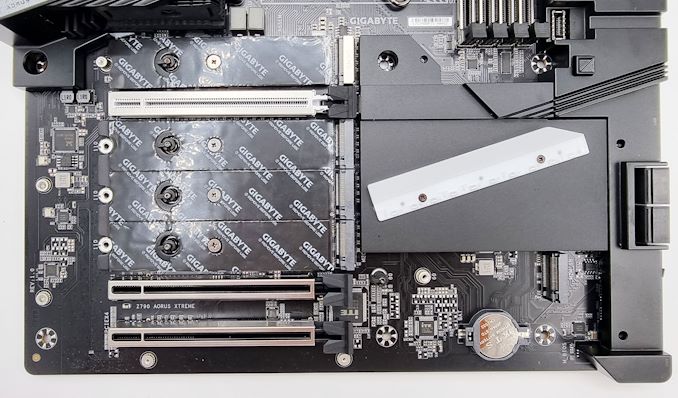 Removing the large metal mid-plate across the middle of the PCIe slot area and the CPU drive PCIe 5.0 x4 M.2 slot reveals the bulk of the board's M.2 slot array. The plate itself acts as a large PCIe M.2 heatsink for the three central PCIe 4.0 x4 M.2 slots, as well as a cover for the chipset heatsink. In total, the GIGABYTE Z790 Aorus Xtreme has five M.2 slots, with one PCIe 5.0 x4 fed from the CPU as mentioned with a large heatsink covering it, three PCIe 4.0 x4 M.2 slots sandwiched in between the top two full-length PCIe slots, and one PCIe 4.0 x4/SATA M.2 located below the chipset heatsink. For SATA, GIGABYTE includes four right-angled SATA ports which are capable of supporting RAID 0, 1, 5, and 10 arrays.
Regarding PCIe slot support, interestingly, GIGABYTE opts for just one full-length PCIe 5.0 x16 slot, with two full-length PCIe 3.0 slots operating at x4 and x1. Having fewer PCIe 5.0 lanes designated to full-length slots provides benefits and disadvantages, but given many aftermarket PCIe add-on cards can't use the immense bandwidth of PCIe 5.0 at present other than NVMe SSDs, the bandwidth, and the subsequent lanes can be directed to other areas such as controllers. Other users may argue that having two full-length PCIe 5.0 slots can deliver extra lanes to faster PCIe M.2 storage devices through a multi-M.2 slot adapter, but with five M.2 slots integrated onto the board, there's still plenty of scope for storage here.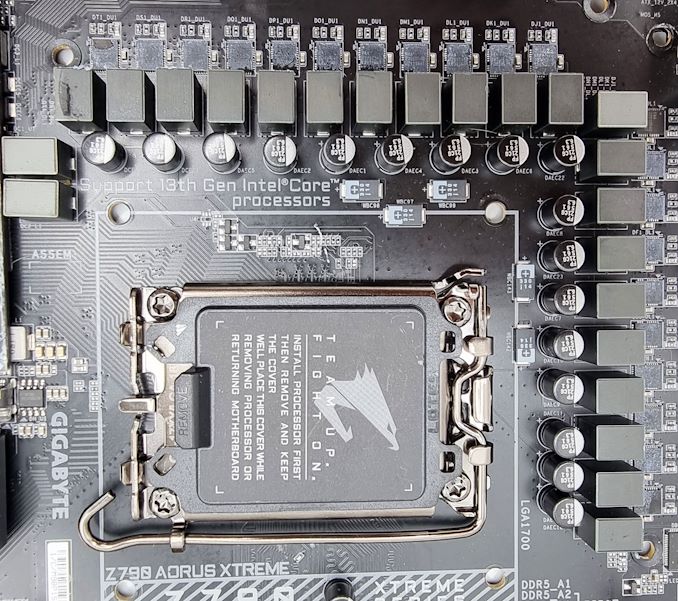 Focusing on the power delivery on the Z790 Aorus Xtreme, GIGABYTE has gone for a large 20+1-phase design, with premium componentry expected from a board of this caliber. For the CPU, GIGABYTE has included 20 x Renesas RAA22010540 105 A smart power stages, which operate in a teamed configuration and are driven by a Renesas RAA229131 PWM controller. There's also a single RAA22010540 150 A power stage for the SoC. Interestingly, GIGABYTE has employed a teamed setup for the VRM and not a full 20-phase direct configuration, but the output equates to a maximum of 2100 A for the CPU to play with, which is overkill.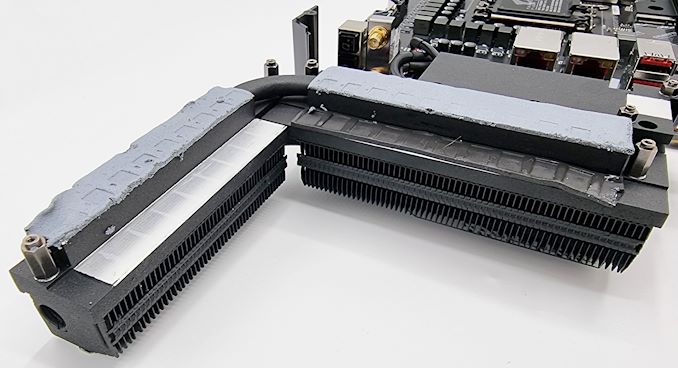 Keeping the power delivery cool is a very large pair of heatsinks interconnected by a single 8 mm thick heat pipe with a nanocarbon-coated fin array. GIGABYTE claims that using a 22-micrometer thick nanocarbon coating on the thins can reduce VRM temperatures by up to 10%. Looking at the indentations within the 12 W/mk thermal pads used by GIGABYTE, the heatsink makes good contact with the majority of the power stages and chokes, which is a good indicator that contact and thermal dissipation should be, in theory, optimal.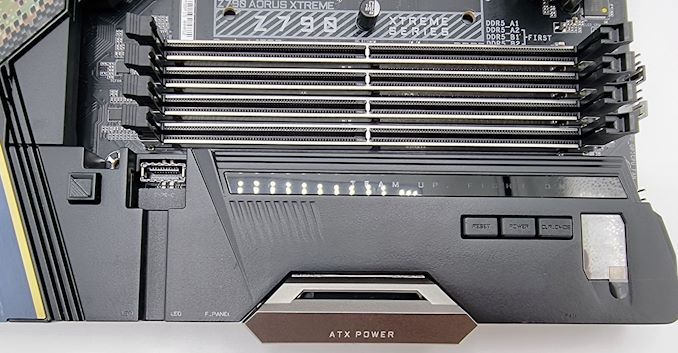 On the premium Z790 motherboards such as this, we typically see support for much faster memory, and the Z790 Aorus Xtreme is no exception. GIGABYTE supports up to DDR5-8000 (OC) memory in a dual channel (1DPC) configuration, with up to 192 GB supported across four slots. The slots feature a one-sided latch mechanism to install the DRAM, and CPU cooler support, especially of the air-cooled variety, depends on the height of the DRAM being used.

Spearheading the onboard audio solution on the Z790 Aorus Xtreme is a Realtek ALC4082 HD audio codec with an ESS Sabre ES9280AC DAC and two ESS E9080 DAC chips. As it stands, this is one of the most high-end integrated audio solutions we've seen on a motherboard outside of those bundled with an external PCIe sound card. Although the Realtek ALC4082 HD audio codec and ESS DACs aren't complimented with any EMI shielding, GIGABYTE does cover the audio PCB with a thin sheet of metal armor, so despite no EMI shielding to speak of, it at least looks nice and clean to look at.

On the rear panel of the GIGABYTE Z790 Aorus Xtreme is a wide variety of premium connectivity and networking available for users to sink their teeth into. Starting with the most premium input and output, GIGABYTE includes a Thunderbolt 4 controller, which includes two Type-C connectors that can double up as DisplayPort inputs for compatible displays. Other USB connectivity includes ten USB 3.2 G2 Type-A ports, while the Realtek ALC4082 and the three ESS DACs drive the two 3.5 mm audio jacks and S/PDIF optical output.
The networking array on the Z790 Aorus Xtreme is high-end, with one Marvell AQtion AQC107 10 GbE controller, a second Ethernet port powered by an Intel I225-V 2.5 GbE controller, while a Killer AX1690 Wi-Fi 6E CNVi provides both 6 GHz band access and support for BT 5.3 devices.
As is when looking at a flagship motherboard such as the GIGABYTE Z790 Aorus Xtreme, these do come with a typically higher price tag than conventional mid-range motherboards. Despite the additional cost, these are offset by featuring premium controllers such as 10 GbE, Thunderbolt 4, and more bells and whistles. As of its initial launch, the GIGABYTE Z790 Aorus Xtreme costs $800, which aligns with current pricing depending on the retailer of choice. As such, as with stock level fluctuations, prices may vary. Compared to the competition, MSI's flagship MEG Z790 Godlike has similar high-level features but costs $1200, while ASUS's flagship, the ROG Maximus Z790 Extreme, is also feature-rich and equally costly at $999.
At present, and not including ASRock's Z790 Taichi and Taichi Cararra (<$500), which are their top-tier Z790 boards, they are technically devout of being a true flagship or halo model, the GIGABYTE Z790 Aorus Xtreme is currently the cheapest flagship Z790 board at the time of writing. Even coming with a high price of $800, the pricing is almost certainly subjective, and on paper, the GIGABYTE Z790 Aorus Xtreme is a very high-end example utilizing much of what Intel's Z790 chipset has to offer.
Of course, as we like to say, performance is the key element (along with features) in which users purchase motherboards, as well as pricing and how much value can be had from any particular motherboard. With that being said, read on for our extended analysis.