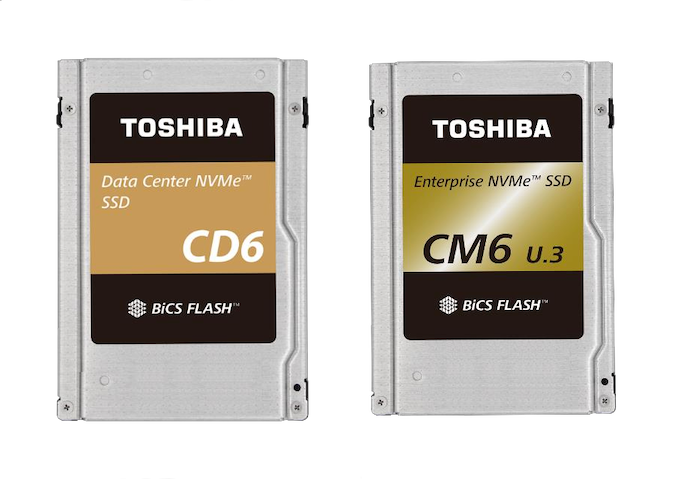 Following up on several announcements from Flash Memory Summit earlier this month, Toshiba has shared more information about their plans for transitioning their NVMe SSDs to PCI Express 4.0. None of their PCIe Gen4 SSDs are particularly close to volume production, so rather than share preliminary performance numbers Toshiba is talking more about which product segments will be migrating first and what other design changes are coming at the same time as the interface speed boost. Toshiba's perspective on final products and market readiness stands in contrast to the roadmaps from the SSD controller vendors that are racing to be the first ready with a full lineup of PCIe 4.0-capable controllers.
Toshiba expects the server market to be the first segment to embrace PCIe 4.0. AMD has just launched their second-generation EPYC platform with a comparative wealth of PCIe 4.0 lanes, and companies like Broadcom and Microsemi are offering PCIe 4.0 switches and HBAs. The ecosystem is just about ready to support a large-scale transition from PCIe Gen3 to Gen4, and Toshiba is expecting mainstream adoption to begin next year. They are timing their first two Gen4 SSDs for 2020. The Toshiba CM6 enterprise NVMe SSD and the CD6 datacenter NVMe SSD are successors to the existing CM5 and CD5 respectively, with the CM6 offering some more advanced enterprise features like PCIe dual-port support. Both drives will be using Toshiba's BiCS4 96-layer 3D TLC NAND flash memory, and they're currently expecting peak speeds of 6.7GB/s.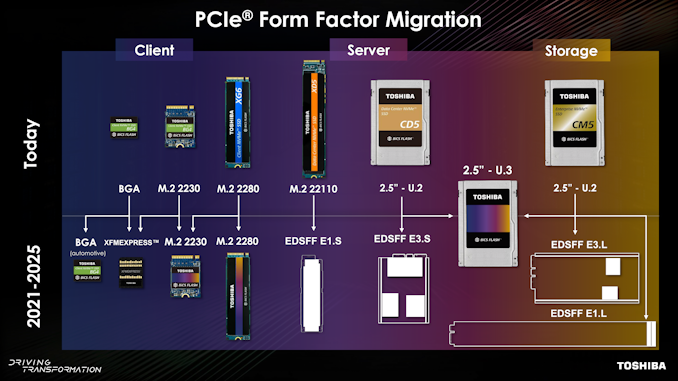 Toshiba is fully on board with the new EDSFF family of form factors, but they aren't expecting them to be going mainstream in time for the first wave of PCIe Gen4 datacenter SSDs. Instead, Toshiba is choosing the U.3 standard for the near term. This is mechanically identical to the familiar 2.5" U.2 form factor, but U.3 changes up the pin assignments. U.2 and U.3 SSDs both use the same mechanical connector as SAS drives, but where U.2 puts PCIe pins in positions not used by SAS drives, U.3 drives are capable of operating with a PCIe link on the same pins that SAS drives use for their data link. The motivation behind this change is to simplify cabling and backplanes for tri-mode ports that can accept SATA, SAS or NVMe SSDs. Broadcom in particular has been selling tri-mode HBAs and RAID cards that support all three protocols, and the use of U.3 instead of U.2 makes it much easier to make full use of the flexibility of those host interfaces. U.2 drives won't work in U.3 drive bays, but U.3 drives are required to work with U.2 ports. Toshiba has enabled this by adding an extra set of PCIe PHYs to their SSD controllers rather than put switches on the SSD between the controller and connector. This avoids any potential damage to signal integrity that such switches might impose.
The Toshiba CM5 is available in both 2.5" U.2 and PCIe add-in card form factors, but the latter is being dropped by the CM6 due to a perceived lack of demand or compelling use cases. The add-in card form factor was already a very small slice of the SSD market, and PCIe 4.0 allows products that were using a PCIe 3.0 x8 interface to drop back down the a four-lane connection as provided by U.2/U.3 ports. For products that were using the AIC form factor more for the sake of enabling higher SSD capacity than for the sake of a wider PCIe link, the EDSFF 1U Long "Ruler" form factor will be taking over eventually, but that may not happen for another product generation or two.
Toshiba is currently working with their partners for testing and validation of the CM6 and CD6, with volume availability planned for 2020. Further down the road, Toshiba is also working on an XD6 replacement for their XD5. These are their more hyperscaler-oriented datacenter drives, with more of a focus on low power and latency compared to the CD and CM series focus on higher performance and more advanced features. The XD5 uses the M.2 22110 form factor. The XD6 will retain that option and may also be Toshiba's first SSD to use the EDSFF E1.S (1U Short) form factor. Datacenter M.2 drives need the advantages of EDSFF form factors a lot more than other existing form factors do, and across the industry as a whole it looks like the E1.S form factor will be the first EDSFF variant to go mainstream. Officially, the XD6 is being targeted for shipment "after 2020".
Even though there are a few PCIe Gen4 SSDs already available in the consumer segment, Toshiba is predicting that PCIe Gen4 will remain a niche enthusiast feature for a while longer. Since Toshiba's client SSD sales are almost exclusively to OEMs rather than direct to consumers in the form of retail products, they aren't under much pressure yet to switch these products over to PCIe Gen4 and haven't made any official statements about upcoming products for this segment. We probably won't see a successor to the XG6 and XG6-P until Toshiba's 1xx-layer 3D NAND is ready. If Toshiba decides to continue their pattern of using that product line as the first shipping SSDs with a new generation of NAND, then the hypothetical XG7 might show up before they're ready to move their client SSDs to PCIe Gen4. M.2 will continue to be the mainstream form factor for client NVMe SSDs, but Toshiba is already planning for smaller form factors to become more commonplace. They've announced the new XFMEXPRESS card for small portable and embedded systems, and they are expecting the M.2 2230 card size to gain popularity as M.2 2280 transitions to more of a niche role for enthusiast drives and multi-TB capacities.
Storage array appliances tend to have long product cycles, and this is one of the areas where even SAS SSDs are still relevant. Toshiba is expecting this market segment to be one of the last to migrate to PCIe Gen4 and new form factors, probably reaching a tipping point around 2023. Ultimately, these systems will probably be moving to the EDSFF E1.L or E3 form factors.
Toshiba's strategy is similar to the partial roadmap that Samsung shared last fall. They are also starting with their high-performance enterprise/datacenter drives. Samsung's client NVMe drives and their entry-level datacenter drives typically use the same controllers, and while no PCIe 4.0 update to these product lines has been announced, we can expect to see something in 2020 or possibly at the very end of this year.