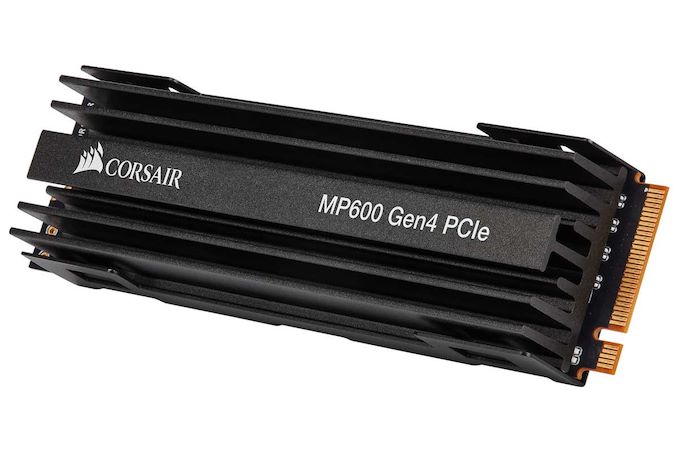 Now that AMD has kicked off the transition to PCI Express 4.0 in the consumer PC market, peripheral vendors are racing to follow suit. Phison is on track to deliver the first PCIe 4.0-capable NVMe controller for consumer SSDs, so many of their customers are announcing products based on the new PS5016-E16 controller. Corsair is one of the first in turn to announce their drive, with the new MP600 M.2 NVMe SSD.
The specifications disclosed so far for the MP600 are still incomplete, but the most important point is that the MP600 will be launching in July alongside AMD's new Ryzen 3000 series processors and their X570 chipset, both providing PCIe 4.0 lanes. Corsair hasn't specifically committed to launching on the same 7/7 date as AMD, but even shipping in the same month is a win for Phison and their partners. No other SSD controller vendor has announced a PCIe 4.0 capable client SSD controller, and even if that changes this week during Computex, Phison will almost certainly be first to market.
Corsair Force Series NVMe SSD Comparison
Model
MP600
MP510
MP500
Form Factor
double-sided
M.2 2280
(with heatsink)
double-sided
M.2 2280
double-sided M.2 2280
Interface
NVMe, PCIe 4.0 x4
NVMe, PCIe 3.0 x4
NVMe, PCIe 3.0 x4
Controller
Phison PS5016-E16
Phison PS5012-E12
Phison PS5007-E7
NAND Flash
undisclosed 3D TLC
Toshiba 64-layer 3D TLC
Toshiba 15nm MLC
Capacities
?
240GB–1920GB
120GB–960GB
Sequential Read
up to 4950 MB/s
up to 3480 MB/s
up to 3000 MB/s
Sequential Write
up to 4250 MB/s
up to 3000 MB/s
up to 2300 MB/s
Random Read
?
up to 610k IOPS
up to 260k IOPS
Random Write
?
up to 570k IOPS
up to 230k IOPS
Warranty
5 years
5 years
3 years
Write Endurance
?
1.0 DWPD
0.7 DWPD
Release Date
July 2019
October 2018
December 2016
The MP600 will be capable of up to 4950MB/s for sequential reads and 4250MB/s for sequential writes, both significant increases over any consumer SSD currently available, such as the MP510 it will be replacing. That performance likely only applies to the largest capacity MP600, but Corsair hasn't announced what specific capacities will be available; our guess is that the product line will go up to the same 1920GB as the MP510. The MP600 includes a simple black heatsink over the M.2 module, which may actually be necessary to hit the new higher speeds.
Pricing for the MP600 has not yet been announced. The warranty will be the usual 5 years, but write endurance has not been announced. And, of course, the drive will be backwards-compatible with existing PCIe 3.0 systems.
Want to keep up to date with all of our Computex 2019 Coverage?

Laptops

Hardware

Chips
Follow AnandTech's breaking news here!