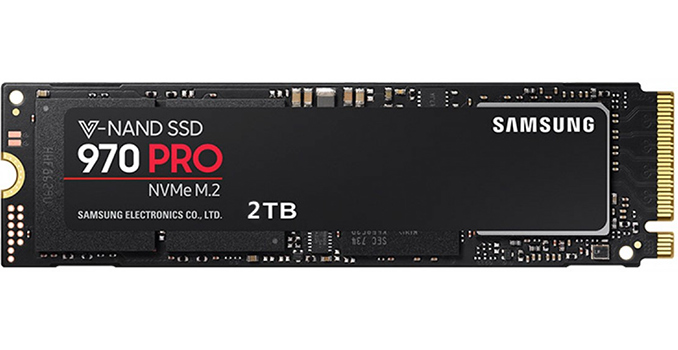 At least two retailers have begun listing a 2 TB version of Samsung's 970 Pro SSD. One of the highest performing drives on the market – and one of the only remaining MLC drives – a larger 970 Pro will give high-performance users another option for high-capacity SSDs, eliminating the need to sacrifice performance for capacity – at least at the 2 TB tier.
When Samsung introduced its 970 Pro and 970 Evo SSDs last year, it got itself into a paradox situation. On the one hand, its flagship 970 Pro drives offered superior performance and better endurance because they were based on 3D MLC memory, but the only went to 1 TB. On the other hand, its slightly slower 3D TLC-powered 970 Evo SSDs was available in capacities up to 2 TB. As a result, while performance-wise the 970 Pro was the king, you had to sacrifice some capacity at the high-end to get it.
As it appears, Samsung is finally preparing a 2 TB version of the 970 Pro that will wed capacity and performance. The Samsung 970 Pro 2 TB (MZ-V7P2T0BW) drive will presumably be based on Samsung's Phoenix controller and, as the current 1TB model is already fully populated with NAND chips, we're not expecting that performance will be much different (for reference, the 1TB model is up to 3500/2700 MB/s for sequential reads/writes without SLC caching). Otherwise, while the 970 Pro is a given to be a 3D MLC-based SSD, it remains to be seen whether Samsung is using the same-generation 64L NAND as on the original models, or if they're going to use this occasion to switch over to 96L NAND.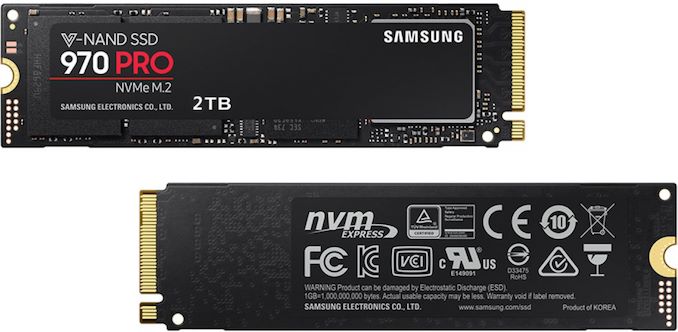 At present, Compuram, a retailer from Germany, and Nixiang, a retailer from China, both list the new drive. The latter even shows its 'official' picture. Meanwhile, a sales person from Compuram confirmed that the company has part numbers and a datasheet listing specifications of the Samsung 970 Pro 2 TB drive. However, he could not say when the device is set to become available and how much it is expected to cost. Nixiang lists the SSD for ¥8888 ($1,320), which means that the price of the drive in the US would be around $1,200.
Like other companies, Samsung does not comment on unreleased products, so we could not verify the information with the manufacturer.
Related Reading:
Sources: Compuram, Nixiang, (via Tweakers.net)