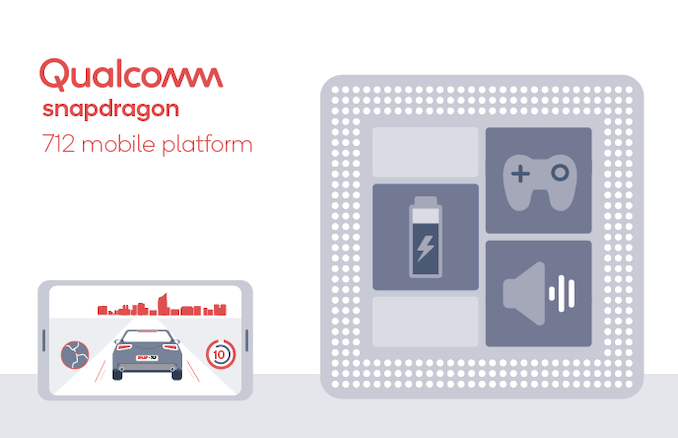 Today Qualcomm announced a new entry into its "upper mid-range" line-up of SoCs: The Snapdragon 712. The announcement is quite surprising, as it seems the chip might possibly simply be a higher bin variant of the Snapdragon 710:
Qualcomm Snapdragon Upper Mid-Range SoCs
SoC
Snapdragon 710
Snapdragon 712
Snapdragon 675
CPU
2x Kryo 360 (CA75)
@ 2.2GHz


6x Kryo 360 (CA55)
@ 1.7GHz
2x Kryo 360 (CA75)
@ 2.3GHz


6x Kryo 360 (CA55)
@ 1.7GHz
2x Kryo 460 (CA76)
@ 2.0GHz
256KB L2

6x Kryo 460 (CA55)
@ 1.7GHz
64KB L2
GPU
Adreno 616
Adreno 616
+10%
Adreno 612
DSP
Hexagon 685
ISP/
Camera
Spectra 250 ISP
32MP single / 20MP dual
Spectra 250 ISP
triple-camera support
Memory
2x 16-bit @ 1866MHz
LPDDR4X
14.9GB/s

1MB system cache
Integrated Modem
Snapdragon X15 LTE
(Category 15/13)
DL = 800Mbps
3x20MHz CA, 256-QAM

UL = 150Mbps
2x20MHz CA, 64-QAM
Snapdragon X12 LTE
(Category 12/13)
DL = 600Mbps
3x20MHz CA, 256-QAM

UL = 150Mbps
2x20MHz CA, 64-QAM
Encode/
Decode
2160p30, 1080p120
H.264 & H.265
Mfc. Process
10nm LPP
11nm LPP
On paper, the only visible difference between the Snapdragon 712 and its predecessor seems to be a 100MHz boost on the part of the CPU cores. Qualcomm also claims that the new chip offers 10% faster graphics rendering compared to the 710, which would consecutively mean that the Adreno 616 is seeing a similar boost in its clock frequency.
At the time of writing we can't see any other differences between the two products. As a reminder, Qualcomm Snapdragon branding not merely covers the SoC chip itself, but the whole platform which also includes accompanying components such as PMICs, WiFi chipsets, audio chipsets as well as RF front-end solutions for cellular connectivity. Stay tuned as we try to find out more and confirm on whether the chip differs in any other way.
Related Reading
Source: Qualcomm