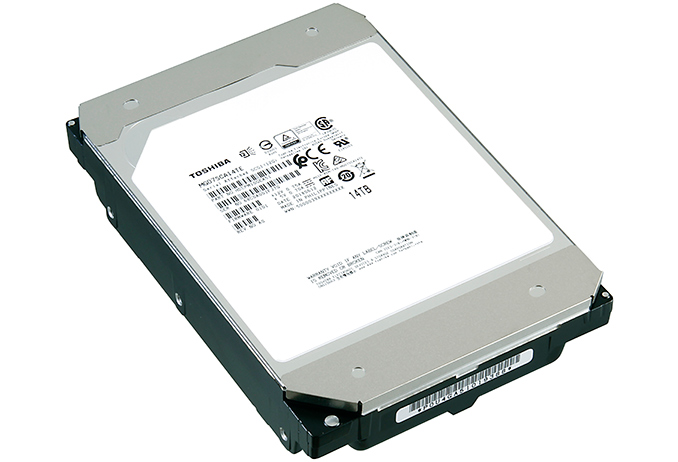 Toshiba is announcing that it has started sampling of its latest MG07SCA-series enterprise-class helium-filled hard drives. Notable for utilizing a dual-port SAS interface, the HDDs are aimed at business-critical servers and are rated for 550 TB per year workloads.
Toshiba's MG07SCA lineup of enterprise-grade hard drive includes two SKUs at 12 TB and 14 TB respectively. The flagship 14 TB model relies on nine PMR platters from Showa Denko with ~1.56 TB capacity each, whereas the 12 TB model relies on eight platters. Both HDDs feature a 7200 RPM spindle speed, a 256 MB cache buffer, and a dual-port SAS 12 Gbps interface. Just like their SATA brethren, the new SAS hard drives are based on Toshiba's latest-gen helium-filled platform for business-critical HDDs with all the possible enhancements to improve reliability and durability, including top and bottom attached motors, RVFF, environmental sensors, and so on.
The MG07SCA-series HDDs also support Toshiba's proprietary feature for enterprise-grade hard drives — a persistent write cache (PWC) with power loss protection (PLP), which is particularly important for 4K sector drives that emulate 512B sectors. The PWC with PLP capability protects data in case of power loss while performing read-modify-write (RMW) operation to align the source write request with the physical sectors it has to modify.
When it comes to performance, the MG07SCA drives offer exactly the same specs as their SATA counterparts. The top-of-the-range 14 TB HDD is speced for a 260 MB/s maximum sustained transfer rate, whereas the 12 TB model is slightly slower at around 250 MB/s. Toshiba says that the new SAS hard drives can perform up to 167 read IOPS, and, up to 70 write IOPS (4 KB blocks) when subject to random accesses. As for power, the HDDs consume up to 7.8 W – 8.28 W during random reads and writes depending on the model.
As noted above, Toshiba's MG07SCA HDDs are aimed at business-critical workloads and are therefore rated for 550 TB average annualized workload, 2.5 million hours MTBF, and are covered with a standard five-year warranty.
Brief Specifications of Toshiba's MG07SCA HDDs
Capacity
14 TB
12 TB
P/N
4Kn
MG07SCA14TA
MG07SCA12TA
4Kn SIE
MG07SCA14TAY
MG07SCA12TAY
512e
MG07SCA14TE
MG07SCA12TE
512e SIE
MG07SCA14TEY
MG07SCA12TEY
Platters
9
8
Heads
18
16
Recording Technology
Perpendicular Magnetic Recording (PMR) / Conventional
RPM
7200 RPM
Interface
Dual Port SAS 12 Gbps
DRAM Cache
256 MB
Persistent Write Cache
Yes
Helium-Filling
Yes
Sequential Data Transfer Rate (host to/from drive)
260 MB/s
~250 MB/s
MTBF
2.5 million
Rated Annual Workload
550 TB
Acoustics (Active Idle)
20 dB
Power Consumption
Random read/write
8.28 W
7.8 W
Idle
4.73 W
4.36 W
Warranty
5 Years
Toshiba did not reveal prices of its MG07SCA-series hard drives or when its direct customers intend to start offering them to end users (i.e., operators of datacenters). In general, pricing of such drives depends on the volume ordered, whereas qualification of HDDs for business-critical applications usually takes from months to quarters depending on various factors.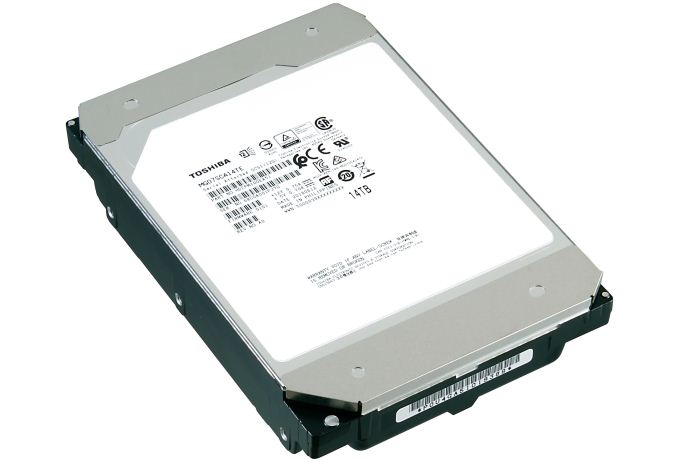 Related Reading:
Source: Toshiba