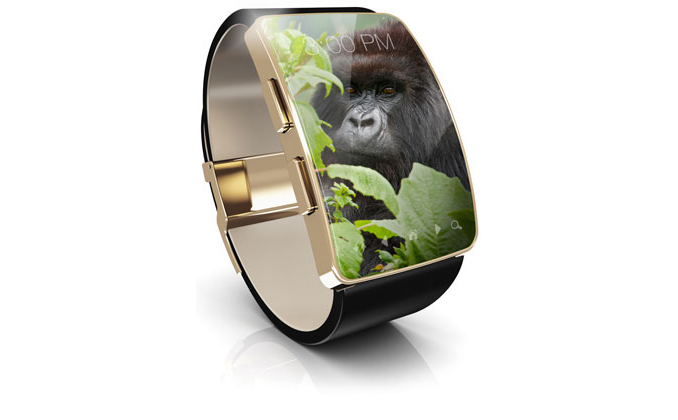 Corning has introduced its new Gorilla Glass DX and DX+ protective glass substrates designed specifically for wearables and featuring not only scratch resistance and durability, but also antireflective and contrast-improving properties.
Corning's Gorilla Glass DX and Gorilla Glass DX+ are evolution of the company's Gorilla Glass SR+ protective composites for wearables and other devices featuring small screens. In a bid to better address applications like smartwatches, the new substrates feature an antireflective property that is said to be 75% better than that of 'standard glass' as well as a special structure that improves contrast ratio of a display by 50% at the same brightness level vs. standard glass. Both features are important for wearables because they reduce necessity to increase brightness and therefore prolong battery life.
When it comes to differences between Gorilla Glass DX and Gorilla Glass DX+, Corning says that while optical properties are the same, the latter features a better scratch resistance that approaches that of "alternative luxury cover materials." It is unknown whether the DX+ is comparable to sapphire glass, but it is natural for Corning to compete against this material used on fine watches and expensive smartphones.
As usual, Corning does not disclose chemical composition of its Gorilla Glass DX and DX+ substrates and the only thing we know that they are good enough for wearables. Meanwhile, they are not going to replace Gorilla Glass 5/6 on smartphones, possibly because their properties do not work so well on larger screens that are used differently than wearables (e.g., smartphones fall many times throughout their lifetime, wearables usually do not). Corning does say that the DX and DX+ substrates could be used for devices with screens larger than LCDs of smart watches, but does not elaborate.
Corning did not indicate when it expects its customers to start adoption of the Gorilla Glass DX and DX+.
Related Reading
Source: Corning