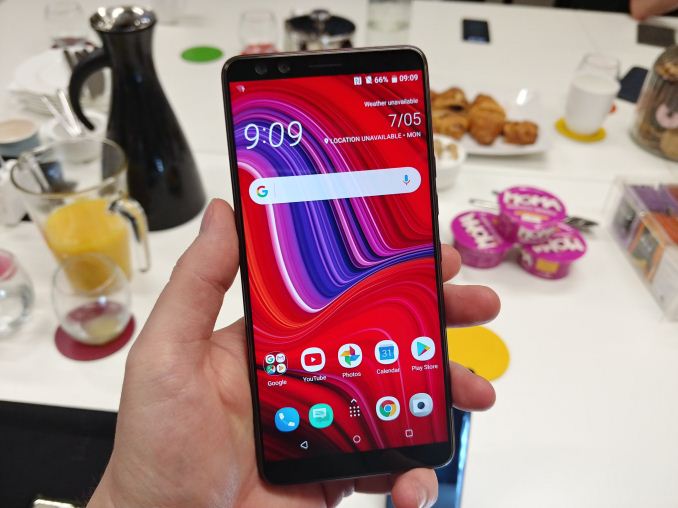 After the latest deal with Google on personnel, the next flagship out from HTC is the U12+, succeeding the squeeze-focused U11 and U11+ from 2017. For this generation HTC will only launch a single model called the U12+, rather than a U12 now and another one later, with the company citing that it felt too many of its enthusiast users would wait for the plus model, so instead they have decided to just go with a singular unit with the upgraded name. The headlines on the U12+ include a quad camera design, an upgraded Edge Sense detection system, a Qualcomm Snapdragon 845 SoC, an IP68 ingress rating, and an upgraded BoomSound experience. We had the chance to get a hands-on with the device at a briefing last week.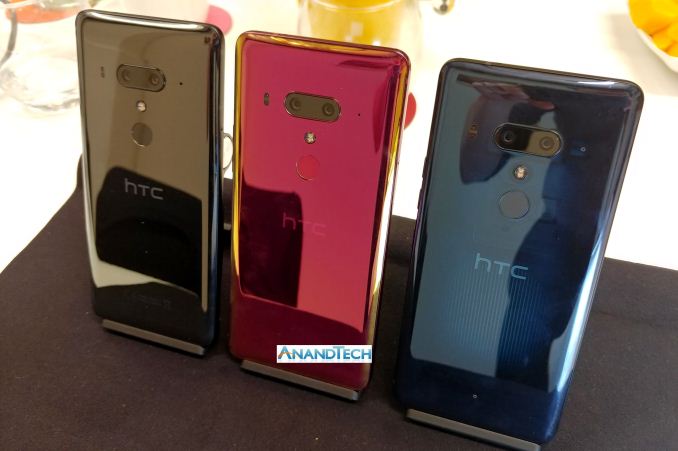 Two Cameras? Or One? We'll Stick With One. No Four!
The new HTC U12+ attacks many angles of the modern design philosophy of a smartphone, one of which is the camera design. Several generations ago, HTC had one of the first dual camera systems in a smartphone, but the company says that at the time the ecosystem around dual cameras was not mature, and users were put off with the learning curve surrounding a dual camera system, and as a result they focused on a single camera implementation. As with the U11 system last year, HTC were still focusing on single camera designs and trying to get the best out of them, with the DXOMark score of the U11 used in the promotional materials as a highlight. With the U12, the DXOMark overall score is 103, but this time is through the quad-camera implementation in the smartphone. There are two cameras on the front, and two on the back. HTC stated that this is 'probably the best dual camera ever tested' (but notes that DXOmark does not take into account audio quality or selfie cameras, which it feels it would do well on).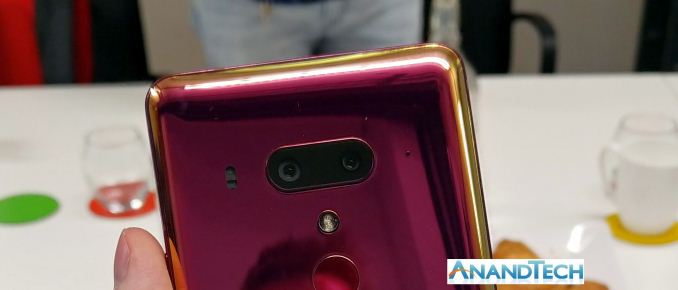 The two main cameras start with an f/1.75 aperture 12MP wide-angle sensor with 1.4 micron pixels using HTC UltraPixel 4 technology for faster focusing, paired with a 16MP telephoto sensor at 1.0 micron pixels and an f/2.6 aperture. The rear camera arrangement supports OIS and EIS, and with the two sensors the camera supports a bokeh effect in real time. Optical zoom up to 2x is supported, with an enhanced 10x digital zoom that adjusts the in-shot processing characteristics based on the level of zoom; HTC was quite happy to show the difference between a cropped 2x optical zoom and a 10x digital zoom, with the 10x digital zoom having a lot more detail. The rear cameras use HTC's HDR Boost 2, which uses more inter-frame data with the aim of a better HDR experience. A Pro mode with manual controls is available, with RAW format and exposure times up to 32 seconds supported. Video is up to 4K60, and can take 8MP photographs during video, or 1080p240 in slow motion. HTC's video recording mode also uses the Sonic Zoom technology that we saw on the U11, using the four inbuilt microphones to triangulate the focal sound of the frame and reduce background noise.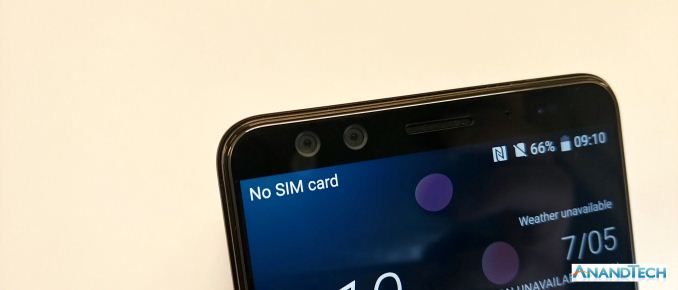 The two front facing cameras are dual 8MP f/2.0 sensors with 1.12 micron pixels. They are set up to provide an 84º 'wide-angle' experience, and use the same tools as the rear cameras to implement a real-time bokeh effect. The front cameras also support the HDR Boost technology, and for low-light selfies the screen becomes super bright to compensate for an LED flash.
Perhaps the most important aspect to the front facing camera is that the smartphone can detect when users are laying down and using the smartphone in portrait mode. Rather than having to disable the rotate view option every time, HTC states that their system can identify how the device is being held along with the position of a face to determine when a system should rotate the display, or not in this case. This can be very useful – personally I have rotate display disabled unless it is specifically needed for this main reason.
BoomSound+
HTC has focused a lot on audio over the years, focusing on volume and clarity through its BoomSound technology. For the U12+, the upgrade comes in HTC supporting a Hi-Fi edition of BoomSound, with aptX HD and Hi-Res Audio recording and certification. As mentioned above with the cameras, this allows for Sonic Zoom to home in on a focal audio source, allowing for 60% better audio capture range before clipping and HTC claims '33% better focus'. For playback, HTC puts the latest edition of BoomSound as 50% louder than the previous flagship smartphone, with the dual speakers acting independently as a woofer for low frequencies and a tweeter for higher frequencies, with each speaker having its own amplifier.
There is no 3.5mm audio jack, but HTC does bundle the smartphone with its Type-C USonic headphones that provide active noise cancellation as well as unique equalizer adjustments depending on the shape of an individual's aural canals.
Squeeze Me More: Edge Sense 2
In the last generation, HTC introduced the 'squeeze' as a way of interacting with a smartphone. Due to edge sensors placed on the edge of the bottom half of the phone, a user could short squeeze the device to trigger an action, or long squeeze for a different action. This was called Edge Sense, and for the new U12+ smartphone, users are treated to Edge Sense 2.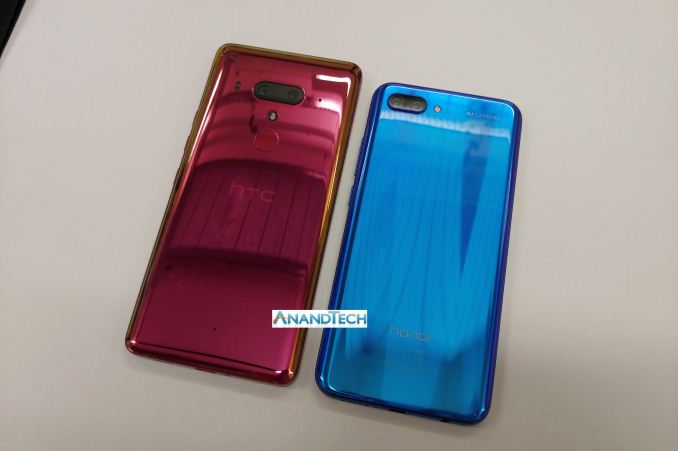 HTC U12+ on the left, Honor 10 on the right
HTC stated that for the first generation, Edge Sense was more like a camera button, but the second generation now has the software stack to improve its utility. More gestures are supported, such as frame tapping, and the device can determine which hand is being used in order to adjust how buttons are arranged for using the phone with a single hand.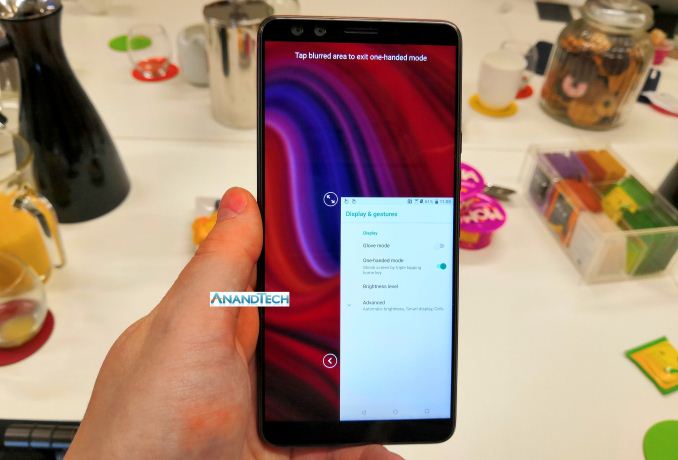 The new software stack also allows for in-app customization. Users can 'train' (a fancy word for configure) the different gesture methods with Edge Sense 2 to relate to specific actions on any app, as long as those actions relate to touching the screen in specific places. The example given is that in Pokémon Go, a short squeeze could open a required menu.
Here's the slogan HTC wants you to remember: 'Live on the Edge'. One quote from our briefing is telling about how HTC is viewing this technology: 'There will be a time where the touch screen will not be the leading way to interact with a smartphone'.

Alongside Edge Sense 2, HTC also adjusted the side buttons on the smartphone. Instead of physical buttons, these have turned into pressure sensitive buttons for power and volume, but with haptic feedback. The haptics are fixed (no options to enable/disable or change intensity), but there are physical raised parts to the frame such that the user can fumble in their pocket to turn the volume down. However, there is no physical depression of a button, which was initially quite unnerving.
The Fundamentals: BoomSound Means No Notch
For the back of the box specifications, the U12+ is a 6-inch smartphone with a 2880x1440 display (537 pixels per inch) using a SuperLCD 6 panel backed with Corning Gorilla Glass (version not specified). HTC lists DCI-P3 and sRGB color gamut support, but did not state how much of the gamut is supported. The display will support HDR10 content on YouTube, and although no number was mentioned, the display is likely to be 600+ nits at full brightness. HTC stated that they use a cold polished 3D glass technique for the U12+, which adds a couple of extra steps to reduce bezel thickness.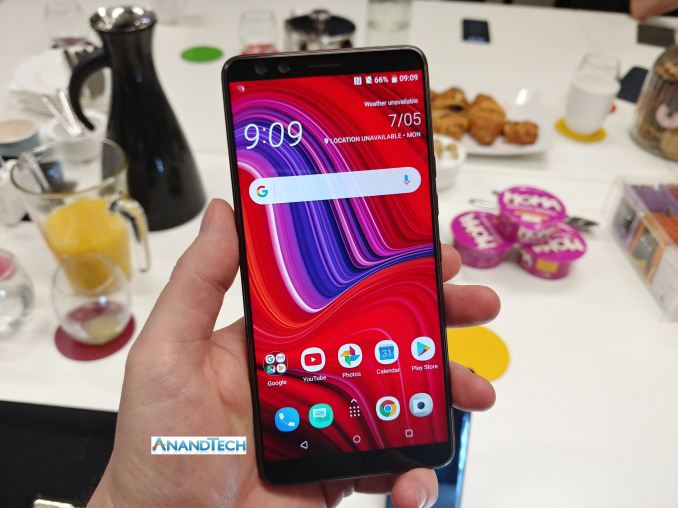 HTC had to go with an 18:9 display because of their audio technology: as BoomSound requires additional grills for speakers, as well as the microphone implementation, a notch based design is practically impossible, and as a result HTC is unlikely to make a 19:9 smartphone with a notch.
Powering the smartphone is Qualcomm's Snapdragon 845 SoC, as with most other flagships this generation. The 6 GB memory and 64 GB storage configuration will be available worldwide, and a 128 GB storage model will be available in Asia only. There will be single SIM and dual SIM variants depending on the region and carrier, and microSD cards up to 2 TB are supported (although 400 GB are the highest ones you can realistically buy right now). HTC confirmed that they are using UFS 2.1 class storage through the lifetime of the device, and memory is LPDDR4X (although frequencies were unknown in our briefing).
The HTC U12+ will come with an IP68 ingress rating, with HTC stating that due to the Edge Sense technology, the buttons are fully workable underwater. Due to the Gorilla Glass and cold polishing technique, HTC also claimed 10x durability of the device.
HTC U-Series
AnandTech
HTC U11
HTC U11+
HTC U12+
SoC
Qualcomm Snapdragon 835
4x Kryo 280 Gold @ 2.45 GHz
4x Kryo 280 Silver @ 1.90 GHz
Adreno 540 @ 653 MHz
Qualcomm Snapdragon 845
4x Kryo 385 Gold
4x Kryo 385 Silver
Adreno 630
Display
5.5-inch SLCD5
2560x1440
6.0-inch SLCD6
2880x1440
6.0-inch SLCD6
2880x1440
Dimensions
mm
153.9 x 75.9 x 7.9
158.5 x 74.9 x 8.5
156.6 x 73.9 x 9.2
g
169 g
188 g
188 g
Ingress Protection
Yes (IP67)
Yes (IP68)
Yes (IP68)
RAM
4 GB
6 GB
4 GB
6 GB
6 GB
NAND
64 GB
UFS 2.1
128 GB
UFS 2.1
64 GB
UFS 2.1
128 GB
UFS 2.1
64 GB
UFS 2.1
128 GB
UFS 2.1
MicroSD
Yes
Yes
Yes
Rear Camera 1
12MP "UltraPixel 3"
OIS, f/1.7, 1.4µm pixels
12MP "UltraPixel 4"
OIS, f/1.75, 1.4µm
Rear Camera 2
-
16MP Telephoto
f/2.6, 1.0µm
Front Camera 1
16MP
8MP, f/2.0,
85º wide angle
2 x 8MP, f/2.0
84º wide angle
1.12 micron
Battery
3000 mAh
non-replaceable
3930 mAh
non-replaceable
3500 mAh
non-replaceable
Modem
Qualcomm X16
2G / 3G / 4G LTE
Qualcomm X20
2G / 3G / 4G LTE
LTE Bands (FDD)
1, 3, 4, 5, 7, 8, 12, 17,
20, 28 (U11+), 32, 38, 39, 40, 41
1, 2, 3, 4, 5, 7, 8, 12,
13, 17, 20, 28, 32, 66
LTE Bands (TDD)
38, 39, 40, 41
38, 39, 40, 41
SIM Size
1x or 2x NanoSIM
1x or 2x NanoSIM
Wireless
802.11ac, BT 4.2, NFC,
GPS / GLONASS
802.11ac, BT5.0, NFC
GPS / GLONASS
Connectivity
USB 3.0 (5 Gbps)
Type-C
Quick Charge 3.0
USB 3.0 (5 Gbps)
Type-C
Quick Charge 4.0
3.5mm TRRS
No
No
No
Launch OS
Android 7.1
HTC Sense
Android 8.0
HTC Sense
Android 8.0
HTC Sense
Android P Confirmed
Cost
4 + 64GB: £649
From £699 (~$770)
799 EUR
699 GBP
The battery comes in at 3500 mAh, with the in-box charger supporting QuickCharge 3.0 but the device does actually support QC 4.0. With the in-box charger, HTC claims a 50% charge is possible in 35 minutes. Unfortunately the HTC U12+ does not support wireless charging.
The usual connectivity with 802.11ac dual-band Wi-Fi is present, with BT 5.0 support and NFC, however the interesting positive on the specifications list is that the Type-C connector supports USB 3.0 speeds, rather than the glut of USB 2.0 smartphones we have seen recently. This follows on from the U11 models that also had USB 3.0.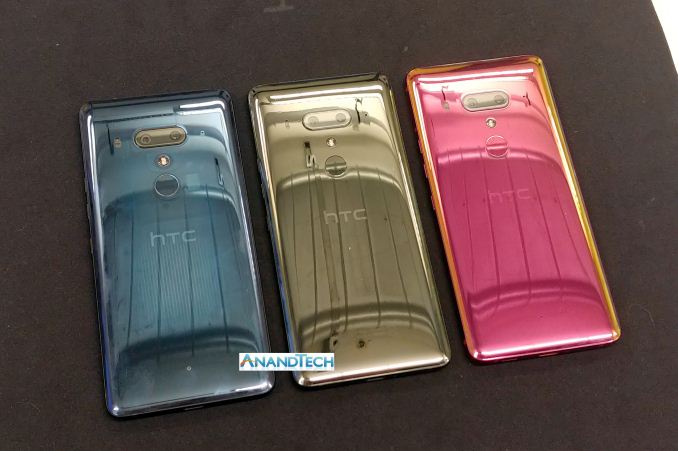 HTC will initially launch the U12+ in two colors, Translucent Blue and Ceramic Black, with the Flame Red model to be confirmed at a later date. As with the U11, there will be a semi-transparent version, which will be the Translucent Blue model – according to HTC, the semi-transparent U11 had a much higher demand than they were expecting, so this time they have made it part of the main colors available rather than a secondary color. The added effect of the transparency technique is that fingerprints are less likely to show up on the rear of the smartphone as well.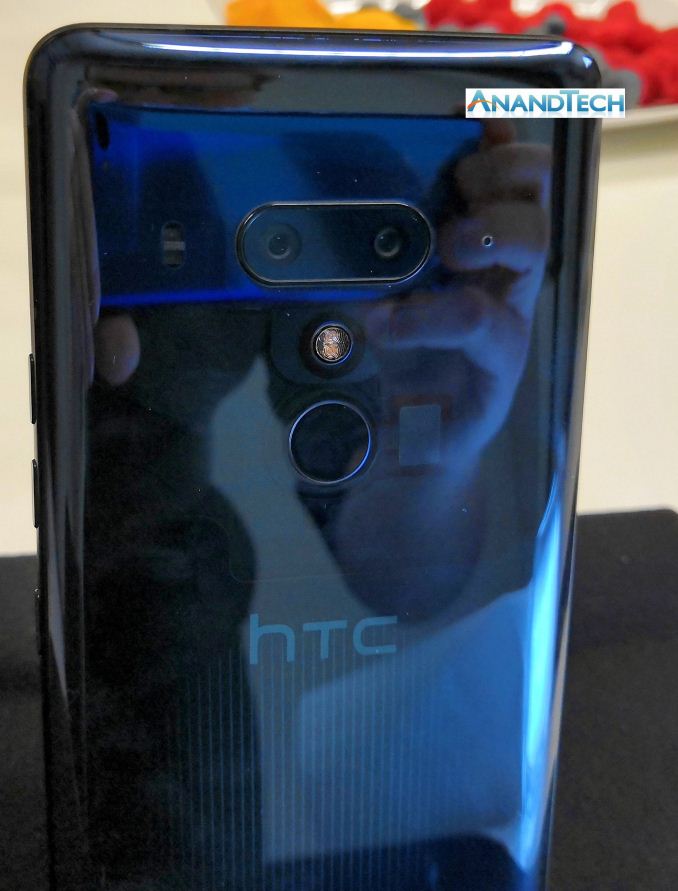 Prices for the 6/64 GB model will be 799 Euro, or 699 GBP, with pre-orders for the first two colors available today with a 10% discount.
Related Reading