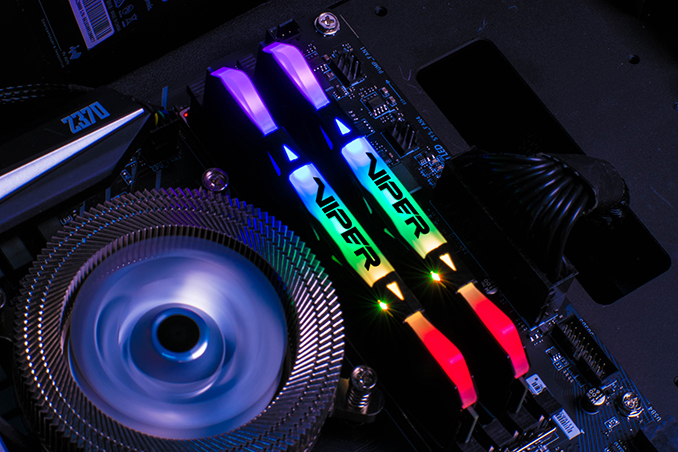 Customizable RGB LED lighting has become 'a new black' for enthusiast-class PCs: virtually all manufacturers of nearly all components for advanced computers have already introduced various devices with customizable RGB lights. Patriot is a little bit late to the RGB party with its Viper RGB memory modules (though it has had Viper LED modules for a while), yet these DIMMs arguably look more aggressive than some competing products.
Patriot's Viper RGB DDR4 modules are outfitted with the company's brand-new aluminum heat spreaders with the Viper logotype that feature five RGB LED zones each of which can be customized. The RGB LEDs are compatible with software from all major makers of motherboards, including the ASUS Aura Sync, the ASRock Polychrome Sync, the GIGABYTE RGB Fusion, and the MSI Mystic Light Sync. In addition, Patriot will offer its own app to control LEDs on its Viper RGB DIMMs.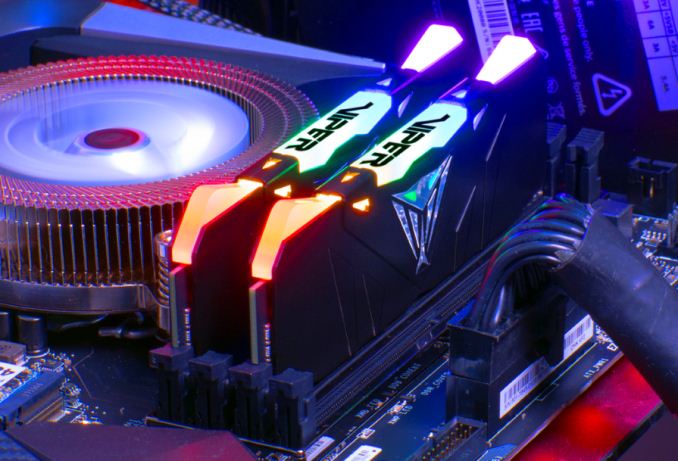 Patriot is taking a relatively cautious approach to RGB-enabled memory modules, so the initial lineup of Viper RGB DDR4 kits will include moderate to high-speed speed bins that will top at DDR4-4133 at 1.40 V, which is below 'extreme' offerings from some other makers. Meanwhile, the Viper RGB will be the highest-end modules in Patriot's lineup both in terms of performance and style.
Good news is that all the initial Viper RGB DDR4 kits are compatible with both AMD Ryzen- and Intel Core-based platforms (obviously, keeping in mind frequency-related limitations on Ryzen), so enthusiasts with different kinds of CPUs will not have to worry about compatibility. Meanwhile, the modules feature XMP 2.0 SPD profiles for Intel Core processors, but no special profiles for AMD Ryzen chips, which means that owners of appropriate PCs will have to load all the sub-timings manually.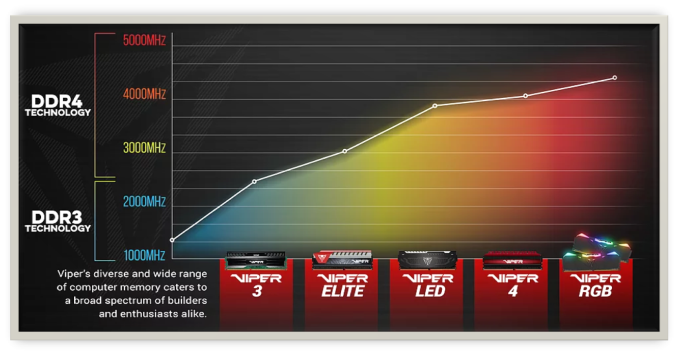 The Viper RGB DIMMs are based on specially-designed PCBs to support RGB LEDs and to handle higher data transfer rates required from enthusiast-class memory modules. Patriot does not disclose which memory chips it uses for the modules, but we will update you once we obtain such information. In any case, most of contemporary DRAMs can run fine at 3200 - 3600 MT/s with 1.35 V, so the main question is how overclockable the mainstream Viper RGB DIMMs will be.
Patriot's Viper RGB 2x8 GB Memory Kits
Speed
CL Timing
Voltage
Heat Spreader Color
PN
DDR4-2666
15-17-17-35
1.2 V
Black
White
PVR416G266C5K
PVR416G266C5KW
DDR4-3000
1.35 V
Black
White
PVR416G300C5K
PVR416G300C5KW
DDR4-3200
16-18-18-36
Black
White
PVR416G320C6K
PVR416G320C6KW
DDR4-3600
16-18-18-36
Black
PVR416G360C6K
DDR4-4133
19 21-21-41
1.4 V
Black
PVR416G413C9K
Patriot's Viper RGB memory modules will be available starting late May or early June. Pricing will depend on market conditions and all the kits will be covered by a lifetime warranty.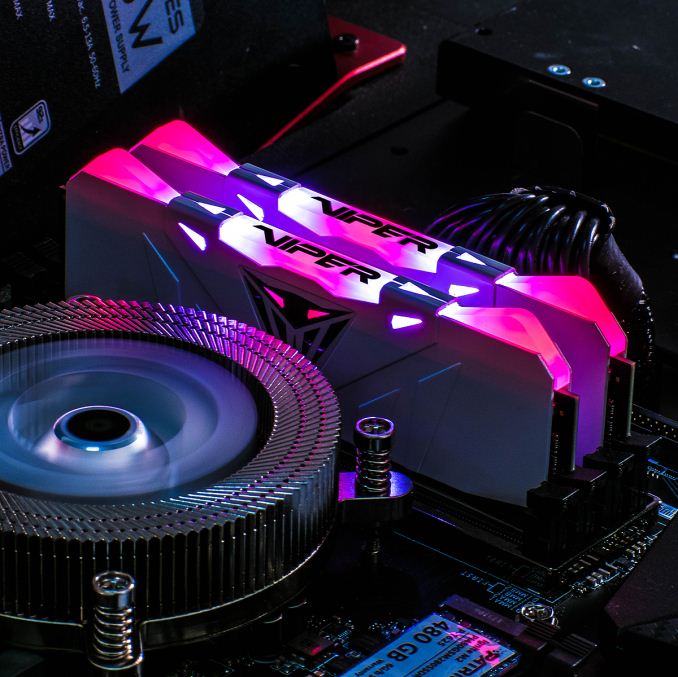 Related Reading