At CES 2018 we've had opportunity to visit Synaptics' booth and check out what new technologies they had to offer. One of the big stories of CES 2018 in terms of mobile coverage of course was Synaptics' and Vivo's demonstration of the first under-screen fingerprint reader. The industry was waiting for some time now to see this technology brought to market so for Synaptics to be the first to actually achieve this is a major feat that deserves congratulations. We've covered the technical details of the new sensor in our announcement article a few weeks ago so please read that for more information on the sensor itself. The short story is that Synaptics' implementation is based on a CMOS sensor that sits underneath the OLED screen and captures the fingerprint through the OLED stack with help of illumination of the screen itself.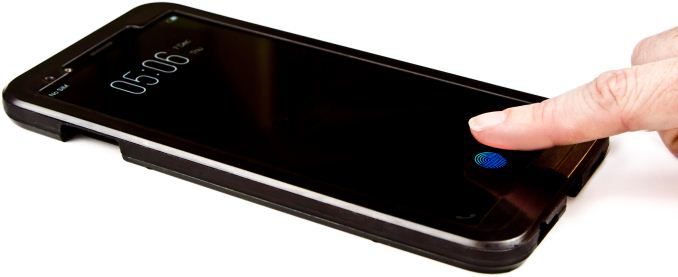 In practice the sensor in the unnamed Vivo flagship smartphone behaved exactly as advertised and the experience was generally pretty flawless. In the implementation of the Vivo device the FS9500 is found underneath the Samsung Display AMOLED panel at 45° angle to achieve better surface area reach. The area of the sensor is I think the weak point of the implementation as it's much smaller than traditional fingerprint sensors as it's limited by the CMOS sensor size which is only 4x5mm, so both finger positioning as well as a more thorough registration phase become more important. I had come accustomed to the haptic feedback of the Galaxy S8's pressure sensitive under-screen home button and had such a feature been implemented in the Vivo I imagine that it would make the experience even more distinguished.
While the under-screen fingerprint got most of the attention for Synaptics, what I think the far bigger and far-reaching story for the mobile industry was a small demonstration in the corner of the booth. Synaptics was showcasing their new R66455 and R66451 OLED display driver ICs. Back in late 2014 Synaptics acquired Renesas' DDIC business unit which turned out to be a match made in heaven.
For a bit of a back-story, if you've followed AnandTech review where we talk about displays you will have noted that on many devices the screens are run by a Renesas based DDIC solution. In fact, if you have an LCD based smartphone of this decade there's a pretty good chance that it will have a Renesas/Synaptics display driver IC. However, until now, if you had a device with an AMOLED screen, it's been most certainly powered by a Samsung LSI DDIC solution. In the early days of the Galaxy S3 Samsung Display was still dual-sourcing DDICs between its LSI division and Korean company MagnaChip. The latter however was dropped as screen resolutions increased and its DDIC offerings could no longer keep up with the SLSI developments. To this day the SLSI solutions enjoy such a technological lead that rival panel manufacturers like LG are still missing a key component in the quest to compete with Samsung's AMOLED panels. Devices such as the LG V30 or the Google Pixel 2 XL which come with LG panels are still handicapped in terms of display quality as they lack a sufficiently capable DDIC. For example if one has noticed that the LG panels become washed out, suffer from black crushing or "tarnishing" becoming more visible at low brightness levels, then the reason for that is inherently the way the DDIC is driving the panel and showcasing that it's lacking more advanced brightness control techniques.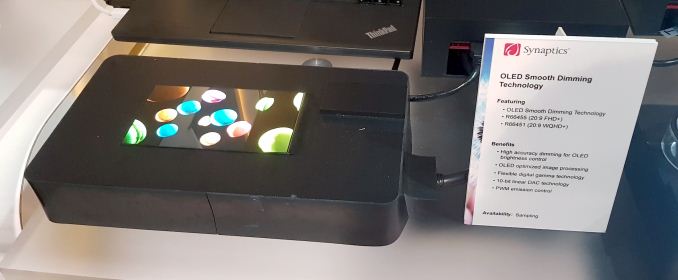 Synaptics have been working hard to catch up in the OLED DDIC market, and on paper at least, it looks like they've managed to catch up with Samsung. The R66455 and R66451 are respectively FHD+ and WQHD+ (20:9 aspect ratio) capable OLED display drivers and integrated advanced features such as Smooth Dimming. Smooth Dimming, or Smart Dimming like Samsung calls it, is PWM emission control. This essentially means that instead of solely controlling the subpixel voltage to control brightness, it uses PWM to keep the same voltages but modulates the pulse width to achieve lower brightness levels. This is important as it does not limit the effective bit-depth of the DACs controlling the pixel voltages and still allows for full colour bit depth even at lower brightness levels. As a side effect I suspect this also attenuates colour ununifomities of the OLED panel itself might be more visible at lower voltages.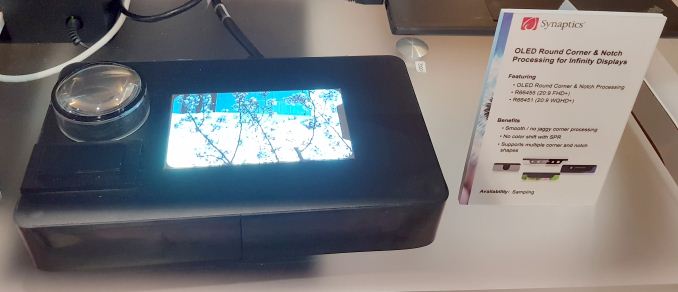 The DDICs promise advanced image processing for sub-pixel rendering techniques which are required for panel pixel layouts such as the by now standard diamond-pentile. Synaptics is also looking ahead and also implementing advanced needs such as controlling complex shapes such as round corners and support for the unfortunate screen notches that seem to be catching on.
What is important though and this can't be reiterated enough is that with Synaptics offering a competitive high-end DDIC it provides a key component which will enable third-party panel manufacturers such as JOLED (JDI, Sony, Panasonic) and various Chinese firms to start trying to compete against Samsung's dominance in the market.
Synaptics says the R66455 and R66451 are currently sampling to panel manufacturers and OEMs are exploring solutions for future products.