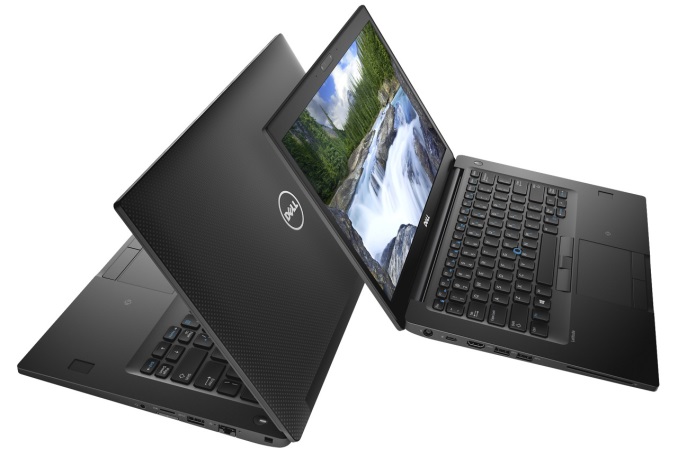 LAS VEGAS, NV — Dell's Commercial Latitude Systems were not forgotten in all of their other CES 2018 announcements with the latest 5000 and 7000 series notebooks and 2-in-1 receive an increase in horsepower due to the Intel 8th Gen Core processors. Dell defines their formula for success in three words, Fast, Functional, and Desirable. The Fast part comes in with the upgrade to the 8th Gen Intel Core processors. Functionality comes from many places including Super Low Power (SLP) displays in the 7000 series increasing batter time. Lastly, desirable – Dell believes a combination of portability, using attractive materials such as 40T carbon fiber weave, as well as listening to customer input to improve ergonomics like the built-in auto-deploy kickstand will help with desirability.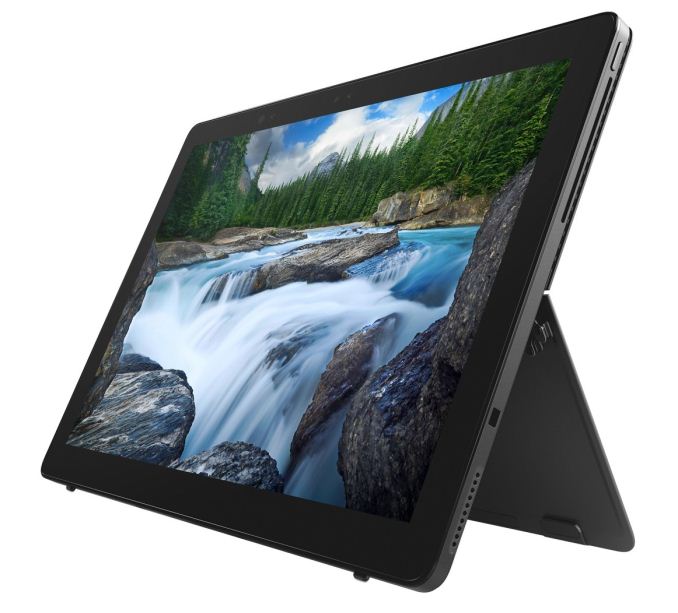 The refreshed devices will use "U" series processors CPUs up to i7 Quad core with the extra threads a big reason for the boost. Also making an appearance (Latitude 7490 series Notebook) is a Super Low Power (SLP) display offering the same FHD resolution, but only uses 50% of the power to drive it improving significantly on battery life, up to 22 hours. The SLP monitor uses a low power LED technology drawing 1.84-1.99W compared to 3.8-6.4W with the standard FHD panel. The 7490 also offers new Active Steering Antenna technology. This Wi-Fi technology Dell says chooses from four different radio wave patterns to find and lock into the best choice for your environment helping improving signal quality and speed.
The 5000 series offers three new models in the 5290, 5490, and 5590 with the major difference the size of the monitor. The model name also makes a reference to the panel size with the 52xx using a 12.5" HD (1366x768) monitor, the 54xx a 14" HD (1366x768) or FHD (1920x1080) panels (one with touch), and the 55xx will use one of three 15.6" panel options from HD to FHD. The 5000 series has two Memory slots supporting 2400 MHz with Intel 8th Gen processors, up to 32GB capacity. Storage options include a HDD up to 1TB or a Hybrid drive along with three M.2 SSDs from a 512GB SATA based device up to a 1TB PCIe/NVMe drive. Graphics options are up to an NVIDIA Geforce MX130 or the Intel HD/UHD 620 depending on the processor.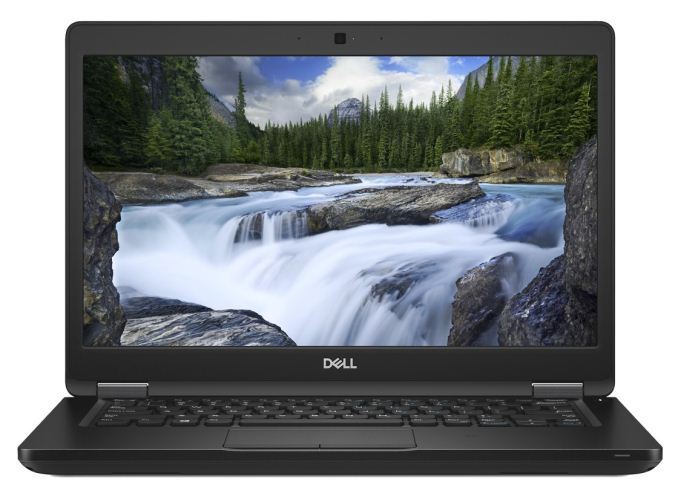 The 7000 series also comes in three different SKUs with the 7290, 7390, and 7490 again with most of the differences being the size of the monitors. The 72xx has a 12.5" HD (1366x768) display, the 73xx has four 13.3" FHD options included touch panels and the Narrow Border Carbon fiber option for smaller bezels, while the 74xx has four choices of FHD monitors adding the Super Low Power panel to the other options. The 7000 series has two memory slots supporting up to 32GB Storage includes two M.2 options (512GB SATA and 128GB PCIe) as well as a 1TB PCIe NVMe SSD or 512GB PCIe NVMe drives offering a fair amount of fast storage. Graphics options on the 7000 series are limited to Intel HD/UHD 620 graphics depending on which CPU is chosen.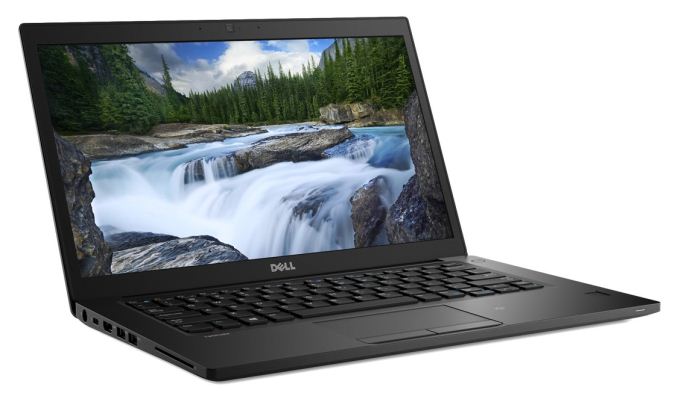 Dell Latitude 2-in-1
5000 Series
7000 Series
Display
12.5" HD w/ Anti-Glare
14" /15" HD w/ Anti-Glare
14" /15" FHD w/Anti-Glare
14" / 15" FHD w/Touch Display
12.5"/ 14" HD w/ Anti-Glare
13.3"/ 14" FHD w/ Anti-Glare
13.3" / 14" w/ Anti-Glare Narrow border
13.3" / 14" w/Touch Display
13.3" /14" w/ Touch Display and Narrow Border
14" FHD Super Low Power Panel w/ Narrow Border

CPU
7th Gen Intel "U" series up to i5 Dual-Core
8th Gen Intel "U" series up to i7 Quad-Core
Graphics
Intel HD/UHD Graphics 620
NVIDIA Geforce MX130

Intel HD/UHD Graphics 620

RAM
Up to 32GB SDRAM DDR4 2400
Up to 16GB DDR 4 2400
Storage
Up to 1TB, Hybrid
Up to 512GB SATA SSD
up to 1TB PCIe NVMe (512GB in 2230 slot)
Up to 128GB PCIe NVMe in 2240 slot
Up to 512GB SATA SSD in 2280 slot
Up to 1 TB PCIE NVMe SSD
Up to 512GB PCIe NVMe

Wi-Fi
Qualcom QCA61x4A 802.11ac 2T/2R
Qualcom QCA6174A Extended Range 802.11ac MU-MIMO 2T/2R

Qualcom QCA61x4A 802.11ac 2T/2R


Qualcom QCA6174A Extended Range 802.11ac MU-MIMO 2T/2R
Intel Dual-Band Wireless AC 8265
Bluetooth
Bluetooth 4.1
WWAN
Qualcom Snapdragon X7
USB
3.0
5290 - 2 x and DisplayPort over USB Type-C
5490/5590 - 3 x and Displayport over USB Type-C
2 x and DisplayPort over USB Type-C
Cameras
Optional HD or IR Camera
Optional HD or IR Camera
Other I/O
Microphone, stereo speakers, audio jack, trackpad, card reader, etc.
Battery
3 cell 42 Whr ExpressCharge
3 cell 51 Whr ExpressCharge
4 cell 68 Whr ExpressCharge
4 cell 68 Whr Long Life Battery
42 Whr Prismatic ExpressCharge capable
60 Why Polymer ExpressCharge capable
60 Whr Long Life
Battery Life
N/A
Up to 22 Hours with SLP Monitor
Dimensions
Width
305.1 mm | 12"
304.8mm | 12"
Height
211.3 mm | 8.3"
207.9mm | 8.19"
Thickness

(Non-Touch) 21.4 mm | 0.8"




(Touch) 23.45mm | 0.9"

16.53mm | .65"
Weight
1.35 kilograms | 2.99 lbs
1.19 kilograms | 2.63 lbs
Pricing for the Latitude 5000 series starts at $779, while the 7000 series starts at $1049. All models will be available starting today, January 9th.
Related Reading:
Source: Dell