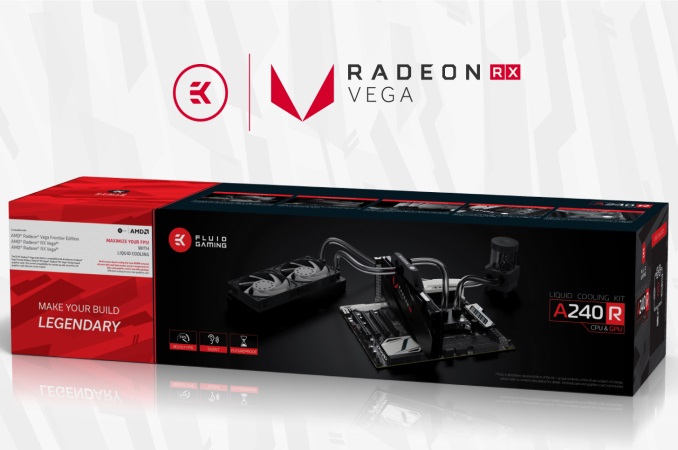 EKWB is launching a new liquid cooling kit designed to support AMD Radeon RX Vega based video cards, which the company is dubbing the EK Fluid Gaming A240R kit. The kit includes the EK-AC Radeon Vega full-cover block, the Supremacy AX CPU block, the Alustream SE 240 radiator, as well as the Vardar 120 series of fans. Though we have seen similar kits before from the Fluid gaming line, the EK-A240G, this is EK's first kit engineered to support AMD Vega video cards and is an easier way to jump into custom liquid cooling without the hassle of finding all the parts needed.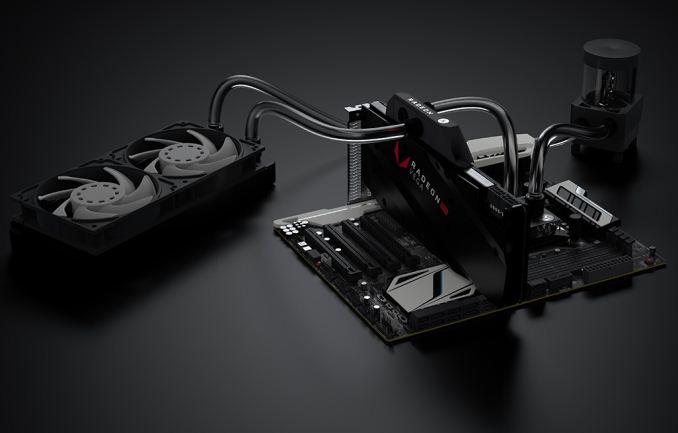 The Fluid Gaming A240R kit's star of the show is the EK-AC Radeon Vega full-cover water block. Designed with AMD, the water block directly cools the GPU, HBM2 memory, as well as the VRM with water flowing directly over those critical parts. The block itself is made out of aluminum while the outside is black and has the Radeon Vega name and symbol on it. Capping off its overall aesthetic is a matte black brushed aluminum backplate giving the whole thing a clean look. EK says the EK-AC Radeon Vega block will fit all reference Radeon Vega Front Edition, RX Vega 64, and RX Vega 56 graphics cards. As always, check the EK Cooling Configurator to ensure compatibility.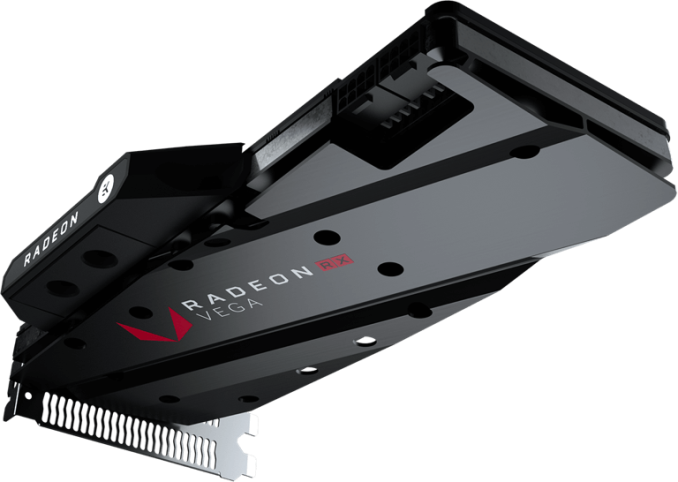 The kit also comes with the EK-Supremacy AC water block featuring a black brushed aluminum faceplate which should blend in with most other hardware, just as the EK-AC Radeon Vega block above. It is a universal water block that EK says fits all modern AMD and Intel CPUs. The cold-plate is made from die casted aluminum alloy and uses a micro-channel fin structure to get heat away from the CPU underneath. It comes with standard G 1/4" ports and comes with a pre-assembled tool-less mounting mechanism designed for easy installation.
The EK- Alustream SE 240 radiator is matte black in color matching the other parts in the kit and comes in at a slim 27.5mm thick. EKWB says it has dense aluminum fins and is optimized for maximum heat dissipation across the range of the included Vardar fans. Also included in the kit are all the fittings (EK compression fittings), tubing, and coolant (EK Cryofuel) to get started. Users do need to be aware there is aluminum in this loop and should take heed of this when expanding and introducing a mixed metal situation. EK does go over this HERE saying the purpose made coolant contains all the needed chemicals to protect the parts from corrosion and biological growth.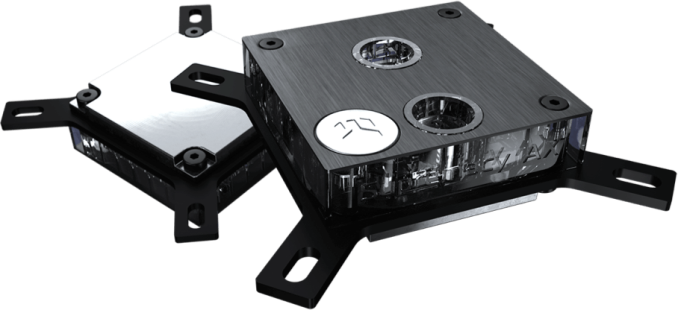 The EK Fluid Gaming A240R kit and EK-AC Radeon Vega full-cover water block are currently available for pre-order through the EK Fluid Gaming web-shop. Pre-orders will start shipping Friday, December 8th.
EKWB Fluid Gaming A240R
Name
MSRP (inc. VAT)
EK Fluid Gaming A240R
249.95€ / $239.99
EK-AC Radeon Vega
89.95€ / $89.99
Related Reading:
Source: EKWB