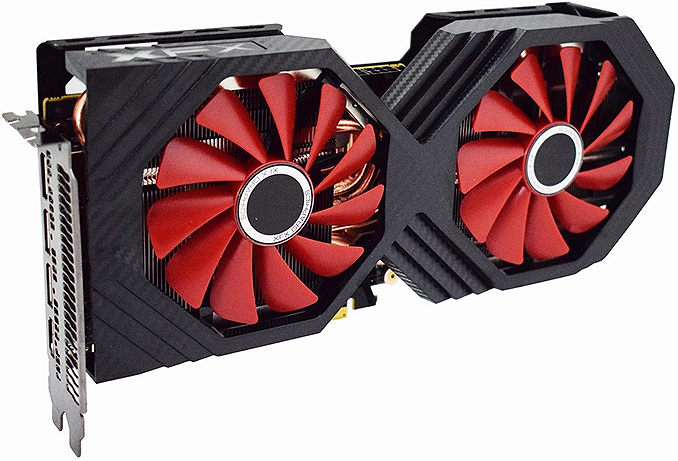 XFX has quietly introduced its first new custom Radeon RX Vega 56 and RX Vega 64 video card designs. The custom Radeon RX Vega Double Edition graphics adapters from XFX are not factory overclocked, but have an improved cooling system featuring two fans that may enable a higher overclocking potential when compared to regular air-cooled boards based on AMD's Vega GPU.
When AMD released its reference Radeon RX Vega 64 and Radeon RX Vega 56 graphics cards earlier this year, the company surprised reviewers and enthusiasts with rather long PCBs (when compared to the Radeon R9 Fury X products) that had a lot of empty space. As it turned out, the RX Vega-series boards need a good cooling and thus a relatively large heatsink. As a result, the company decided to go with a long half-empty PCB to simplify auxiliary PCIe power cable management for end users. As for VRMs, AMD's reference cards feature a 6+1 phase VRM based on the International Rectifier IR35217 power controller with six IR 3598 phase doublers for the GPU power circuity to maximize efficiency.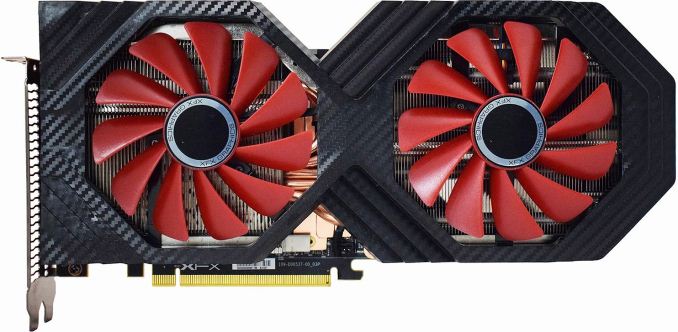 XFX decided to change design ideology of its custom Radeon RX Vega-based products when compared to AMD's reference cards. The company's Radeon RX Vega 56 Double Edition (RX-VEGALDFF6) and Radeon RX Vega 64 (RX-VEGATDFF6) Double Edition graphics cards rely on a notably shorter PCB that is just 153 mm long, and the cards are also equipped with an even larger cooling system when compared to AMD's reference cards (more about the cooling system later later). XFX says it uses a VRM with 6+1 phases for its graphics cards based on the Vega GPU, but it is unknown whether the company also installs phase doublers. The XFX Radeon RX Vega Double Edition cards have two 8-pin auxiliary PCIe power connectors that are located on the top right corner of the PCB. Given the large cooler, power connectors are placed in the center of the card, which will not simplify cable management.
Overall, the cooler the company uses for its custom Vega-based offerings resembles coolers it uses on the Radeon RX 500-series. It features two large aluminum heatsinks with tens of thin fins, a special copper plate that covers GPU+HBM2 package as well as VRM, five or more heat pipes that take away heat from the two aforementioned components, and two fans. A plastic shroud on the front covers the cooling system, whereas the other side of the card is covered by a backplate.
The heatsink used by XFX for its Radeon RX Vega Double Edition video cards has a 75% larger surface area than AMD's reference one, according to XFX. Meanwhile, as this is an open-air cooler design, it comes with the usual tradeoffs relative to the blower-based reference cooler: potentially better cooling and lower noise thanks to the two fans, but at a cost of recycling most of the heat generated from the card back into the case. By equipping its custom Radeon RX Vega 56 Double Edition and Radeon RX Vega 64 Double Edition with its own coolers, XFX clearly wants them to stand out from the rest of the Vega camp in terms of noise and overclocking potential. At least initially, custom Vega-based boards from XFX will only be offered with reference clocks, so overclocking potential will be one of their key selling points.
XFX has not disclosed MSRPs of its Radeon RX Vega 56 Double Edition and Radeon RX Vega 64 Double Edition graphics cards, but we are told to expect them to close to AMD's MSRPs for similar boards. Meanwhile, the burning question of when these custom cards will be available hasn't been precisely answered, but XFX has narrowed the window some, as the company has stated that they hope to put their custom cards on store shelves before Christmas. At press time, the products were listed on the company's website meaning that they can hit the market anytime now.
As for real-world pricing, given the cryptocurrency mining frenzy and the holiday season, virtually all graphics cards are sold at prices above their MSRPs, so it is not a good business to make any predictions here. Besides, it is also unclear whether AMD's recently launched Prey and Wolfenstein II bundling campaign covers XFX's custom Radeon RX Vega adapters.
Related Reading:
Source: XFX