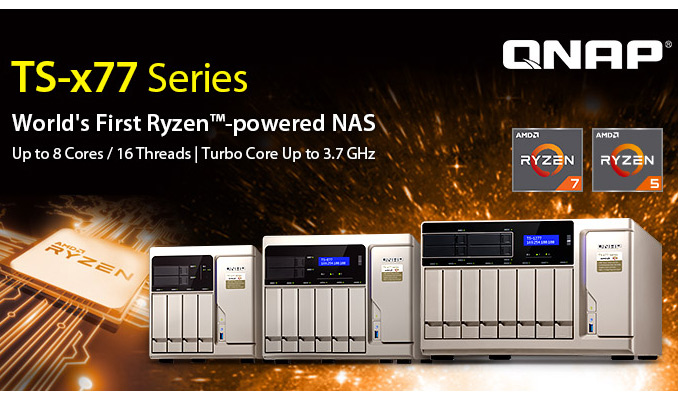 QNAP on Wednesday said that it had begun to ship its NAS devices based on AMD's Ryzen processors. The new TS-677, TS-877 and TS-1277 NAS feature six, eight, or twelve hard drive bays and support SSD caching to maximize performance. The company positions the new NAS for various demanding applications, including VDI, private cloud, virtualization, containerized applications and so on.
QNAP introduced its TS-x77-series NAS at Computex in mid-2017 and became the first supplier of such products to adopt the AMD Ryzen platform. The company explained that high core count, strong integer performance, versatile PCIe support, AES-NI support, competitive pricing, and other factors made CPU a good choice for NAS. Integrated capabilities of the Ryzen platform enabled QNAP to support two M.2-22110 PCIe 3.0 x4 slots for caching SSDs, two PCIe 3.0 x4 slots as well as a PCIe 3.0 x8 slot for 10GbE/40GbE NICs, PCIe NVMe SSD, graphics and other expansion cards in all three models of the TS-x77 series.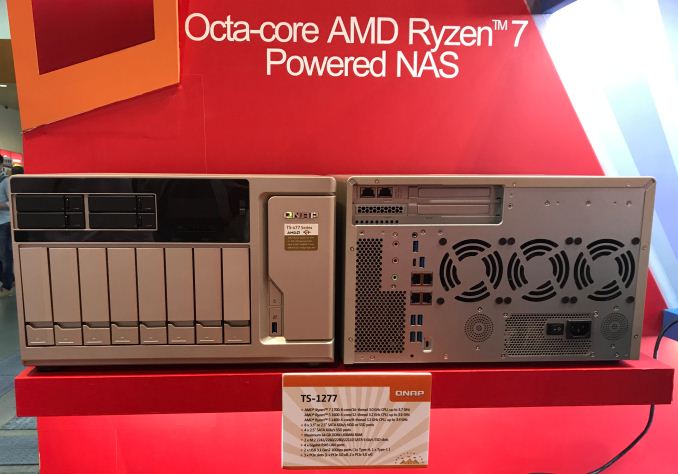 The top-of-the-range 12-bay QNAP TS-1277 NAS is based on AMD's eight-core Ryzen 7 1700 CPUs and come with 64 GB of DDR4 memory in order to handle various applications. Meanwhile, mid-range and entry-level models featuring 12, 8 or 6 bays use the six-core AMD Ryzen 5-1600 and come with 16 GB or 8 GB of memory (see the table below for specifications of the U.S. versions, for others it makes sense to check out the original news story from Computex). All the QNAP TS-x77-series NAS support RAID 50/60 as well as Qtier 2.0 IO Aware features for SSD tiered storage.
The new NAS will run QNAP's QTS 4.3 operating system and therefore will support the same capabilities as other NAS from the manufacturer. In addition, the QTS 4.3 supports various specially designed applications. The TS-x77 devices are also virtualization ready for VMware, Citrix, Microsoft Hyper-V and Windows Server 2012 R2 environments with the support of iSER (iSCSI Over RDMA). The powerful CPUs inside enable the NAS to host virtual machines and run various applications.
QNAP TS-1277, TS-877 and TS-677 Specifications for the U.S. Market
TS-1277-
1700-64G-US
TS-1277-
1700-32G-US
TS-1277-
1600-16G-US
TS-877-
1700-16G-US
TS-877-
1600-8G-US
TS-677-
1600-8G-US
CPU
Model
Ryzen 7 1700
Ryzen 5
1600
Ryzen 7
1700
Ryzen 5 1600
Cores/
Threads
8C/16T
6C/12T
8C/16T
6C/12T
Freq.
3 - 3.7 GHz
3.2 - 3.6 GHz
3 - 3.7 GHz
3.2 - 3.6 GHz
L2 Cache
4 MB
3 MB
4 MB
3 MB
L3 Cache
16 MB
16 MB
16 MB
16 MB
TDP
65 W
Encryption Acceleration
AES-NI
Memory
Speed
DDR4-2400, dual-channel
Capacity
64 GB (4×16 GB)
16 GB
(2×8 GB)
8 GB
(2×4 GB)
16 GB
(2×8 GB)
8 GB
(2×4 GB)
Bays
8 × 3.5"
4 × 2.5"
6 × 3.5"
2 × 2.5"
4 × 3.5"
2 × 2.5"
M.2 Slots
2×M.2 slots (up to M.2-22110)
Storage interface
SATA 6 Gbps
Ethernet
4×GbE, 10/40 GbE supported via add-in-cards
PCIe Slots
1 × PCIe 3.0 x8
2 × PCIe 3.0 x4
Audio
2 speakers
1 × audio out
2 × audio in
USB
1 × USB 3.1 Type-A
5 × USB 3.0 Type-A
1 × USB 3.1 Type-C

Other I/O
Monochrome backlit LCD display with Enter & Select buttons, 3.5 mm console port, voice allert, buzzer, etc.
Dimensions
Height
234.6 mm / 9.23"
231.9 mm / 9.13"
Width
369.9 mm / 14.56"
292.8 mm / 11.53"
224.9mm/8.9"
Depth
319.8 mm / 12.59"
PSU
550 W
450 W
250 W
OS
QNAP QTS 4.3
MSRP
$3599
$2699
$2299
$2299
$1899
$1699
Check Availability
Amazon
Newegg
Amazon
Newegg
Amazon
Newegg
Amazon
Newegg
Amazon
Newegg
Amazon
Newegg
Originally, QNAP promised to ship the TS-x77 series NAS sometimes in Q3, but then delayed them to November, so expect the products to be available from retailers in the coming couple of weeks. Given the positioning, the new TS-677, TS-877 and TS-1277 NAS from QNAP are not going to be cheap. The manufacturer did not reaffirm pricing of the new units in its recent press release, but based on claims made earlier this year, the most affordable TS-677 (Ryzen 5 1600, 8 GB DDR4, no drives) will retail for $1699, whereas the high-end TS-1277 (Ryzen 7 1700, 64 GB, no drives) will cost $3599. Actual specs and MSRPs may vary by region and fully-populated NAS will naturally cost more.
Related Reading:
Source: QNAP