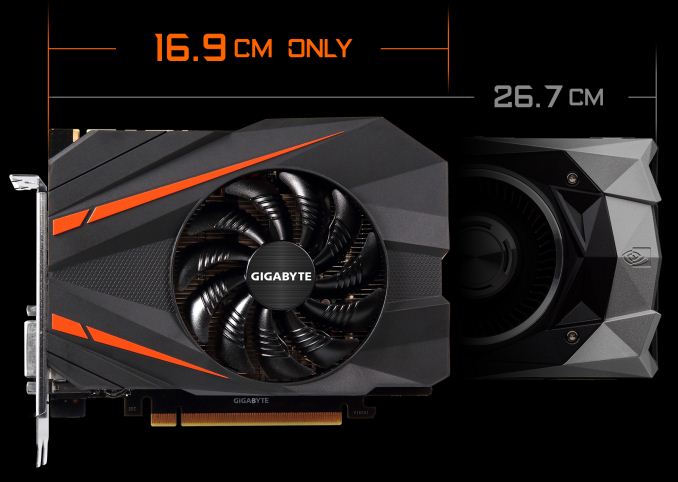 GIGABYTE has outed their GeForce GTX 1080 Mini ITX 8G, the newest entrant in the high-performing small form factor graphics space. At only 169mm (6.7in) long, the company's diminutive offering is now the second mITX NVIDIA GeForce GTX 1080 card, with the first being the ZOTAC GTX 1080 Mini, announced last December. While the ZOTAC card was described as "the world's smallest GeForce GTX 1080," the GIGABYTE GTX 1080 Mini ITX comes in ~40mm shorter, courtesy of its single-fan configuration.
Just fitting in the 17 x 17cm mITX specifications, the GIGABYTE 1080 Mini ITX features a semi-passive 90mm fan (turning off under certain loads/temperatures), triple heat pipe cooling solution, and 5+2 power phases. Despite the size, the card maintains reference clocks under Gaming Mode, with OC Mode pushing the core clocks by a modest ~2%. Powering it all is an 8pin power connector on the top of the card.
Specifications of Selected Graphics Cards for mITX PCs
GIGABYTE
GeForce GTX 1080
Mini ITX 8G
ZOTAC
GeForce GTX 1080 Mini
AMD
Radeon R9 Nano
Base Clock
1607MHz (Gaming Mode)
1632MHz (OC Mode)
1620MHz
N/A
Boost Clock
1733MHz (Gaming Mode)
1771MHz (OC Mode)
1759MHz
1000MHz
VRAM
Clock / Type
10010MHz GDDR5X
10000MHz GDDR5X
1Gbps HBM1
Capacity
8GB
8GB
4GB
Bus Width
256-bit
256-bit
4096-bit
Power
Undisclosed
180W (TDP)
175W (TBP)
Length
169mm
211mm
152mm
Height
131mm
125mm
111mm
Width
Dual Slot
(37mm)
Dual Slot
Dual Slot
(37mm)
Power Connectors
1 x 8pin (top)
1 x 8pin (top)
1 x 8pin (front)
Outputs
1 x HDMI 2.0b
3 x DP 1.4
1 x DL-DVI-D
1 x HDMI 2.0b
3 x DP 1.4
1 x DL-DVI-D
1 x HDMI 1.4
3 x DP 1.2
Process
TSMC 16nm
TSMC 16nm
TSMC 28nm
Launch Price
TBA
?
$649
The dimensions of the GIGABYTE GTX 1080 Mini ITX actually match GIGABYTE's previous GTX 1070 Mini ITX and 1060 Mini ITX cards, as well as their OC variants. This is in line with mid-range and high-end mITX cards generally bottoming out at ~170mm lengthwise to match the mITX form factor specification, with the exception of the petite 152mm Radeon R9 Nano, a card made even smaller due to the space-saving nature of HBM. This is a non-trivial distinction, as graphics card dimension measurements often do not include the additional length of the PCIe bracket and sometimes delineate length of the PCB rather than the cooling shroud. In any case, the 211mm long ZOTAC GTX 1080 Mini actually extends over mITX motherboards. For SFF enthusiasts, these millimeters matter.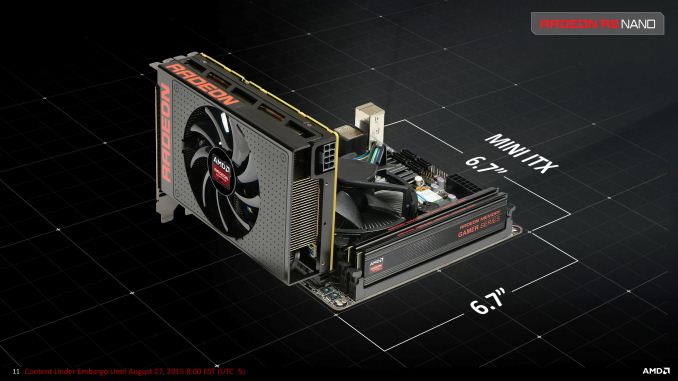 In the meantime, the GIGABYTE GTX 1080 Mini ITX will be the fastest 169mm long card. For the competition, with the R9 Nano no longer in production, the Vega-based Nano has only been teased at SIGGRAPH 2017 so far.
Details on pricing and availability have not been announced at this time.
Source: GIGABYTE (via The Tech Report)