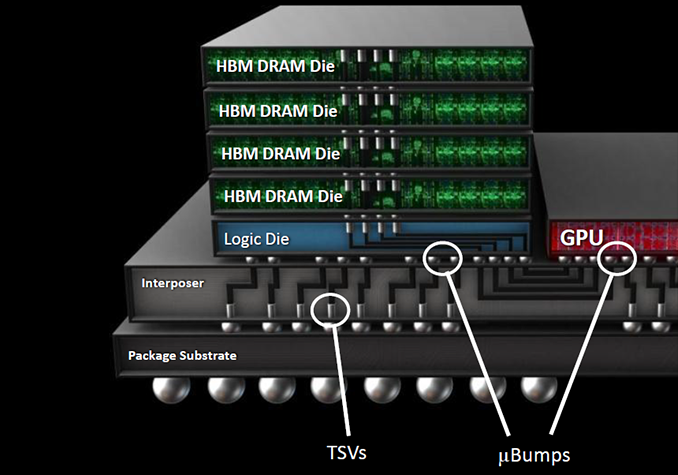 SK Hynix was the first DRAM manufacturer to start producing HBM Gen 1 memory in high volume back in 2015. However, the company is somewhat behind its rival Samsung when it comes to HBM Gen 2 memory. At present, SK Hynix is gearing up to start volume production of HBM2, and the first commercial chips are due only now, in this latter half of the year. To that end, an interesting point was made by an executive of SK Hynix during a recent conference call: the company's customers are willing to pay up to 2.5 times more for HBM2 versus what they paid for HBM1.
As a bit of background, SK Hynix formally announced their intention to produce GDDR6 in late April, and subsequently added 8 Gb chips rated for 12 and 14 Gbps data rates at 1.35 V to its databook. Meanwhile, 4Hi HBM2 chips with 4 GB capacity have existed in SK Hynix's product catalog for some time, but recently the company reduced their data rate to 1.6 Gbps.
At present, SK Hynix is working with a number of partners to bring their GDDR6 and HBM2 memory chips to the market. While SK Hynix is not disclosing the names of its partners, it's reasonable to assume that the two major GPU developers are among them, as they're the biggest customers for both memory types at this moment. Meanwhile, the company claims that both GDDR6 and HBM2 will be more expensive than GDDR5, which shouldn't come as a surprise since GDDR5 has been on the market for many years now, meaning its costs are relatively low when compared to new types of memory. This may in turn have an impact on video card pricing, though with AMD and NVIDIA already tapping HBM2 and GDDR5X respectively for current generation products, both companies are already very familiar with the costs of high-end memory technologies.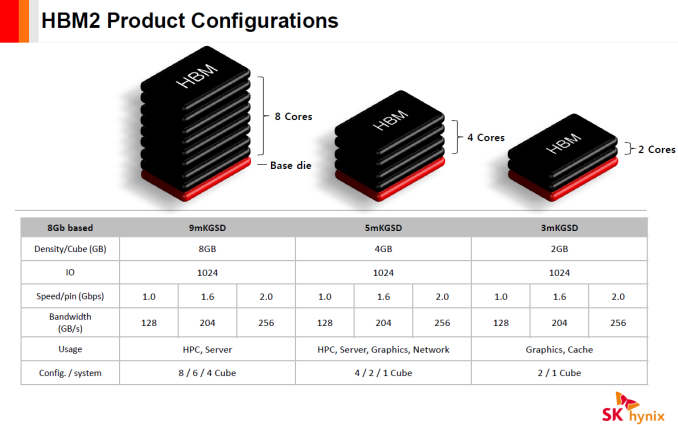 Getting back to the subject at hand then, HBM2 memory from SK Hynix will be substantially different from HBM1 DRAM not only in terms of performance, but also in terms of per-chip capacity, which makes them more difficult and expensive to produce. As a result, the manufacturer will have all the reason to charge more for such DRAM ICs. According to the aforementioned SK Hynix executive, customers are "willing to pay at least double" or even 2.5 times more for HBM2 memory compared to HBM1 DRAM. Considering that HBM2 memory is used for high-end compute cards such as NVIDIA's Tesla P100, the forthcoming Tesla V100, and AMD's various Vega products, it is not surprising that customers are willing to pay extra for memory for their high-end, high-priced products.
One of the key takeaways from this, besides the expected higher prices of GDDR6 and HBM2 memory from SK Hynix, is the fact that this confirms that the company has not started mass production of HBM2 quite yet. For the time being then, this leaves Samsung as the only HBM2 manufacturer shipping in volume, which means I wouldn't be surprised if we see the company's 4-Hi HBM2 stacks show up on AMD's forthcoming HBM2-based RX Vega video cards.
Related Reading:
Source: SK Hynix