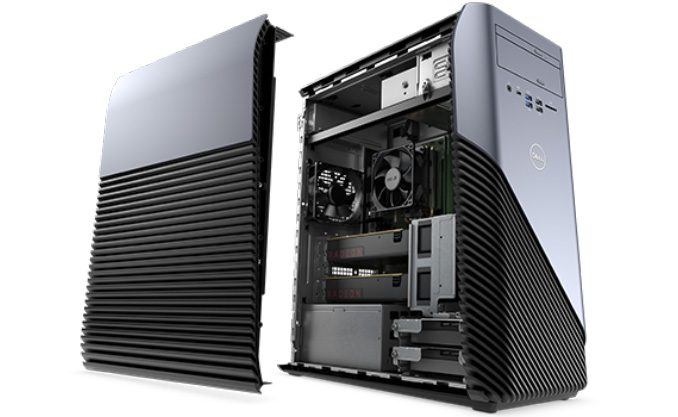 Alongside their new all-in-ones, Dell is also taking the wraps off of a new gaming desktop tower this morning. Dubbed the Inspiron Gaming Desktop, the new gaming-focused system is aimed at budget-conscious gamers with a starting price of $599.
Right off the bat then, the specs turn out to be quite interesting. Instead of using Intel chips, the system will be powered by a selection of AMD processors, from the 7th-gen quad-core AMD A10-9700 APU on the low end to the more-powerful 3.8-GHz AMD Ryzen 7 1700 CPU on the high end. The choice of AMD's processors makes sense for the low-end configuration given the budget pricing, while at the higher-end it's an interesting show of faith on Dell's part (though equally likely, they want to use the same motherboard throughout the line).
For graphics cards, you have a choice between an AMD Radeon RX 560 GPU with 2GB of VRAM or a faster, Radeon RX 580. Or you can go the NVIDIA route and get a GeForce GTX 1060 with 6GB of VRAM. Dell is also offering a dual-GPU option, though outside of perhaps VR (which of course, Dell is promoting here as well), I'd argue a single GTX 1080 would be a better choice.
Memory configurations start at 4GB, maxing out at 32GB DDR4 memory. Dell's offering several storage options, running the gamut from a 3.5-inch 500GB hard drive to a 256GB M.2 SSD. Keep in mind that the tower has five additional bays, so you can upgrade to your heart's content. Meanwhile in another surprising move for a gaming desktop, Dell is offering both Windows 10 and Ubuntu Linux as OS options.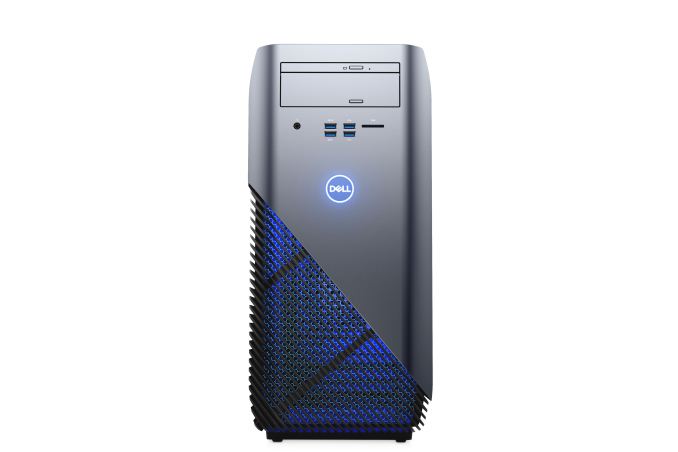 As for the tower itself, at first glance you wouldn't be shocked if you found the Inspiron Gaming squirrelled discreetly away in someone's office. The 30.1 pound, 18.1 x 8.5 x 17.2-inch chassis is made of gray anodized aluminum with black plastic vents positioned along the sides on a slant. Dell lets you show off the system's gamer aesthetics by enabling the optional polar blue LED lighting that will emanate from between the vents. Meanwhile for cooling, the Inspiron Gaming Desktop will surprisingly offer both air and liquid cooling solutions.
Wrapping things up, like the other devices Dell has announced today, the Inspiron Gaming Desktop is launching immediately, and should be available later today on Dell's website.
Sherri Smith Contributed to this Report
Source: Dell