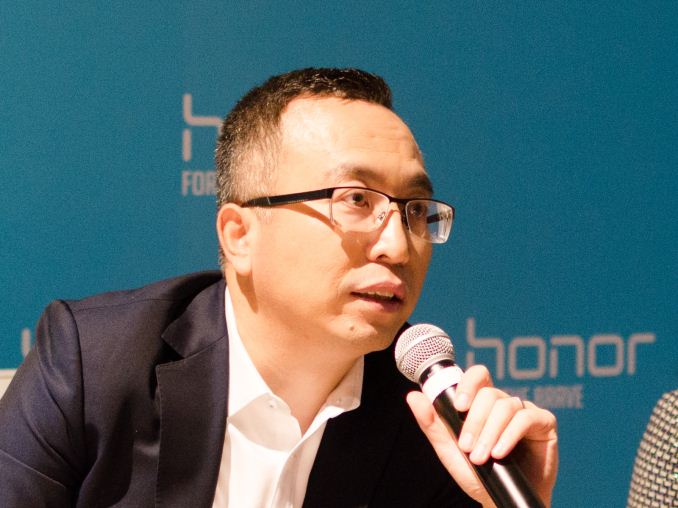 Honor (styled honor) is a sub-brand of Huawei, defining itself for users that 'feel young at heart', or charactized in the media for focusing on lower cost devices with features that appeal to millennials. Last year honor introduced the honor 5X and the honor 8 in two big product launches, with the latter featuring HiSilicon's Kirin 950 chipset and a striking blue color that was well received. At CES this year, honor launched the honor 6X, a $250 smartphone with a dual camera featuring Qualcomm's Snapdragon 625. As part of the proceedings, we were invited to a group interview with the President of honor, George Zhao.
Q: Can you explain the relationship between honor and the parent company, Huawei? Now that both brands have smartphones at similar prices, is there a danger of cannibalization?
A: The Huawei group has a clear strategy for the smartphone market, and it relies on a dual brand strategy. The big company, Huawei, is based on the traditional retail model, with extensive effort to be sold in shops and with appropriate marketing with premium products. Honor is based on a new model – we are an 'eBrand', and rely on Internet-only sales as a change in the way people purchase products. Our different model is combined with our different customer target segments. We have a different product portfolio that defines the philosophy of that segment – more color, and more status as a product brand. We combine technology for young people, or to clarify, those that are 'young at heart', because this is more a state of mind. We want to consider how to meet the requirements of this market, and as a result our approach to product promotion is totally different. Honor communicates direct to young people through newer channels of communication, such as social networking.
Also, just to be clear, honor is an independent organization. We have our own sales, our own marketing, and our own R&D. We do share some technical platforms with Huawei, such as the Kirin chipset and some manufacturing, but from our perspective the product portfolio is very different.
Q: Can you comment on the marketing budget of honor compared to other companies?
A: Not numbers directly, but because we do things different to other smartphone companies you may expect that we spend less – 1/5 to 1/10 of the budget of our competitors due to how we do things.
Q: How important is wireless charging or eye recognition?
A: In the honor Magic, we use the highest fast power charging, with 5V 8A. This means we can go from 0 to 90% in 30 minutes! But we have a lot of this technology to study, and for wireless charging, we care about efficiency. We look at what is available, and we have been waiting for a big breakthrough in wireless charging since 2012, but nothing makes us satisfied.
Q: Does honor believe in a high-cost (e.g. $800) smartphone?
A: Our strategy is to enable the best class of phone with a good price. The way we do things with our eBrand model helps us reduce costs, so our pricing strategy is low. We have launched an expensive phone, the honor Magic, which is about $550 in China, but we only produced a limited number – it doesn't even cover the cost of our research and development! But for our mass market products, the price will not be so high.
Q: Is the honor Magic going to be released outside China?
A: With the AI (artificial intelligence) used by the Magic, we have found that AI needs to be based on local cultures and traditions in order to give people the responses they expect. Our R&D teams are in China, which is why we have only launched this product in China so far. If we think this technology is worth investing in, we might introduce a newer model into the international market.
Q: What is your opinion on the headphone jack?
A: When you make a change like this, you have to be careful. Bluetooth headphones are very popular with certain groups of people, and honor even has a pair of Bluetooth headphones for sale. But users are used to having a set of wired headphones still, so this consideration needs to be careful if it ever changes.
Q: Speaking about the honor 6X, can you comment on the performance of the Kirin 655 compared to the 950/960?
A: Huawei and honor have two lines of chips, the Kirin 9-series and the Kirin 6-series. Kirin 9 is for the flagship phones, such as the Mate 9 or P-series, or the honor 8/9 and honor Mi and honor Magic. Kirin 6 is for devices like the honor X-series. The main performance difference is chipset power, but the functions available are similar.
Q: Does honor look at other OS platforms other than Google Android?
A: As a corporation, we focus on Android. We want the best relationship in order to build the best Android products, and so when a device is used for 18 months it is still very fast.
Q: Would using the phone as a PC be a good idea?
A: For me, 95% of the time I use a phone is for business. So in the future we will have to move forward like this. We have a target for the honor 6X, to sell 20 million units over the life time. But the online platform needs to advance.
Q: Will honor remain focusing on smartphones, or will it move into other products?
A: Our business is mainly smartphones, but we are expanding into wearable technology and smart home products, such as WiFi router connection technology.
Q: Does honor have a VR strategy? Will honor ever produce a Daydream VR capable smartphone?
A: Last year we introduced the honor v8 which focuses on this performance. We will have a new V-series smartphone in 2017 which will offer a good VR experience.