This guide will show you how to configure the most common type of network at home or in a small office: a peer-to-peer network. This type of network doesn't use a server to distribute packets of data it just allows several computers to talk to each other. This is great for sharing a printer, tape backup or zip drive, playing multi-player games or sharing documents.
Let's start with what you'll need to set up a small office or home Ethernet network:
A 10/100bt network interface card (NIC) for each computer (about $50-$80)
Network cards come in a few flavors, the older 10bt (Ethernet) and the newer 10/100bt combo cards (fast Ethernet). 10/100 refers to the maximum data transfer rate the card can handle. Ethernet transfers information at 10 megabits per second and Fast Ethernet transfers data at 100megabits per second. Most of the cards you'll find today will be of the 10/100 variety.
A hub with enough ports for every computer on your network (about $100 for a 5 port hub)
Enough 10bt (also called twisted pair or Ethernet) cable to reach the hub from each computer. Ethernet cable resembles standard telephone cable only the ends are larger. (Price varies, sold pre-packaged or made while you wait)
A network operating system, this guide will use Windows 95/98.
A little bit of patience (for all the required reboots)
OK, let's configure the hardware first.
Install your network card. Make sure there is no exclamation mark beside it under Device Manager.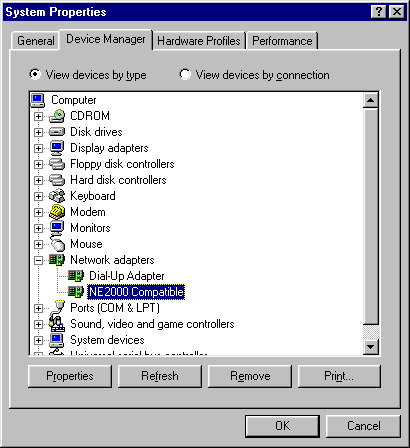 Connect an Ethernet cable from the network card to the hub. Make sure your hub has power.