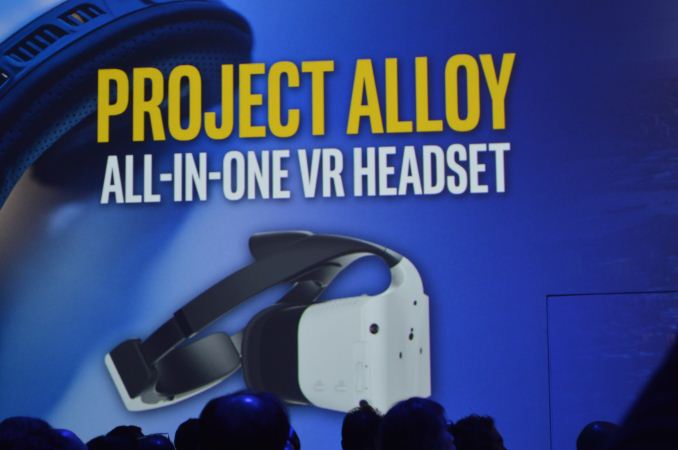 During the Keynote today at IDF, Intel showed off the next play into the Virtual Reality design space. In an interesting twist, their new Project Alloy headset was demonstrated on stage and marketed as a fully untethered VR device that uses dual RealSense cameras to monitor location and position of objects around the user. The headset stills needs a PC for data transmission, such as the Skull Canyon NUC with Iris Pro graphics, but the idea to have a headset without wires is interesting but offers up a number of questions. On top of this, the Real Sense cameras will have full five-finger recognition, allowing the software to adjust the appearance of the users hands or other figures as appropriate (this is where the Augmented Reality comes in).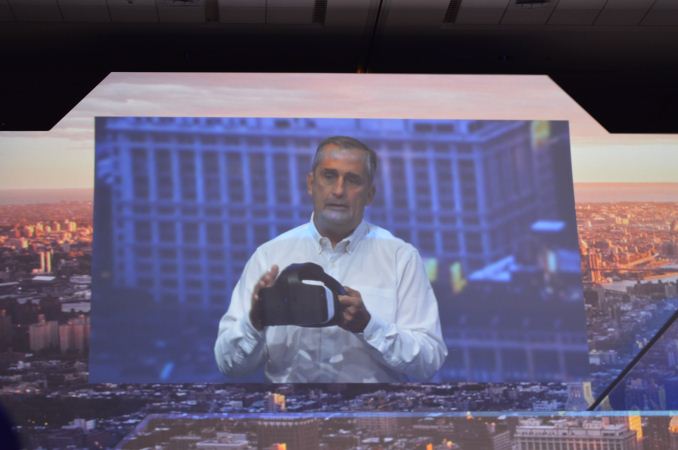 Intel mentioned that the headset has good weight distribution, as well as an SoC inside for the processing. There was no indication as to the power consumption of that SoC, but I can imagine it being under 10W otherwise it would heat up the users face over time. The back of the headset also has a compartment, which I would assume is battery, which gives another question on the battery life of such a headset.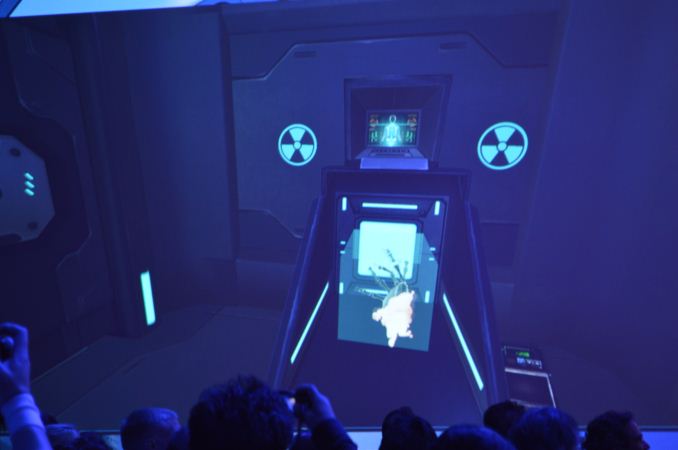 The VR + AR concept is being marketed as 'mixed reality' – the ability to use your hands in a VR environment which also adjusts the visuals of your hands based on what is happening in the scene. In the demo on stage, Intel showed a hand turning into a skeleton hand when placed in front of an X-Ray scanner in the scene. There was also discussion that this sort of mixed reality (MR) allows full roaming capabilities that mean a user won't easily bump into objects around their home (or walls).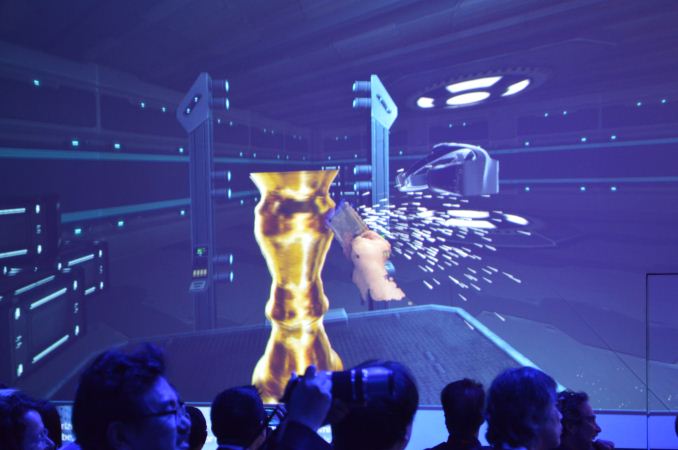 The demo was also projected onto a large screen, and it was clear this is still a prototype as we could see dropped frames. It was mentioned that Holo-Lens used Cherry Trail, and this is more powerful. Another element of use was a mix of 2D/3D environments, such as the eponymous 'unlimited desktop' for working and consuming content. The use of RealSense will be similar to at least one other headset with an external camera, but the rendered video on screen showed a person manipulating 2D interfaces projected onto walls with a remote control.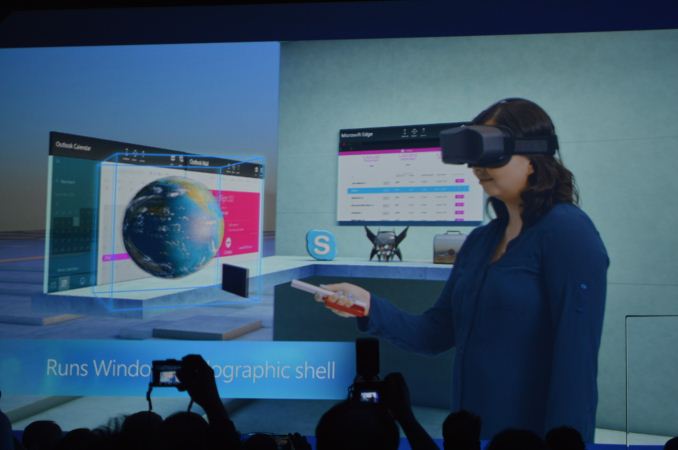 Project Alloy will require a Windows PC with Windows Holographic Platform, which will come to Windows 10 PCs next year as part of the regular updates. V1 of the device will be available to partners in December, and the hardware will be open sourced in the second half of 2017. The RealSense APIs will be opened up as well. Chances are we will see more demos this time next year.