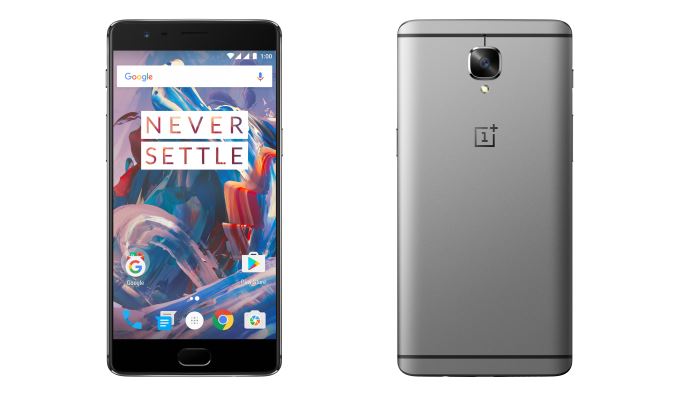 Today OnePlus announced their newest flagship phone, the OnePlus 3. The OnePlus 3 replaces the OnePlus 2, while the OnePlus X stays around as the less expensive OnePlus device with a smaller display. I reviewed the OnePlus 2 at the end of last year, and unfortunately I was forced to conclude that it actually represented a significant downgrade from its predecessor in many ways. Some of this was due to choices OnePlus had made with the product design, such as the very poor display calibration. Others were out of their control, like the throttling issues on Qualcomm's Snapdragon 808 and 810 SoCs. A combination of these factors led to a smartphone that just wasn't able to compete in an increasingly competitive market.
With the OnePlus 3 OnePlus has a chance to fix the issues with the OnePlus 2 and once again offer a compelling smartphone at a price lower than that of the flagship smartphones sold by the larger Android OEMs. To accomplish this, OnePlus has made very large changes on both the inside and the outside, making the OnePlus 3 the largest jump that a OnePlus smartphone has made to date. You can check out the specs of the OnePlus 3 compared to its predecessor in the table below.
OnePlus 2
OnePlus 3
SoC
Qualcomm Snapdragon 810
Qualcomm Snapdragon 820
GPU
Adreno 430
Adreno 530
RAM
2/4GB LPDDR4
6GB LPDDR4
Display
5.5" 1920 x 1080 IPS LCD
5.5" 1920 x 1080 PenTile AMOLED
Size / Mass
151.8 x 74.9 x 9.85mm, 175g
152.7 x 74.7 x 7.35mm, 158g
Battery
3300 mAh
3000 mAh
Rear Camera
13MP 1.3 μm OmniVision OV13860 f/2.0
16MP 1.1

μm

Sony IMX298, f/2.0, OIS
Front Camera
5MP 1.4 μm OmniVision OV5648, f/2.0
8MP 1.4 μm Sony IMX179, f/2.0
Storage
16/64GB eMMC
64GB UFS 2.0
I/O
USB 2.0 Type-C connector, 3.5mm audio
Connectivity
802.11a/b/g/n/ac + BT 4.1
USB-C, GPS/GNSS
802.11a/b/g/n/ac + BT 4.2, USB-C
NFC, GPS/GNSS
Price
$329 (3GB/16GB)
$389 (4GB/64GB)
$399 (6GB/64GB)
OnePlus advertises that the OnePlus 3 is 35% faster with CPU tasks and 40% faster with graphics tasks. We've seen that Snapdragon 820 provides significant improvements in performance over Snapdragon 810, especially with Snapdragon 810's throttling problems. In the case of the OnePlus 3, they're probably selling themselves short with these figures due to the OnePlus 2's power management mechanism which completely disables the A57 cores when web browsing, along with the fact that it used an underclocked Snapdragon 810 that didn't stand up well under any sort of prolonged load.
In addition to the SoC bump, OnePlus has gone all out with the RAM. The OnePlus 2 came in a 2GB and a 4GB version, although I mostly only saw the 4GB model for sale. With the OnePlus 3 they include 6GB of LPDDR4 RAM in every model, which is ahead of pretty much everything else in the smartphone market and probably more than you'll need on a phone for many years. As for storage, every model is 64GB now, and OnePlus is now using UFS 2.0 NAND instead of eMMC, which makes the remaining flagship vendors using eMMC look rather awkward in the market given that the OnePlus 3 comes in at under $400.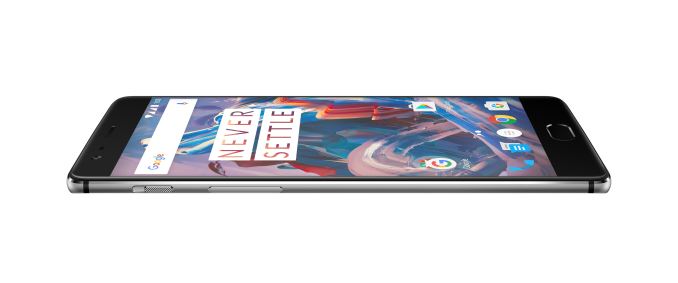 The display maintains its size and resolution, but OnePlus has moved to an AMOLED panel and is targeting the NTSC color gamut. Unfortunately, neither of these things seem like improvements, with the effective resolution of red and blue on the panel now being halved, and the color gamut not conforming to the sRGB standard as it should. I'll be putting the OnePlus 3 through our standard display workflow with the full review, and if you value an accurate display I would wait until that time before you make up your mind about buying the phone.
OnePlus has moved back to Sony sensors for the cameras on the OnePlus 3. What I find interesting but potentially concerning is that the sensor size has actually gone down, and although resolution has gone up the pixel size has decreased from 1.3 micron to 1.12 micron. However, differences in sensors can have various impacts on their characteristics, and the OnePlus 2 had some significant issues with image processing which means it's still very possible that the OnePlus 3 has improved with respect to image quality. However, it does seem like a concession made to reduce the camera hump on the relatively thin chassis, which some buyers may disagree with as a design choice.

OnePlus has moved to an aluminum unibody design with the OnePlus 3, and it's pretty great. I was really not a fan of the sandstone finish on the OnePlus One and OnePlus 2, which I frankly thought felt cheap and didn't even add much in the way of grip because it wasn't coarse enough. The OnePlus 2 introduced a metal frame, but it didn't do much to improve the feel of the phone. Along with the move to a full aluminum unibody comes a dramatic reduction in thickness and mass, which makes it significantly more comfortable to use for long periods of time than the OnePlus 2. While I'll cover the design in more detail in my review, I can say for certain that I like the design very very much as both an improvement over the OnePlus 2 and a design that is just good in its own right.
My review of the OnePlus 3 is already well underway, and it will be going up next week. There's a lot more to the OnePlus 3 than what you see on a spec sheet, and some of the choices that OnePlus has made to balance aspects like thickness and mass against battery capacity and camera sensor size make for some interesting changes going from a previous OnePlus smartphone to the OnePlus 3.
The last thing of note is that OnePlus has done away with the invite system. I personally thought the invite system was a ridiculous and terrible idea that only caused problems for people who wanted to buy the phone, and I think this is a big step forward for OnePlus as a company. After three generations they likely have a better idea of how many orders to expect, which may have been a contributing factor in deciding to do away with the invite process. Right now the OnePlus 3 comes in a graphite finish, and it will come in a gold finish soon after release. If you already know that you want the OnePlus 3 and want to buy it before anyone else, you can get it from OnePlus's online store for $399 USD.