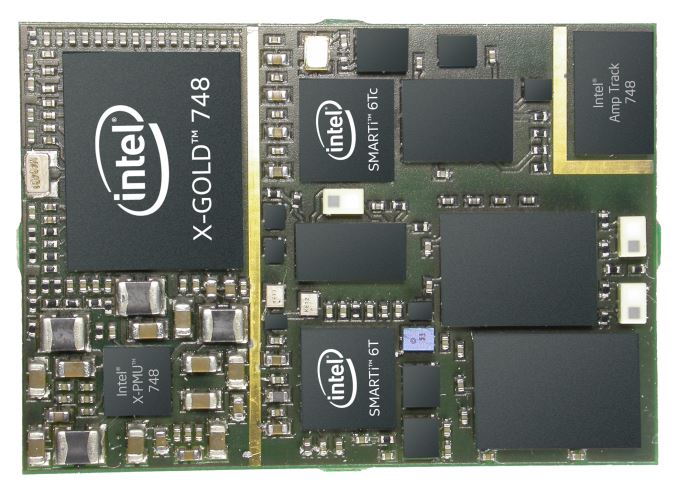 At MWC 2016, Intel announced their latest modem, the XMM7480. While to some extent Intel's cadence isn't quite as aggressive as others in the modem space, Intel's modems are still a relevant part of the modem ecosystem.
At a high level, the XMM 7480 platform introduces a number of new features that haven't been seen in previous Intel cellular solutions. One addition is the AmpTrack envelope tracking IC, which allows for closed loop voltage control of the power supply for the power amplifier on the transmit chain. This isn't really a new technology per se as we've seen Qualcomm's QFE1100 as early as the Galaxy Note 3, but it's nice to see that an OEM hoping to integrate Intel's X-Gold 748 baseband no longer needs to do the work to integrate a separate envelope tracking IC. It's likely that the baseband is leveraging CEVA's DSP IP, based upon a recent announcement by CEVA on Twitter.
Intel has also updated their transceiver for the XMM 7480, which enables 33 LTE bands in a single SKU. Absent disclosures by other vendors in the industry, it's hard to say whether this is record, but I suspect that other companies with announced UE Category 16 modems will be able to top that number depending upon configurations for things like carrier aggregation. Judging by stated maximum upload/download of 450/150 Mbps, it's likely that we're looking at UE Category 9 on the downlink and Category 13 on the uplink. The XMM 7480 also implements a number of 3GPP Release 12 features like Enhanced Voice Service, which is a new codec to improve speech quality, and enhanced Dual Sim Dual Standby, which allows for two SIMs to be on the device but only one SIM will be active at any given time.
Overall, the XMM 7480 provides a solid upgrade over the XMM 7360. It should be sampling to OEMs in 2H 2016, and with any luck we should be seeing design wins by the end of 2016 or early 2017.