Introducing the Toshiba Tecra R850
Toshiba won't mind if we say that their previous business class notebooks looked...kind of cheap. They were bulky and unattractive, largely feeling like consumer notebooks with matte instead of glossy plastic. Yet when we visited with Toshiba to talk about their Tecra refresh, we were impressed, and Toshiba's reps were only too happy to put the new Tecras next to the old ones to demonstrate the stunning new weight loss plan the notebooks were put on. And the best part? While the Tecras have gotten a healthy refresh, their prices remain remarkably affordable. Is the 15.6" Tecra R850 the notebook you've been looking for?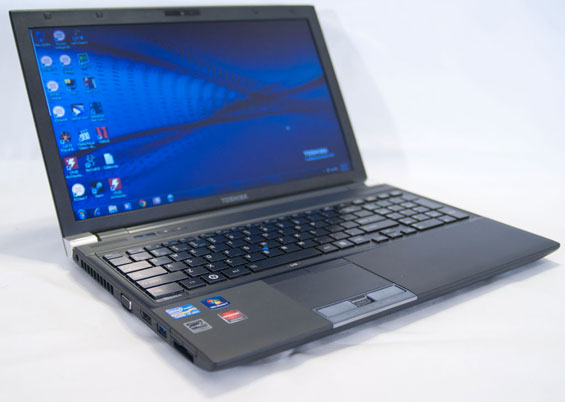 I'm not sure even Toshiba was prepared for the kind of success the Portege R700 experienced. In many ways the design was a bit of a divergence from their usual fare, but it diverged in the right ways and hit a portable computing sweet spot for a lot of users. Toshiba's designers took the lessons of the R700 to heart and fashioned their new Tecra R840 and R850 notebooks after it, resulting in a pair of remarkably thin but still sturdy and classy-looking business notebooks. We have the 15.6" Tecra R850 on hand, and it offers a healthy amount of performance and value. Check it out:
Toshiba Tecra R850 Specifications
Processor
Intel Core i7-2620M
(2x2.7GHz + HTT, 3.4GHz Turbo, 32nm, 4MB L3, 35W, vPro Enabled)
Chipset
Intel QM67
Memory
1x4GB DDR3-1333 (Max 2x4GB)
Graphics
AMD Radeon HD 6450M 1GB GDDR3
(160 Stream Processors, 600MHz/1.6GHz Core/Memory clocks, 64-bit memory bus)
Display
15.6-inch LED Matte 16:9 1366x768
(Toshiba TOS5091 Panel)
Hard Drive(s)
Hitachi Travelstar Z7K320 320GB 7200-RPM SATA 3Gbps Hard Disk
Optical Drive
DVD+-RW Combo Drive
Networking
Intel 82579LM Gigabit Ethernet
Intel Centrino Advanced-N 6230 802.11a/b/g/n (WiDi capable)
Bluetooth 3.0+EDR
Audio
Realtek ALC269 HD audio
Stereo speakers
Combination headphone/microphone jack
Battery
6-Cell, 66Wh battery
Front Side
-
Left Side
AC adapter port
Exhaust vent
VGA
DisplayPort
USB 3.0
ExpressCard/34
Memory card reader
Right Side
Combination headphone/microphone jack
2x USB 2.0
eSATA/USB 2.0 combo port (sleep charge capable)
Optical drive
Ethernet jack
Kensington lock
Back Side
-
Operating System
Windows 7 Professional 64-bit SP1
Dimensions
14.9" x 9.9" x 0.82-1.19" (WxDxH)
Weight
5.29 lbs
Extras
Webcam
Flash reader (MMC, SD/Mini SD, MS/Duo/Pro/Pro Duo)
USB 3.0
Bluetooth
Fingerprint reader
Docking port
Warranty
3-year standard parts and labor warranty (1-year on battery)
Pricing
Starts at $879
As configured $1,349
For starters, it took us a long time to get Intel's fastest mobile dual-core i7 in house last generation, but Toshiba makes it available right out of the gate. The Core i7-2620M is the fastest dual-core Sandy Bridge mobile processor on the market, with a 2.7GHz nominal clock speed able to turbo up to 3.2GHz on both cores and 3.4GHz on a single core. It also sports a full 4MB of L3 cache (mobile i5s only offer 3MB). In a move that seems to be fairly common with these business-class notebooks, Toshiba also only populates one of the memory channels with a single 4GB DIMM, leaving the second one free for a future upgrade.
Graphics duties are handled by the AMD Radeon HD 6450M, and unfortunately there's no hybrid graphics solution in place: the Tecra R850 runs on the 6450M all the time; that means no access to Intel's Quick Sync technology either. Toshiba also still inexplicably continues to opt out of AMD's mobile driver program, much to the detriment of their end users. As for the 6450M, it's a welcome upgrade from the tired Mobility Radeon HD 5470. It features 160 stream processors clocked at 600MHz and 1GB of GDDR3 strapped to a 64-bit memory bus, running at an effective 1.6GHz. This is still a decent upgrade from the Intel HD 3000, and Toshiba's decision to go with AMD is predicated largely upon EyeFinity, which the R850 supports.
Storage duties are handled by a Hitachi Z7K320 320GB, 7200-RPM hard drive, a welcome change of pace from Toshiba's habit of using their own dog slow mobile drives. The Z7K320 is a single-platter drive that tops out at just 7mm in height, and while the 320GB of capacity seems slight it should still be enough for most users. Toshiba also has a hard drive impact sensor built into the Tecra R850 that parks the head when motion is detected.
Rounding things out is a healthy connectivity suite featuring both USB 3.0 and eSATA, along with sleep USB charge capability and gigabit Ethernet. Toshiba even includes an ExpressCard/34 slot for future expansion, and the docking bay port on the bottom of the notebook is identical across the Portege R800 and Tecra R840, allowing for the same dock to be used for multiple notebooks.