Build Quality: Thin is In
Probably one of the most refreshing things about the Toshiba Tecra R850 is the fact that it's frankly svelte for a 15.6" notebook. While the recently released Dell XPS 15z is a bold challenger, the R850 is a quarter of a pound lighter...and a business-class notebook backed by a business-class warranty.
Not messing with a good thing, Toshiba has opted for black matte plastic across virtually the entire chassis, with texturing on the lid and palm rest and silver glossy accents on the hinges, touchpad buttons, and the logo on the lid. Inheriting a lot of its design DNA from the Portege R700/R800, the build is incredibly slender, with a thickness that maxes out at just 1.19" and it really does feel very light in the hand.
Opening the lid, you're greeted with a matte plastic bezel and a matte screen. The interior surfaces are all similar and kept clear of excess shortcut buttons. In fact, Toshiba includes only two: a button which switches the power plan to their "eco" power-saving mode, and a button which toggles the monitor output. Everything else is handled through Fn key shortcuts. In fact, the only color you're really going to see are in the green/orange indicator lights and the blue trackpoint nub.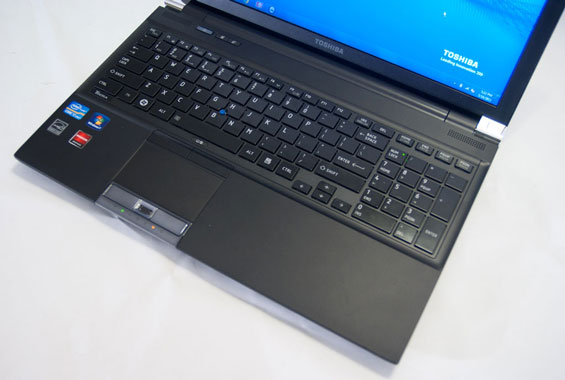 For better or worse, the Tecra R850 inherits the keyboard style of the Portege R700/R800, and this is probably the one bone I really have to pick with the design. The keyboard itself has a smart and easy to use layout that's really among the better ones I've seen, but the keys are a slightly glossy plastic that aren't particularly comfortable to use. There are worse things to deal with, but the keyboard isn't great, and the surfaces of the keys feel too smooth, the travel too shallow. On the plus side, there's virtually no flex in the keyboard to speak of.
Likewise, the touchpad below the keyboard is comfortable to use. I do get frustrated whenever I see the touchpad as part of the same piece of plastic as the palm rest because it looks chintzy, but the difference in texture is at least welcome and again this is an issue that's more about look than feel. The touchpad buttons also have the right amount of travel, and there's a toggle to enable or disable the touchpad just above the trackpoint buttons.
As a whole, I'm mostly impressed with how well-built and slender the R850 is. It's proof that 15.6" notebooks need not be bulky, overweight monstrosities, and that you can still have a sizable screen and keyboard without having to pack so much weight behind it. And despite being so thin, the body doesn't really bend and the screen and lid have minimal flex.