My Cloud
Helium-filled hard drives have a number of mechanical advantages compared to traditional HDDs, but they are also more expensive to manufacture. Western Digital subsidiary HGST introduced the world's first commercial helium-filled hard drive in 2013, targeting datacenters. Since then, the company has launched two more generations of its helium drives, including two models with 10 TB capacity. This week Western Digital unveiled the world's first family of helium-filled HDDs designed for consumer applications, which will be sold under the WD brand. The family of WD's hermetically-sealed helium-filled hard drives will include WD Red, WD Red Pro and WD Purple 3.5" internal HDDs as well as My Cloud, My Book and My Book Duo external storage systems based on the new drives. Western Digital's first helium-filled...
Western Digital is well known to the average consumer as a hard drive manufacturer. By extension, it also opens up the network-attached storage (NAS) market to them. In 2014...
20
by Ganesh T S on 10/9/2015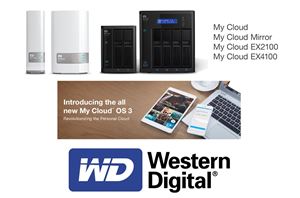 Western Digital markets their NAS lineup under the 'Personal Cloud' category. This is further sub-divided into three markets, the 'Consumer Series' (the MyCloud units), 'Expert Series' (the EX units...
6
by Ganesh T S on 9/1/2015