EDSFF
The Enterprise and Datacenter SSD Form Factor family of standards is now about three years old, and continues to evolve. The EDSFF form factor options are gaining traction in several markets, and lessons learned by early adopters are still driving tweaks to the specifications. The myriad variations under the EDSFF umbrella have not been simplified much, but at least the brief format war between the EDSFF E1.S form factor and Samsung's NF1 has concluded, with Samsung now supporting and contributing to the E1.S standard. As EDSFF adoption increases, we'll probably see several variants fall into irrelevance, as happened to some of the less popular M.2 card sizes. But even once it's clear which members of the EDSFF family are succeeding in the market, the...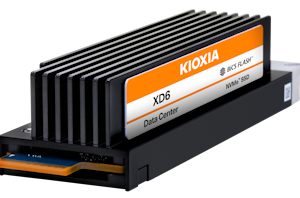 Kioxia (formerly Toshiba Memory) is announcing the new XD6 series datacenter NVMe SSDs, featuring PCIe 4.0 support and using the EDSSF E1.S form factors. The XD6 is Kioxia's first...
10
by Billy Tallis on 11/3/2020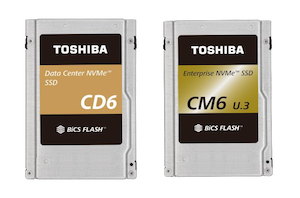 Following up on several announcements from Flash Memory Summit earlier this month, Toshiba has shared more information about their plans for transitioning their NVMe SSDs to PCI Express 4.0...
10
by Billy Tallis on 8/30/2019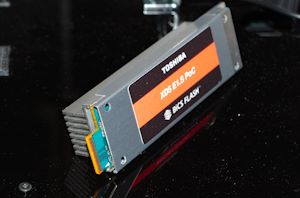 What began as Intel's Ruler concept for a new SSD form factor blossomed into the Enterprise and Datacenter Small Form Factor family of standards, with the version 1.0 specs...
1
by Billy Tallis on 8/16/2019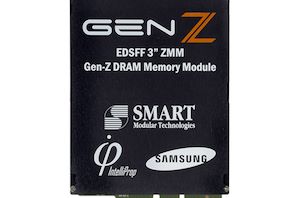 SMART Modular this month demonstrated one of the industry's first prototypes of a EDSFF 3-inch DDR4 Gen-Z memory module. The ZMM supports advanced functionality enabled by the new interface...
15
by Anton Shilov on 8/15/2019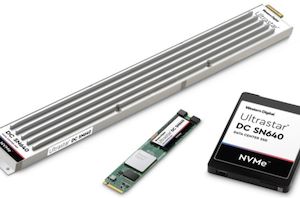 Western Digital has announced its new family of enterprise SSDs aimed at mixed-use-case workloads. The new drives use in-house developed components and come in EDSFF E1.L, U.2, and M.2-22110...
14
by Anton Shilov on 8/7/2019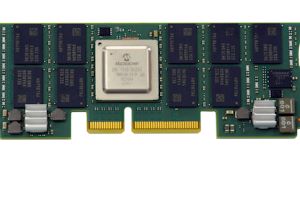 Microchip's subsidiary Microsemi is entering a new market with the introduction of the SMC 1000 8x25G Serial Memory Controller. This is a DDR4 DRAM controller that connects to host...
17
by Billy Tallis on 8/5/2019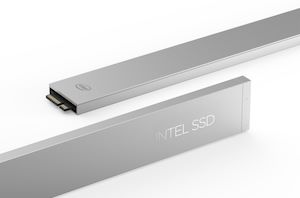 Slipped in to the briefings for Intel's mountain of announcements today are two new enterprise SSDs at opposite ends of the product line: a new Optane SSD and a...
27
by Billy Tallis on 4/2/2019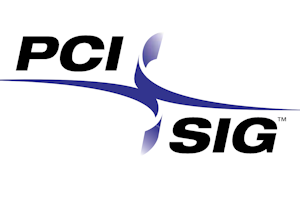 PCI-SIG, the standards committee behind PCI Express and related standards, has issued a warning about incompatibilities between their M.2 standard and Samsung's NGSFF/NF1 SSD form factor. The notice from...
16
by Billy Tallis on 11/16/2018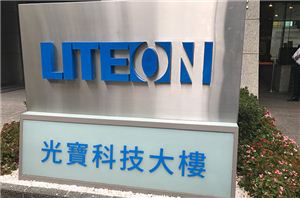 Lite-On has demonstrated its first SSD that comes in EDSFF 'ruler' form factor, showing off the new drive at FMS earlier this month. The drive uses a controller from...
10
by Anton Shilov on 8/24/2018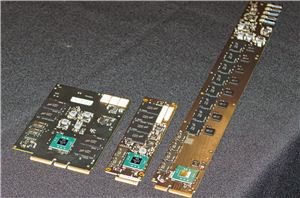 Last year, Intel and Samsung proposed new form factors for enterprise/datacenter SSDs with the goal of overcoming the shortcomings of the existing M.2, U.2 and PCIe add-in card form...
26
by Billy Tallis on 8/17/2018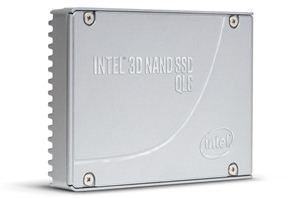 Intel has finally shared the naming and specifications for their first datacenter SSDs using QLC NAND flash memory, after recently announcing that the then-unnamed drive had entered mass production...
7
by Billy Tallis on 8/3/2018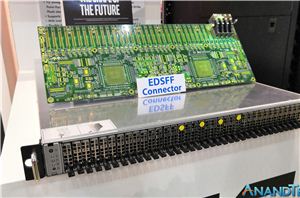 In the consumer space, we get SATA drives, mSATA drives, M.2 drives, and for the high end, U.2 drives. By contrast, the enterprise space is expanding: U.2 is a...
7
by Ian Cutress on 6/25/2018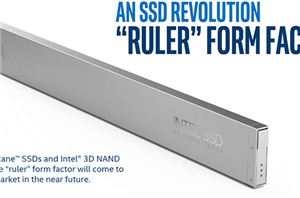 Intel on Tuesday introduced its new form-factor for server-class SSDs. The new "ruler" design is based on the in-development Enterprise & Datacenter Storage Form Factor (EDSFF), and is intended...
50
by Billy Tallis on 8/9/2017