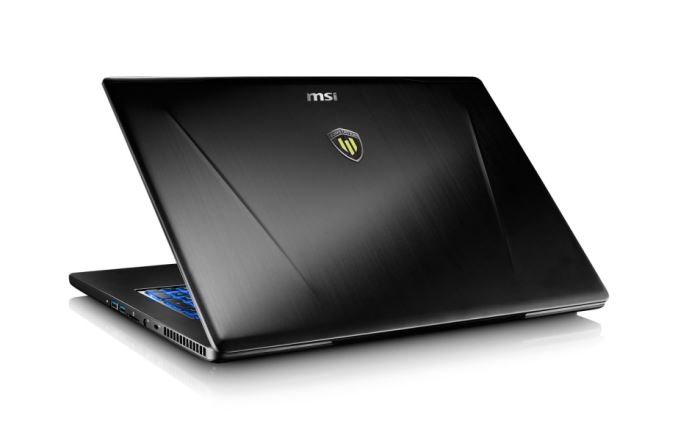 MSI has branched out into primarily gaming focused systems, but they also use the same gaming chassis as workstation devices too. This year at CES, MSI also launched a very nice looking gaming tower, which is very small but incredibly powerful.
First, MSI showed me their workstations. I have to admit; I've often wondered why companies don't leverage existing gaming systems as the basis for workstations. A bit of extra validation, and some different components, and the system should be a pretty capable workstation. That's exactly what MSI has done. The have taken their GS60, GS72, and GT72 gaming systems, and converted them to workstations with optional Xeon processors and Quadro graphics.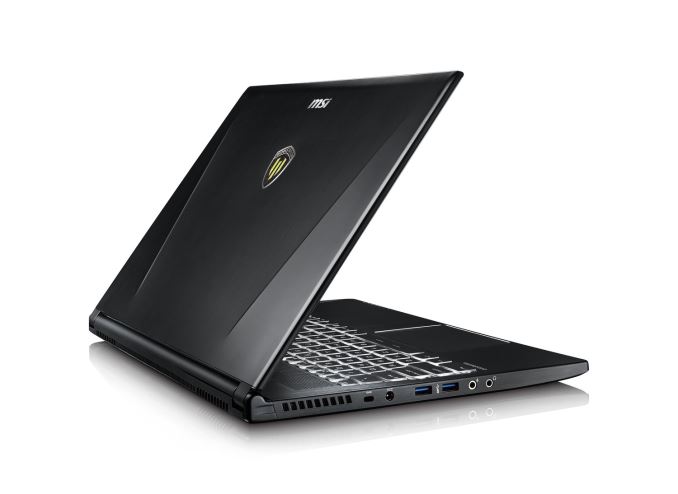 The WS series is the slimmer models, and the WT model has the most cooling capability, and carries the most powerful graphics card of the trio, with the Quadro M5000M, which is a 1536 CUDA Core, 8 GB, 100-Watt card. The smaller WS series have the M2000M model, which is a 640 CUDA core, 4 GB, 55-Watt professional GPU. MSI has kept a lot of the same styling, including the colored backlit keyboard, and other gaming touches. I pointed out that they can't compromise the keyboard like they have on a workstation class device, because even on the largest model the number pad and arrow keys overlap.
The rest of the gaming laptops were on display, but they remain basically untouched at this point, other than the refresh to Skylake. The GT80 Titan was being shown off with the dual-GTX 980 desktop class cards on MXM modules, which is a step up on the SLI GTX 980M cards which were installed in our review unit. This is still a beast of a notebook, and no other vendors have really stepped up to compete against it quite yet, although there are a couple of other 18.4-inch devices now.
The one new gaming model was the GT72S Tobii, which takes the basic GT72S and adds Tobii eye tracking to the bottom of the panel. MSI was demoing the capabilities, but their focus is gaming, which means the eye tracking could be used to help navigate in a FPS. The demos looked interesting, and if nothing else, the Tobii system is being certified for use with Windows Hello to offer biometric login.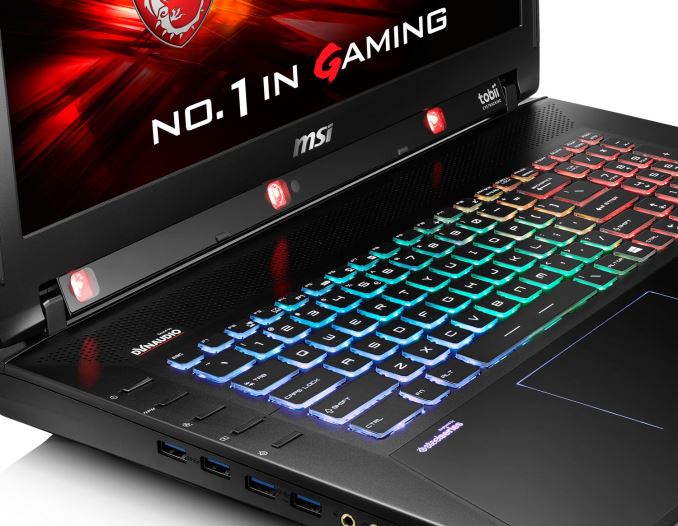 MSI also had an interesting AIO called the PRO 16 Flex, which has a Braswell N3150 CPU behind a 15.6-inch display. The interesting bit is that the AIO also features a small battery, so it can be used unplugged for short periods of time. This is an upgraded version of a previous model which had a J1900 Celeron.