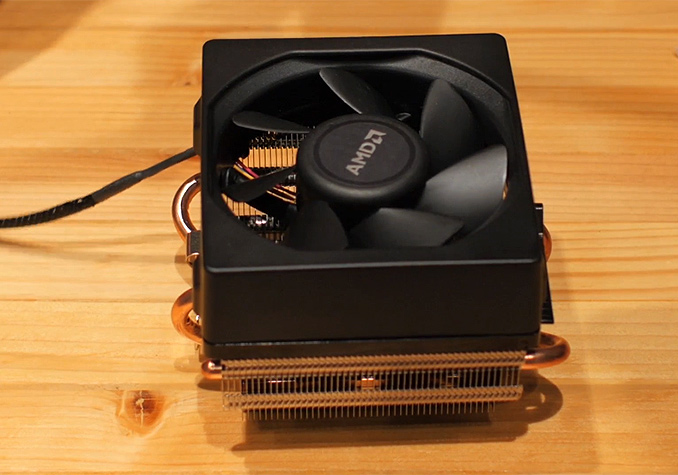 Both AMD and Intel bundle cooling solutions with their microprocessors. Such coolers are inexpensive, they are rather reliable and they do their job. They are not supposed to enable great overclocking results, or be utterly quiet, unlike premium thermal solutions from the third parties. The two CPU developers are gradually working to improve their own coolers and this week AMD unveiled its new "Wraith" cooling system for its current and future chips.
At present, AMD equips its boxed FX-series central processing units (CPUs) with a rather small air cooler called the AMD D3. The latter is made of aluminum, is equipped with four heat-pipes as well as a 70-mm fan. The thermal solution can remove up to 125W of heat, but at the cost of a lot of noise (up to 51 dbA, according to AMD). The vast majority of enthusiasts, who buy AMD FX CPUs, usually obtain their thermal solutions from companies like Corsair, Noctua or Scythe. However, certain PC makers utilize bundled coolers, which may not be a very optimal decision since they get rather loud when CPUs get hot. AMD's high-end accelerated processing units (APUs) can dissipate up to 95W, but their boxed versions are also equipped with rather tiny and noisy coolers, which is not a problem for power users (who use third-party solutions anyway), but is not exactly good for PC makers.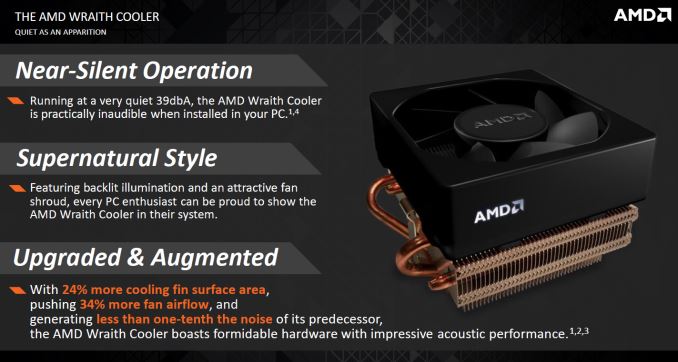 Apparently, AMD plans to offer better coolers with its microprocessors going forward. This week the company revealed its Wraith thermal solution, which will be used to cool down both current and upcoming chips from the developer. The AMD Wraith, which was designed to take away around 125W of heat, features a rather large aluminum heatsink with ultra-thin fins, four heat-pipes as well as an 80-mm fan. AMD claims that the Wraith features 24% more cooling fin surface area (179,730.1mm2) compared to its predecessor (144,397.8mm2), which seems like a significant improvement. Contemporary 80-mm fans can generate significant airflow while staying rather quiet. According to AMD, the new fan pushes 55.78 cubic feet of air per minute (CFM), or 34% more than the predecessor (41.6 CFM). The maximum noise level generated by the Wraith cooler is around 39 dBA (based on what AMD says), which is quieter compared to the current-generation D3 cooler from the company, but is significantly louder than noise levels generated by advanced coolers from companies like Noctua or Scythe (20 – 32 dBA, based on figures published by these manufacturers). Overall, the new cooler from AMD seems to be rather efficient for an in-box solution, but only real-world tests will show how good the Wraith cooling system actually is.
While AMD did not disclose all details about its new thermal solution, it did show it in action on its YouTube channel. The new cooler is noticeably larger than the AMD D3. It is also noticeably quieter, but it is clearly not as noiseless as 120mm low-RPM fans used on giant coolers.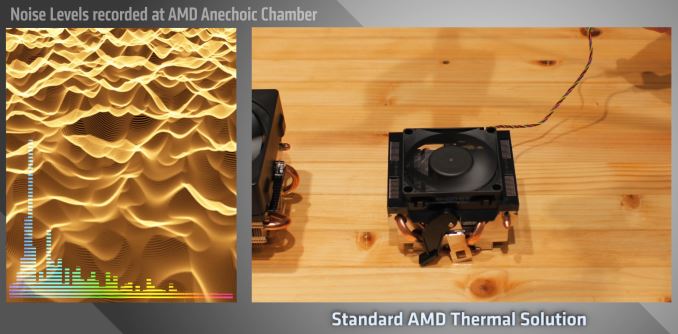 The AMD Wraith cooling system will be bundled with select microprocessors going forward and will also be sold separately. The Wraith should be compatible with all recent AMD sockets (e.g., FM2+, AM3+, etc.), but we are not sure about the upcoming AM4 at this point. Since changing mounting mechanism of a cooler is not that hard, it looks like AMD's Wraith will cool down the company's chips for quite some time.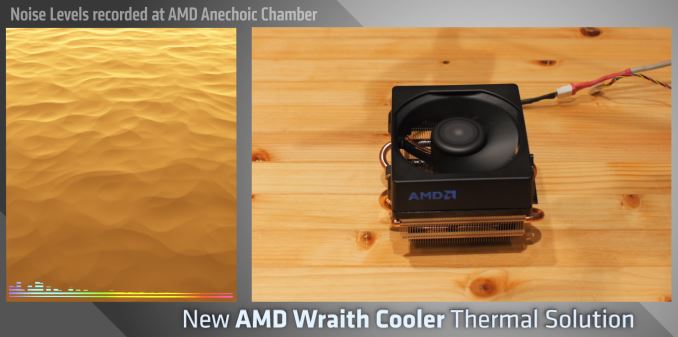 While enthusiasts will continue to use third-party coolers with AMD's current and future central processing units, for many PC makers new thermal solutions will mean that AMD-based systems will get considerably quieter (which means generally more competitive). Since the Wraith is not large, it will fit into small form-factor systems. As a result, it will soon be possible to build an inexpensive SFF PC based on a high-performance AMD APU that will be relatively quiet.
AMD did not reveal when exactly it plans to start bundling the Wraith cooler with its chips, but expect the new thermal solution to show up in the coming months.