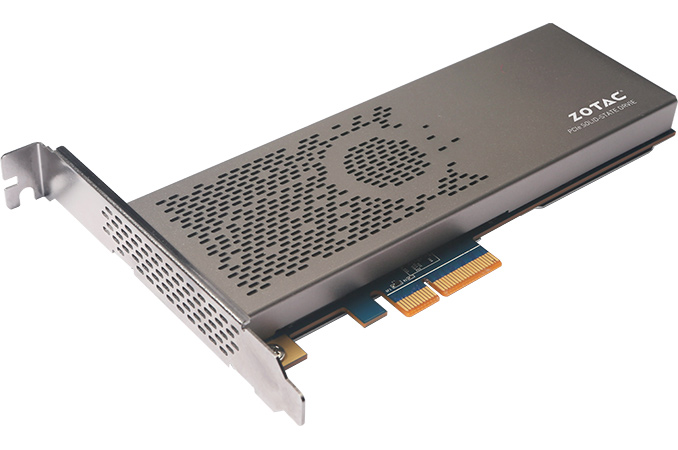 ZOTAC is primarily known for its NVIDIA GeForce-based video cards, but in the recent years, the company started to sell motherboards, small form-factor personal computers and various accessories. Last year ZOTAC introduced its entry-level solid-state drives to add another revenue stream. At the International CES 2016, ZOTAC announced its new-generation PCIe SSDs, which are expected to address higher-end market segments.
The new solid-state drives from ZOTAC will be powered by Phison's PS5007-E7 controller as well as multi-level cell (MLC) NAND flash memory produced by Toshiba. ZOTAC claims that its new SSDs will have sequential read performance of up to 2400 MB/s and sequential write performance of up to 1200 MB/s. The new solid-state drives from ZOTAC will come in half-length half-height PCI Express 3.0 x4 card form-factor and will fully support the NVMe protocol. The first model in ZOTAC's PCIe SSD lineup will feature 480 GB capacity and will be available sometimes in February, according to the manufacturer.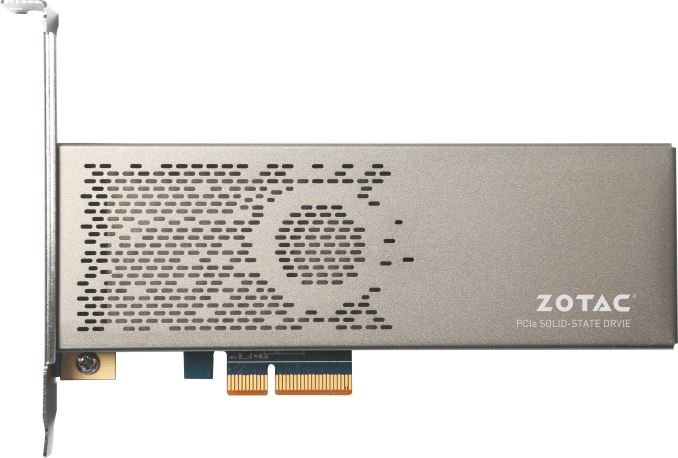 ZOTAC does not reveal too many details about its new solid-state drives, but since they are based on the Phison PS5007-E7 controller, expect support for the NVMe 1.2, error correction with 120-bit/2KB BCH code, NVMe L1 power sub-states, end-to-end data path protection, advanced global wear-leveling, an AES-256 engine and so on. The AIC form-factor also means that the controller will be able to use all of its eight transfer channels, thus, maximizing performance.
Since the Phison PS5007-E7 controller was developed not only for gaming PCs, but also for enterprise and datacenter applications, it can enable SSDs with up to 350,000 4KB random read IOPS (input/output operations per second) and up to 250,000 random write IOPS. While consumer SSDs featuring the PS5007-E7 may not hit maximum IOPS performance, they will definitely be considerably faster than any previous-generation solid-state drives.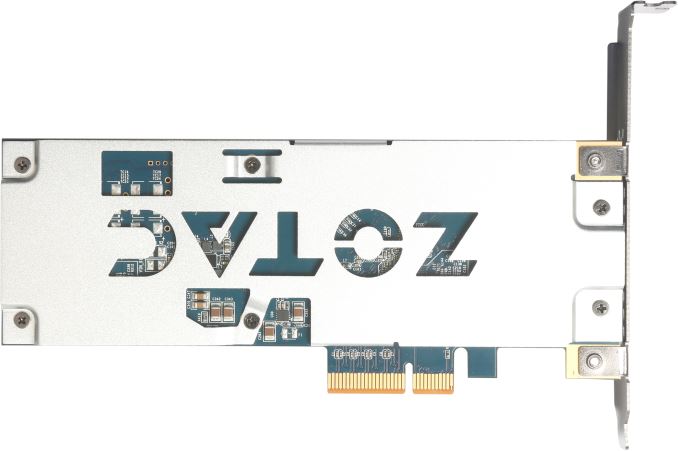 ZOTAC's first-generation SSDs were arguably a business experiment for the company and its parent, PC Partner Group, which specializes on production of graphics cards, motherboards and other similar products, but not on storage devices. ZOTAC's initial SSDs use Serial ATA interface and deliver moderate levels of performance. The cautious approach makes a lot of sense. Nowadays the end-user demands SSDs with maximum durability and reliability. ZOTAC yet has to become a well-known maker of solid-state drives and if its products are not rock-solid, its brand will be harmed. As a result, the company decided to focus on maximum quality rather than on maximization of sequential reads and writes.
With its new PCIe SSDs, ZOTAC plans to deliver rather extreme levels of performance. ZOTAC's solid-state drives with PCI Express 3.0 x4 interface may not be as fast as Samsung's 950 Pro (at least, on paper), but if the price and performance have the right balance, many end-users will gladly buy them.